Beginning Friday, November 8th, the Peterborough Theatre Guild will stage one of the best comedies of 2019 when directors Brian MacDonald and Pat Maitland bring The 25th Annual Putnam County Spelling Bee to the Guild Hall.
A fun and fast show filled with endearing characters and engaging story arcs, this clever low-key musical is guaranteed to become an audience favourite.
Opening Off Broadway in 2005, The 25th Annual Putnam County Spelling Bee was inspired by an improv show called C-R-E-P-U-S-C-U-L-E, conceived by actress Rebecca Feldman and performed by New York area improv group The Farm and then developed into a full production by William Finn and Rachel Sheinkin. A surprise hit, the show quickly moved to the Circle in the Square Theater on Broadway, where it won the Tony Award for Best Book and Best Actor as well as the Drama Desk Award for Outstanding Musical.
In The 25th Annual Putnam Spelling Bee, the audience is introduced to six precocious kids and three eccentric adults who are assembled together to learn a bit about life, friendship and — of course — to spell big words.
Advertisement - story continues below
However, while the spelling bee is the reason they are all together, the play is in fact nine character studies that reveal the lives of the characters through vignettes and musical numbers.
"The spelling bee is just a delivery method for telling a story about a bunch of different kids," says Kristen McConnell, who plays spelling contestant Marcy Park. "The spelling bee is why we are on stage. We go up to the mic, but then you go to what our daydream or our vision is. It segues into our imagination, and we sing a song and reveal more of our individual stories."
"All the characters in this show have crosses to bear," adds Lisa Devan, who plays the spelling bee's moderator Rona Lisa Peretti. "They have something at home or in the past. The kids are all carrying something, which comes out. They are all in the spelling bee, but the show becomes about why they are here."
In The 25th Annual Putnam County Spelling Bee, the roles of the children aged 10 to 12 are played by adult actors who manage to find a clever performance style that brings forth the innocence of childhood.
"The actors play their characters as being childlike, but they are not caricatures," Lisa explains. "It'd be annoying to have an adult playing a kid, if they were doing all the idiosyncratic or over-generalized things trying to be cute or funny. These actors just are inhabiting the children that they are."
"These kids are not mean. They are injured and you find out what their stories are and how they are overcoming them. You go through the range of emotions with these kids. You don't think you're going to, but you do."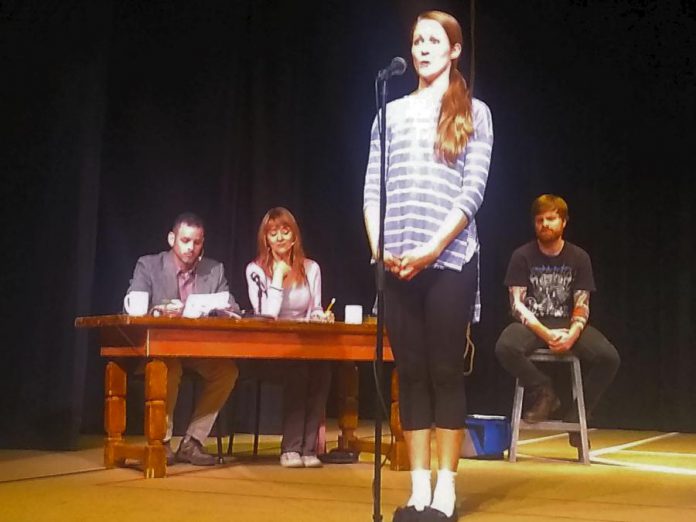 It's difficult not to root for the kids in the show, each with their own individual personalities, and perhaps even start rooting for one of them to win the bee. But the strength of the show is on the actors' ability to create colourful and endearing characters that strike an emotional chord with the audience.
Will Smith plays Chip Tolentino who, after winning the previous year's spelling bee, is maturing in unexpected and unfortunate ways during the 25th annual speeling bee.
"For a lot of characters this is a coming of age story, but for my character it is very literally a coming of age story," Will says. "Chip was the previous year's champion and he comes into the show very cocky and confident, but he gets knocked down a peg … or 10."
Advertisement - story continues below
Meg O'Sullivan plays the show's youngest character, uber-political (although it's unclear if she always understands the politics) Logainne Schwartzandgrubenniere. The daughter of two gay dads, Logainne is an over-achiever who isn't used to failure.
"Logainne is very political, but you can tell she is still a child," says Meg. "So the politics is all from what she is picking up from her parents, although she might not fully understand what it means. She's very high strung, she's very anxious, and she's looking to lower the voting age to 10 years old. Her dads put a lot of pressure to be perfect, so her life is about that struggle. She also has an unfortunate lisp."
The next contestant is Leaf Coneybear, played with great exuberance by Andrew Little. The happiest of all the kids in the competition, Leaf is an imaginative home-schooled kid frocked in a cape and helmet, who believes everyone is his friend if they know it yet or not.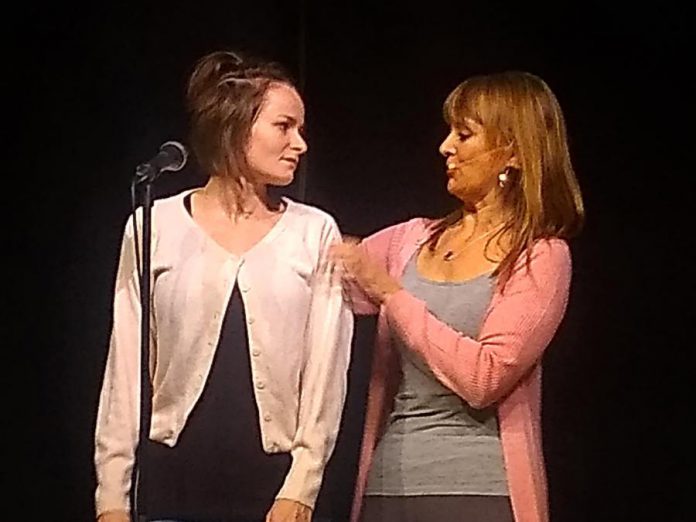 "Leaf's just happy to be here," Andrew says of his character. "He is home schooled and he got in the spelling bee on a technicality. He's excited to be in a school for the first time, with children his own age who aren't his siblings and cousins. He comes from a very big family of very intelligent, straight-laced, by-the-book kids and he's the only one who is creative. He has an artistic side and his siblings call him stupid. He's a free spirit."
Bringing a strange and domineering element to the group is Rowan Lamoureux as the painfully awkward William Barfee. With a Tiny Tim (the singer, not the Dickens character) sort of vibe, there is something both creepy yet endearing about this outrageous character.
"William has an unfortunate sinus disorder and he struggles to make friends," says Lisa of Rowan's character. "His whole thing is that he's defensive and pushes people away. But he develops friendships too in the bee — between telling people to shut up."
Advertisement - story continues below
With perfect poise and acrobatic flair throughout many of the musical numbers is Kristen McConnell in the role of Marcy Park, the most enigmatic of all the children. All that is known is that she is a perfectionist, the most mature and, most likely, the smartest contestant in the bee.
"I relate in some ways to Marcy, but I think I'm somewhat less of a psycho than she is," Kristin says. "She's had expectations and behaviours imposed on her, and she's quite open to the idea of letting them all go. I enjoy the kid thing, and I remember what it was like to be a kid very visibly, so I don't feel it's a big departure to play a kid although I'm an adult."
Lastly is Gillian Kunza as Olive Oastrovsky. The most endearing and likeable of all the children in the bee, Olive is a relatively normal girl from a broken home with absentee parents, but to whom the most striking emotional arc belongs.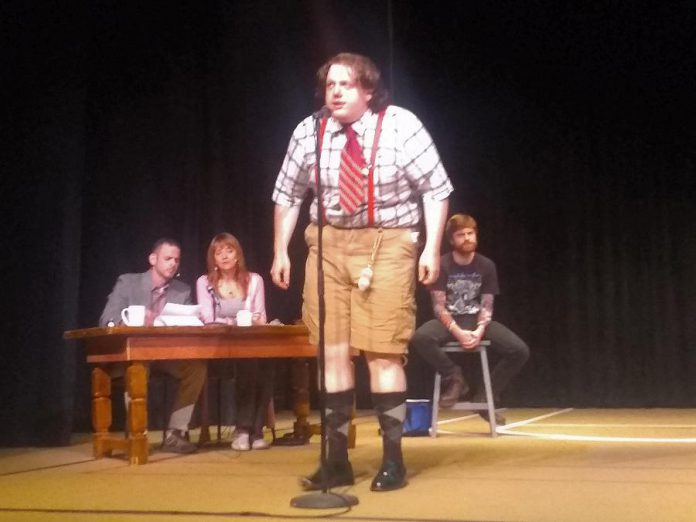 "Olive has some problems with Mom and Dad at home, and I think she lacks friendship," Gillian says. "She would prefer to make friends with everyone, but part of her journey is really being a competitor."
Although the kids' stories make up most of the show, the funniest lines actually belong to adult characters: the spelling bee's moderator Rona Lisa Perretti and Vice Principal Douglas Panch, played by Lisa Devan and Justin Boyd. Rona's comments on the backgrounds of the contestants, and Vice Principal Panch's lines when asked to "use the word in a sentence" are amongst the quirkiest moments in the show, and true laugh-out-loud treats.
An always wonderful performer to watch, Lisa dominates the stage as Rona, bringing a believable sense of joy to the stage.
Advertisement - story continues below
"Rona won the third spelling bee, and this is the 25th," Lisa explains. "She's been hosting it for nine years and when she won it was the pinnacle moment of her life. To her, this is like the World Cup. She's rooting for everyone, but when someone gets out she is super enthusiastic about it. She definitely needs sensitivity training … and a life."
Meanwhile, Vice Principal Panch is only there because he was called in when the regular word caller got sick.
"He's a bit of a mystery," Justin grins, keeping some obvious secrets. "Something has happened in his life but nobody really knows what."
Lisa and Justin are joined by one of the show's strangest characters, 'comfort counsellor' Mitch Mahoney played by Luke Gauthier. Decked in black and out on parole, Mitch is about as comforting as a barracuda — or is he?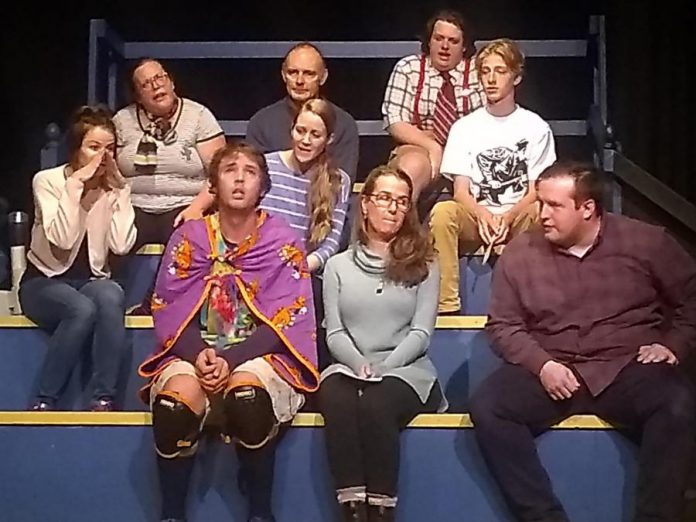 "Mitch has a tough exterior with a soft centre," Luke says of his character. "He's an ex-con and is doing his community service in the spelling bee as the comfort counsellor. He gives the kids a hug and a juice box when they lose and sends them on their way. But Mitch wants to toughen the kids up a bit and teach them that the world is a hard place and, in the grand scheme of things, that losing a spelling bee is not so painful."
One of the more unusual aspects of The 25th Annual Putnam County Spelling Bee is that the show brings four audience members up to the stage to participate in the spelling bee with the actors in the first act. However, don't be alarmed. This is not a random selection: the audience members are picked before the show and given instructions. However, it is a quirky and fun element to the show that leads to lots of improvised moments and big laughs.
Although a musical comedy about a spelling bee might be an unusual concept, it really is the strength of the odd characters and the actors who play them that makes the show a success. Directors Brian and Pat have put together a strong cast that creates characters I came to care about, cheered for, and laughed with.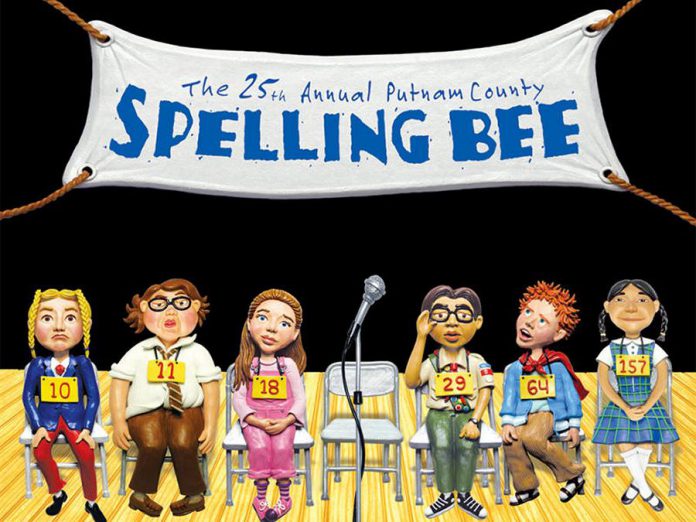 I adore Putnam County's kids, and loved every moment of this marvellous show. While it may not be the biggest musical on the stage this season, it is the most delightful.
The 25th Annual Putnam County Spelling Bee opens at 8 p.m. on Friday, November 8th and Saturday, November 9th, and runs Thursdays to Saturdays until November 23rd, with 2 p.m. matinees on Sunday, November 10th and Sunday, November 17th.
Tickets are $25 ($22 for seniors, $15 for students) and are available by calling the box office at 705-745-4211 (if not open leave a message) or online at at theatreguild.org.