In From The Cold, "The Heart of a Peterborough Christmas", returns for its 20th year on Friday, December 6th and Saturday, December 7th at 8 p.m. at Market Hall Performing Arts Centre (140 Charlotte St., Peterborough).
Tickets for the annual concert, which raises funds Peterborough's YES Shelter for Youth and Families, are $20 for adults and $15 for students and children (the ticket price includes all surcharges and taxes) and are available in person at the Market Hall box office, by phone at 705-749-1146, or online (December 6th performance, December 7th performance).
Launched in 2000 by a group of Peterborough musicians to celebrate the traditional music of the season while raising money for homeless youth, In From The Cold has become one of Peterborough's most cherished Christmas concerts.
With two performances every year, In From The Cold offers an enchanting mix of Celtic-style carols and seasonal songs performed by some of Peterborough's top folk and roots musicians.
Now in its 20th season, In From The Cold specializes in hidden musical Christmas gems that you won't hear at other Christmas concerts, and has raised over $130,000 for the YES Shelter for Youth and Families over the years.
If you've never been to In From The Cold, watch the short film below and find out why so many people think of this concert as the real start of the Christmas season.
VIDEO: "In From The Cold" by Rodney Fuentes (2016)

As always, this year's show will be anchored by the acts that developed the unique In From The Cold sound: folk/vocal group Carried Away, Enrique "Roy" Claveer (aka Curtis Driedger), The Convivio Chorus, fingerstyle guitarist Michael Ketemer, and Celtic harpist Tanah Haney.
Here's what you will see and hear at this year's concert:
Christmas carols and seasonal folk songs from Sweden, Ireland, Scotland, England, and Spain, presented in In From The Cold's signature Celtic style
The lush harmonies of Carried Away and the Convivio Chorus, featuring original choral arrangements by Susan Newman and John Hoffman
Sweet sounds of instruments rarely heard at Christmas concerts: Celtic harp, hammered dulcimer, mandolin, concertina, tin whistle, fiddle, and bouzouki
Susan Newman's gorgeous musical setting of Tennyson's classic poem "Ring Out Wild Bells"
Enrique "Roy" Claveer and his ever-growing band of Claveer "cousins" are back again to charm and tickle the funnybone
Dayle Finlay's gorgeous stage design and decoration, which sets a great atmosphere for the evening.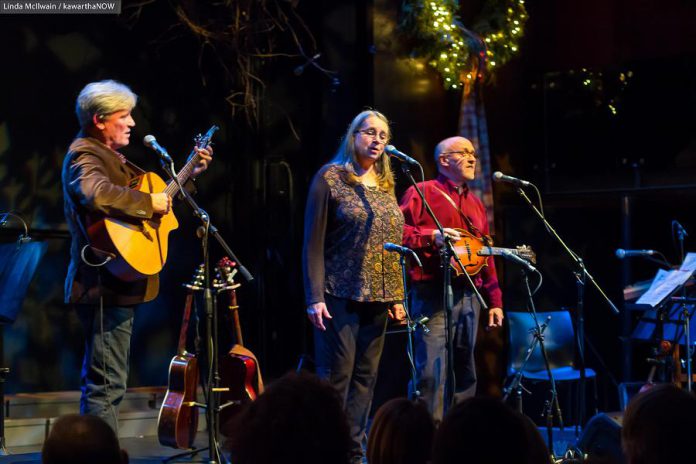 Here's what audience members say about In From The Cold:
"Another heartfelt thank you for a wonderful concert once and for such a warm and joyful atmosphere to enter into the season. The two ladies sitting in front of us turned to each other at the end and said 'Now Christmas can begin!' In From The Cold has become such a well-loved tradition for so many!"
"Beautiful decorations and lovely, relaxed folksy music start the holiday on the right foot! Such wonderful talent!"
"Had a great time at the In From The Cold concert last night. The music was excellent, and passionately performed."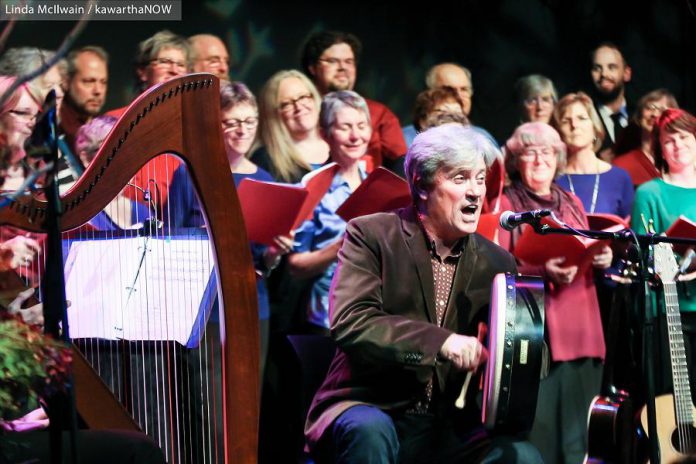 Concert Sponsors
In From The Cold and the YES Shelter for Youth and Families are grateful for the continued generous support or businesses and organizations in the Peterborough community that help make the concert possible. The sponsors for this year's concert are:
Platinum Sponsor
Jo Pillon, Sales Representative, Royal LePage Frank Real Estate, Brokerage
Gold Sponsors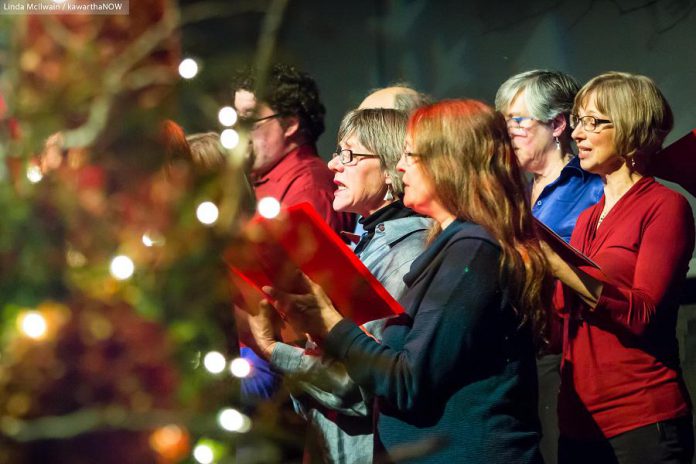 Red Sponsors
Pressland Print and Graphics
Green Sponsors