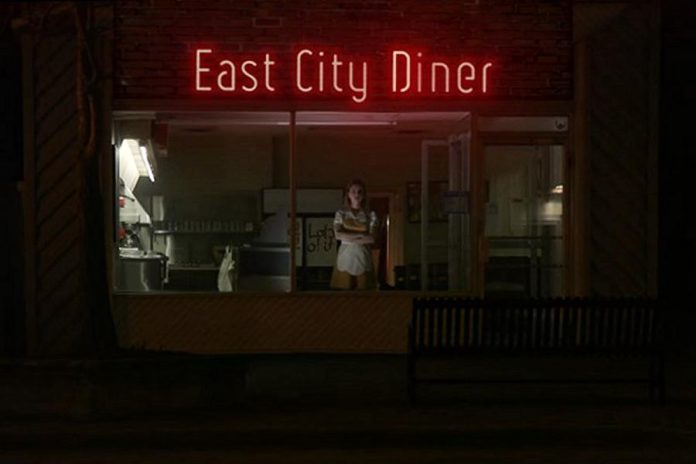 On Sunday, November 24th, come to Market Hall Performing Arts Centre in downtown Peterborough for a slice of intrigue and stay for a scoop of thrills when Wyatt Lamoureux and Jamie Oxenham debut their new film Apple Pie, Ice Cream.
Filmed at the iconic East City Coffee Shop in Peterborough, Apple Pie, Ice Cream stars local actors Marsala Lukianchuk, Terry Convey, and Michael Valliant-Saunders in a psychological thriller that pays homage to the film noirs of the 1940s, but with a hint of local flare.
Based on Wyatt's original stage play of the same name, Apple Pie, Ice Cream first found life as the basis for a Trent Radio drama in 2014, and made its stage debut at The Theatre on King in 2015.
Advertisement - story continues below
In Apple Pie, Ice Cream, audiences are transported to an all-night diner at 3 a.m. where a tense reunion between two estranged brothers, Mike (Michael) and Donald (Terry), takes place over an order of apple pie and ice cream. When Kat (Marsi), a wise-cracking waitress, decides to get involved, she finds out she has bitten off more than she can chew.
The film is the first creative collaboration between Wyatt and Jamie, who met through the Kawartha Lakes Film Industry (KFLI) — a growing collective of local filmmakers who have created connections through social networking and frequent meet ups.
"I met Jamie through the KLFI and he said he was looking for something to shoot," Wyatt says. "I said I have this short script and Jamie said he'd take a chance. He took a look at it and said it was way too long."
"When he first gave it to me and I read the script, I felt that it was too long to hold somebody's interest as a film," Jamie recalls.
Thus, the first challenge was to shorten the hour-long stage show into a film script that would run just under 30 minutes. Fortunately, since film translates differently than stage, Wyatt was able to make a successful adaptation.
"The stage versions are always word heavy because you can't direct the audience's eye, unless it's by people moving on stage and using dialogue," Wyatt explains. "The tension, for example, had to be brought on in the stage version. But the tension between Donald and Mike could be shown on camera through action without them talking so much. The film version sets it up and lets the visuals carry some of the details."
Advertisement - story continues below
"In the stage version, I also found that often you'd have to repeat things that are important so the audience would remember," Wyatt says."The idea of a waitress being so into this pop psychology that it affects the way she related to people had to be repeated. But in the film version, we could use visuals — like the use of a book or cards — and music to underscore some of the elements of the film."
"At 23 minutes I feel the piece flows better," says Jamie. "Although I filmed it and cut it, I am still surprised that at the end of the day I can watch three people sitting around a table and not get bored."
Wyatt first penned Apple Pie, Ice Cream, a homage to film noirs with a few twists along the way, as a 24-hour play-writing challenge in 2012.
"I always go into those challenges with whatever my mood is," Wyatt says. "I was feeling a little more serious, and I was digging blues music. I put on a whole lot of blues music, because I felt like I wanted to write monologue stuff — I normally don't do that."
"I thought about what sort of situation I wanted. I decided to start with the waitress. Instead of starting with the detective, who is visited by the femme fatale, let's start with the femme fatale and make it from her point of view. Let's flip the noir thing on its head. Then I had Donald in the restaurant at three in the morning, and I had to figure out why he was there, and what his story was."
"The characters are interesting," Jamie adds. "It's very character driven. You're wondering what their deal is the entire time you are watching. It's not just one character that you're wondering about — it's all three. Why does the brother hate the other brother? Why does it get serious when the one brother comes in late? Why is this waitress so nosy? The characters are interesting, which makes it translate to film so well."
Advertisement - story continues below
In the original stage production, local theatre favourites Meg O'Sullivan, Matt Gilbert, and Andrew Little brought the characters of Kat, Mike, and Donald to life. For the film, Wyatt and Jamie brought together another group of local favourites to recreate and reinterpret the characters for the screen, creating a different type of dynamic.
"Marsi just kills it, and she can act her way out of a paper bag no matter where she is," says Wyatt of his leading lady. "I worked with Michael before in Freud's Last Session at the Peterborough Theatre Guild and I knew he had done some screen work. Terry has also done some screen work, and he is very relaxed."
"I knew everyone could be relaxed in the process. That's very important that people are relaxed. The stage play actors had what it took to punch the dialogue to the audience, but the screen version is much more subtle and intimate for the cameras."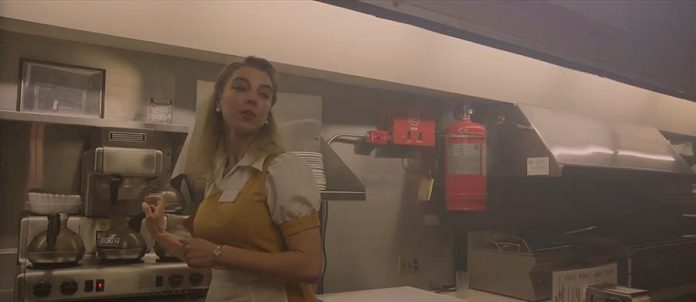 "The actor's performances were so great," Jamie says. "They were so good that sometimes I'd forget I was framing the shot and I would be watching the monitor and have to remind myself that I was supposed to be filming it."
One of the most interesting elements of the film is the use of The East City Coffee Shop which, lovingly filmed in shadows, becomes a character all in its own. Jamie and Wyatt and their crew were given access to the local landmark by owner Albin Sina for a series of night shoots.
"James McKenty had filmed a video at the diner, and once I heard that I thought it was worth a shot," Wyatt recalls. "I walked in and asked Albin if I could use it and he said sure. He gave me a key and told me to tell him when we were packing in."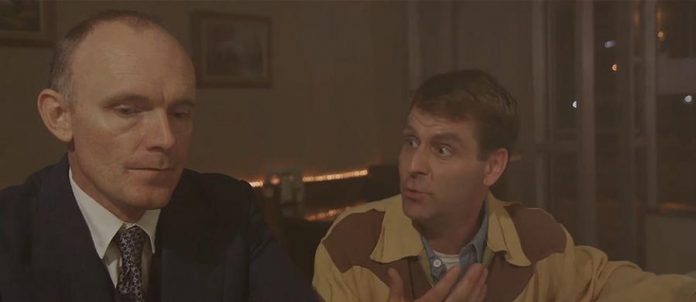 "Albin was very chill," adds Jamie.
A dark psychological thriller about the difficult nature of family, Apple Pie, Ice Cream has a classic noir feel, but with a touch of modern sensibilities. Filled with interesting characters, snappy dialogue, and touches of humour, Apple Pie, Ice Cream is another entry into the growing stable of films being created by filmmakers throughout the Kawarthas.
Prior to the premiere of Apple Pie, Ice Cream at the Market Hall on Sunday, Jamie and Wyatt will also welcome local filmmaker and colleague Keith Smith to present three of his shorts: Crazy in Love, Save Me, and The Photo.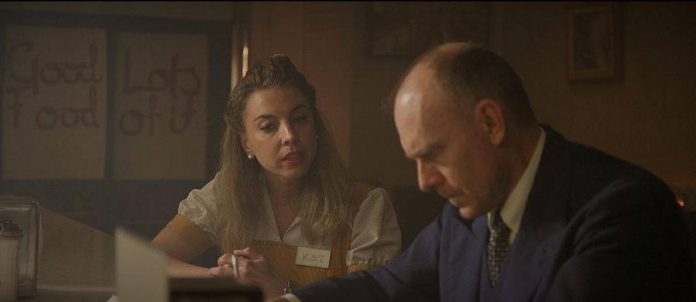 Peterborough has a very vibrant and active filmmaking sub-culture which, in 2019, has become much more visible. In 2020, members of the KFLI have big plans to put their craft on centre stage of our community. Join Wyatt, Jamie, and the other members of the KLFI family at the screening of Apple Pie, Ice Cream to see the work they are doing.
Admission is free to this event. Doors open at 6:30 p.m. and the films start at 7 p.m. Apple pie and ice cream will be served.