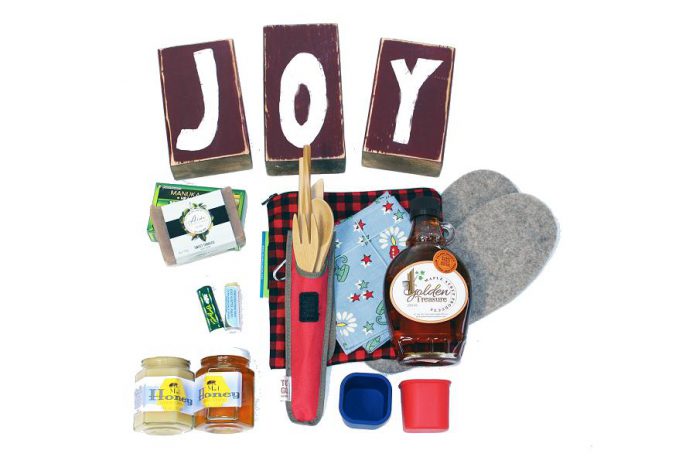 Are you looking for some items to help you polish off your holiday gift giving?
The GreenUP Store has you covered, with unique environmentally friendly gifts and stocking stuffers ranging from $1.50 to $25 and more. The store, located at 378 Aylmer Street North in downtown Peterborough (just north of the Greyhound depot), carries a curated selection of sustainable products, as well as handcrafted goods from over 40 local makers.
Your stockings can hold all the best gifts — including what's best for the planet!
Check out a few ideas below for gifts under $5, $10, and $25. You can also give GreenUP gift certificates or make a donation to GreenUP.
---
Under $5
1. Locally made tree ornaments
Ecomum felted acorns are made locally by Ecomum, Jeanine Crow, and her daughter. The two go out and collect the acorn tops in the fall and attach them onto felted balls of wool to create the sweetest little tree ornaments!
Ecomum also makes a variety of textiles, including baby bibs, blankets, and napkins with fun and contemporary prints.
2. Locally made beeswax candles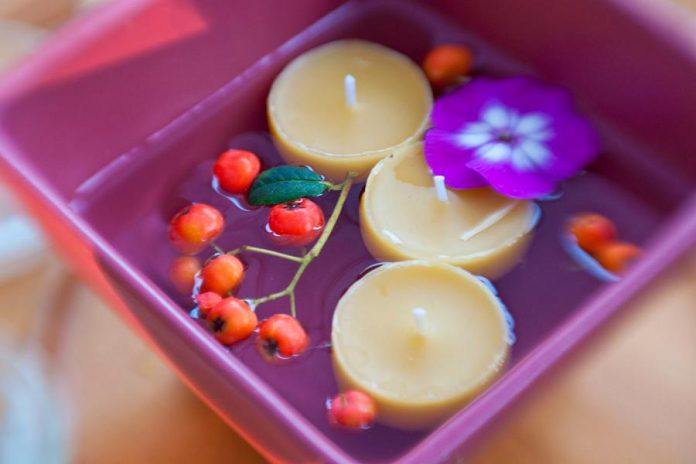 This Old Flame makes 100 per cent beeswax candles that are handcrafted in Peterborough.
The GreenUP Store carries various shapes and sizes, starting at just $1.50 for tealights!
These lovely hand-poured and hand-dipped candles are made from beeswax from Ontario beekeepers with no scents or dyes added.
3. Ontario maple syrup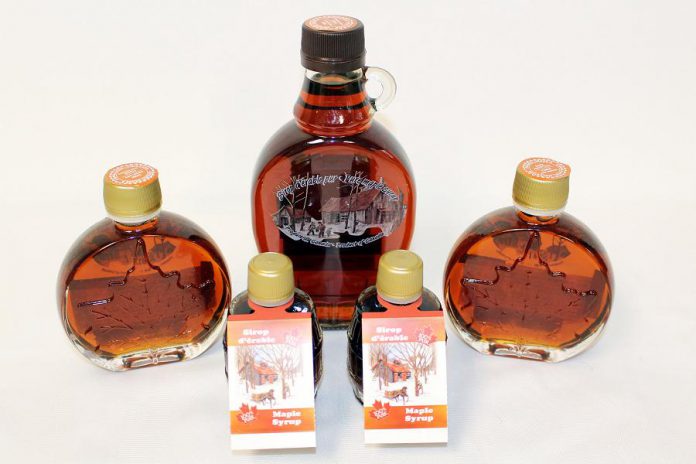 What is more Canadian (and delicious) than a bottle of maple syrup?
Golden Treasures maple syrup is from Trout Creek, Ontario and has been in operation since 1994, growing over the years to over 16,000 taps over 300 acres of maple bush in the heart of Northern Ontario.
The GreenUP Store carries large litre-sized portions right down to teeny tiny stocking-sized portions in maple-leaf shaped glass bottles.
Under $10
4. Locally made natural soap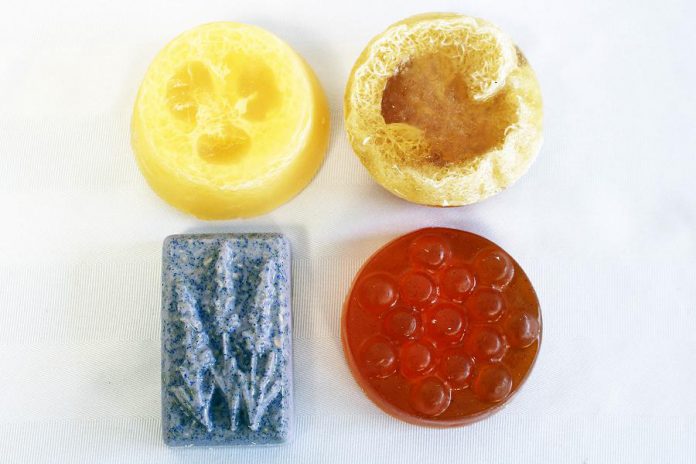 We have natural soap for all your stockings. The GreenUP Store carries many handmade soaps made locally by master soap-makers, Sherrie LaMasurier of Simply Natural Canada, Katie Legere of Free2Be Wellness, and SarahAnn of Charcoal & Rose Petals.
Their soaps feature sustainable and locally sourced ingredients and they have minimal or recyclable packaging.
The GreenUP Store also carries many other personal care products such as face serums, shaving soap, and natural deodorants.
5. Reusable produce and snack bags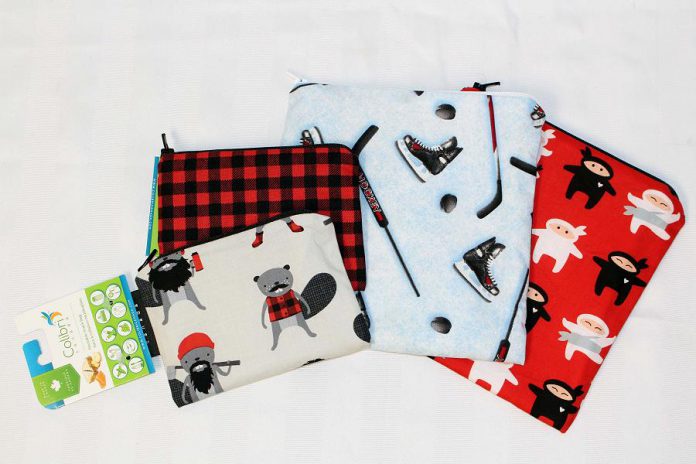 Looking for something to help reduce reliance on single-use plastics? Flimsy single-use plastic bags take one second to make, are used for 20 to 30 minutes, and then take over 600 years to decompose!
Credo Bags of Montreal makes cotton-mesh produce bags that can be used as an alternative to the plastic ones offered at the grocery store.
Colibri Snack Bags are another great option: they are reusable fabric bags with a zipper that can hold anything from grapes to makeup. Their interior nylon lining is water impermeable, which means that you can wipe out crumbs easily or toss it in the washing machine when it needs a deeper clean. There are so many fun and funky fabrics to choose from and they are, quite simply, universally useful.
Made in Canada and available in a variety of sizes and prints, these bags make lunchtime fun and will reduce the amount of plastic in your life. They're also great for holding toiletries or storage while travelling, and they tuck nicely into any stocking.
6. Bamboo toothbrushes
Everyone on your gift-giving list likely brushes their teeth, at least some of the time.
Plastic toothbrushes end up in the landfill at the end of their life cycle, whereas the bamboo toothbrushes from Brush with Bamboo are alternatives that can be composted at the end of their life. Simply snap off the bristled head and toss it in the garbage.
This bamboo toothbrush comes in a compostable cardboard box with vegetable dye printing, so it can safely go into your compost heap.
7. Wool dryer balls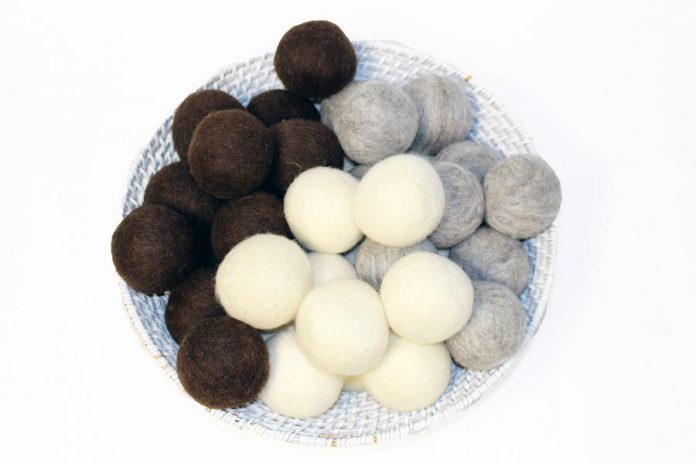 Looking for something cute and cuddly that's as soft as a lamb that can replace single-use dryer sheets? Look no further than Canadian-made dryer balls from Moss Creek Wool Works, made of 100 per cent merino wool.
Available at the GreenUP Store in white, brown, and grey, the wool balls bounce around in your dryer and keep items from clumping together, which reduces dryer time and static.
We recommend using three or more dryer balls — and leaving them in the dryer between loads to avoid them being used as cat toys!
8. Local honey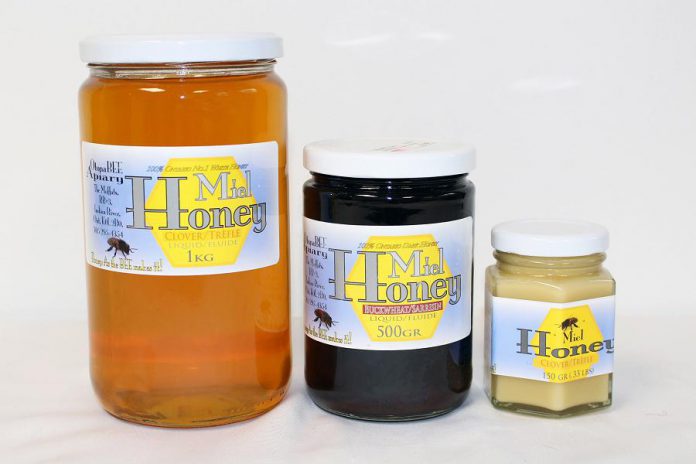 Naturally sweet OtonaBEE Apiary honey is the perfect treat for a loved one.
The GreenUP Store carries liquid and creamed clover and buckwheat honey in various sized jars to fit any stocking size.
OtonaBEE honey is 100 per cent pure, just as the bees make it!
Under $25
9. Reusable utensils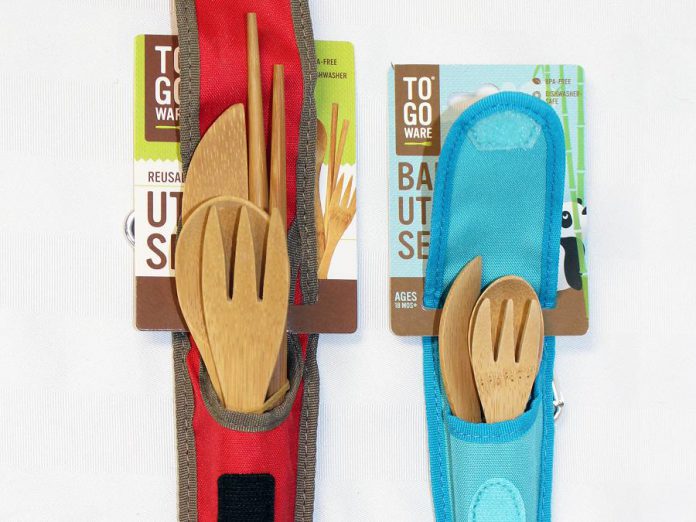 The To-Go Ware reusable bamboo utensils set includes a sturdy bamboo fork, knife, spoon, and chopsticks — all neatly held together in a convenient pouch made from recycled water bottles.
This stocking stuffer or gift garnish is an attractive and sustainable alternative to single-use plastic cutlery.
10. Locally made alpaca wool insoles and socks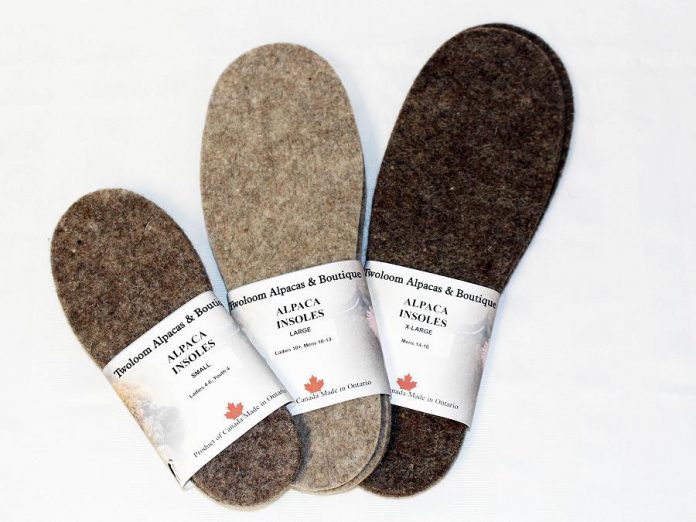 Warm cozy gifts are the best at this chilly time of year. Twoloom Alpacas insoles are made from 100 per cent alpaca wool and are a must-have for winter in Ontario! They are a great addition to any boot for warm feet all season long.
Twoloom Alpacas is a 12-acre farm in the beautiful rolling hills of Northumberland County, so you'll also be supporting a local farmer when you purchase their products.
The GreenUP Store also carries their alpaca wool socks in a variety of colours and sizes.
11. Locally made reusable wipes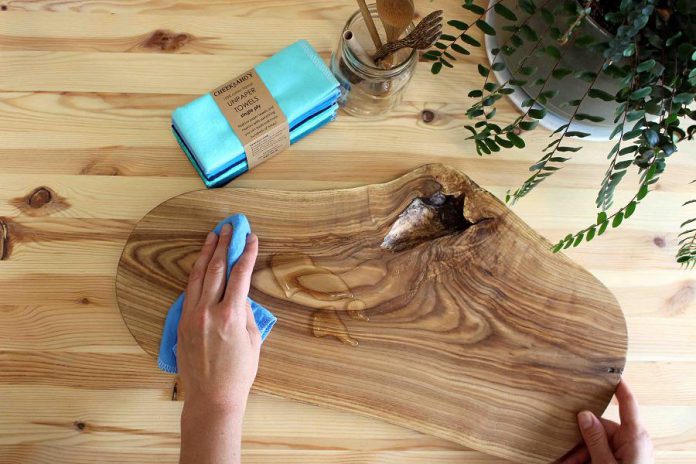 Cheeks Ahoy Unpaper Towels are handmade in Peterborough by Leah Black. When Leah had her first child, she she began making her own reusable flannel wipes to replace the standard disposable ones.
Now Leah has two growing children, and she makes a range of reusable textiles. These include makeup removing pads, napkins, and face cloths. All Cheeks Ahoy products can be easily laundered and reused again and again. To make her wipes, Leah uses biodegradable materials like bamboo and cotton flannel.
At the GreenUP Store, we are using (and reusing) a set of single-ply Unpaper Towels for lint-free dusting and wiping up spills at our refill station. Unpaper Towels are also great for wiping hands and faces as well as washing and drying dishes.
A set of eight Unpaper Towels can easily replace several single-use items, including paper napkins, paper towels, and even facial tissue. Choosing to use washable and reusable textiles is a great way to reduce household waste and kick the single-use habit.
12. Reusable food bags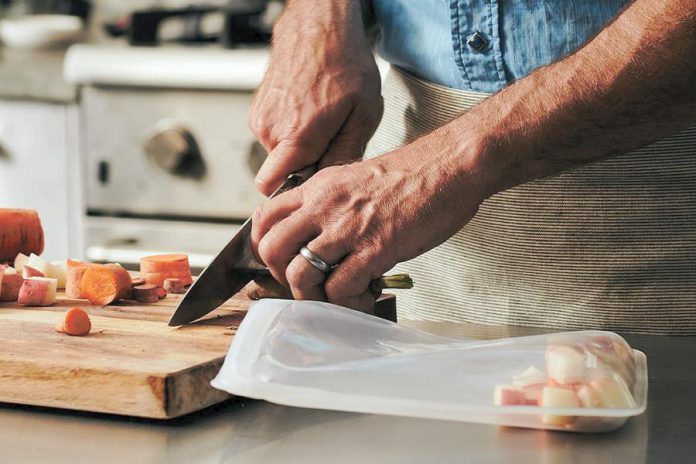 If your family uses resealable plastic sandwich bags, then reusable silicone Stasher bags are an excellent alternative.
They are airtight, dishwasher friendly, and plastic free. Like their single-use counterpart, Stasher bags are easy to use, whether you're packing lunchtime snacks or freezing leftovers. Stasher is non-toxic and temperature-resistant, so you can safely use a Stasher to cook and reheat food in the microwave, stove top, or oven.
Stasher is a B Corporation, which means it is committed to high standards of social and environmental transparency, accountability, and performance. Although based in California, Stasher products are made responsibly in China with accountable and ethical manufacturing practices. The company is charitable and socially minded, having pledged to donate one per cent of its annual profits to environmental charities.
13. Reusable straws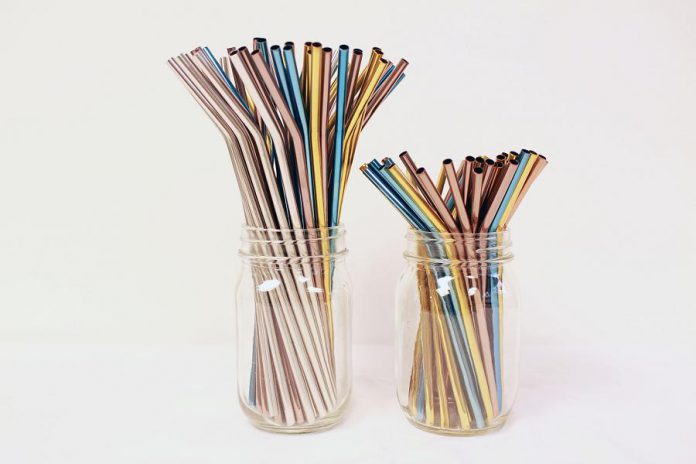 Reusable straws are one of the best-selling items at the GreenUP Store. They have grown in popularity as the #RefuseTheStraw movement has continued to gain momentum.
The GreenUP Store carries a variety of sizes of straws and their associated cleaning brushes. This holiday season, we have brought in new colours including bronze, iridescent blue, and rose gold.
Brightly coloured reusable straws can make an excellent garnish on your gifts this year, and are a great replacement for a single-use plastic bow.
Note: You can also purchase a single package-free stainless steel straw, sold all by itself without any packaging, for under $5 (pair it with a straw-cleaning brush for $2).
14. Wooden ornaments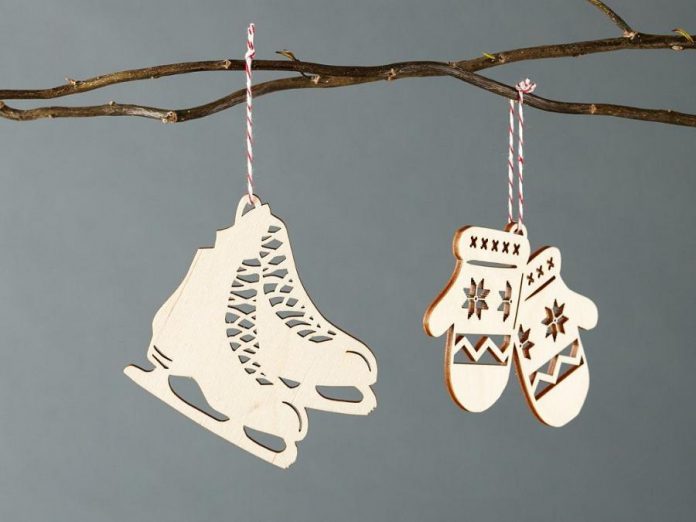 Wooden ornaments are not only traditional, but also better for the environment than plastic.
This is especially true when the ornaments are made from reclaimed wood like those made by members of The Brain Injury Association Peterborough Region, a local agency that provides a range of support services to individuals living with an acquired brain injury.
They strive to engage members in meaningful activities and promote participation in our community as a way of enhancing overall well-being and quality of life. Decorate your home beautifully this holiday season, with handmade items that also give back to the community.
The GreenUP Store also carries wooden ornaments made by Light & Paper. Ali Harrison is the owner and designer of this small Toronto-based company. She begins with an intricate paper cutting, which she carves by hand with an X-Acto knife. Her original designs are then scanned and converted to be laser cut into thin sheets of wood to create coasters, wall art, and Christmas tree ornaments.
15. Woodland finger puppets
Do you have a little nature lover on your list this year?
The GreenUP Store carries a number of woodland finger puppets that are available in a variety of local species including raccoon, skunk, chipmunk, and turtle.
GreenUP gift certificates
With so much good stuff to choose from, you may want to give GreenUP gift certificates, available in $10, $25, and $50 denominations in person at the GreenUP Store or online through our website.
And make sure you enter GreenUP's gift certificate contest and you could win one of seven $25 gift certificates to enjoy yourself (contest closes on January 8th).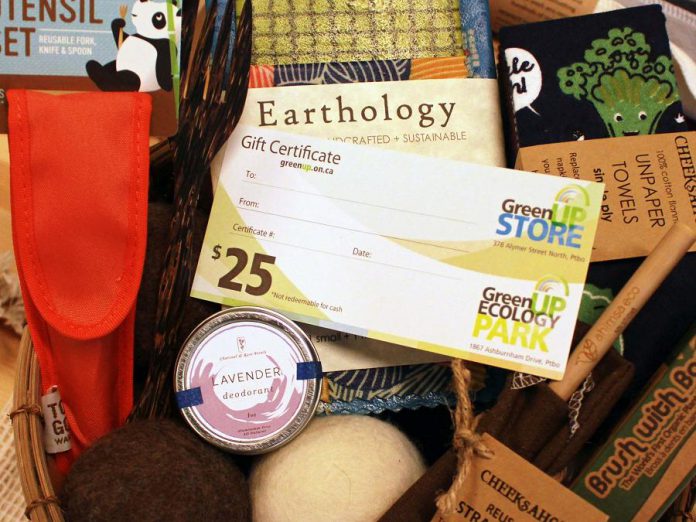 Add a donation to your gift and support Ecology Park
You also have the option to support our Ecology Park fundraising campaign by adding a donation to your gift (you'll receive a charitable tax receipt for your contribution).
When you combine a donation to GreenUP with the purchase of a gift certificate, GreenUP will send you the gift certificate in a personalized donation holiday card that you can gift to friends or family.
Visit greenup.on.ca/donate-to-greenup/ for more information.
With the funds raised this holiday season, we plan to install features that will help make Ecology Park accessible to all visitors, and you'll also ensure that our renowned environmental programs will continue for years to come.
VIDEO: Choose local at the GreenUP Store and support local makers and the environment

Thank you for supporting GreenUP! GreenUP is a non-profit registered charity. When you shop at the GreenUP Store you are directly supporting GreenUP, and all proceeds support environmental programs in the Peterborough area — that's a gift that gives twice!
The GreenUP Store is located at 378 Aylmer St. in downtown Peterborough. Check out greenup.on.ca for holiday hours, gift ideas, and more.
This story has been created in partnership with GreenUP.