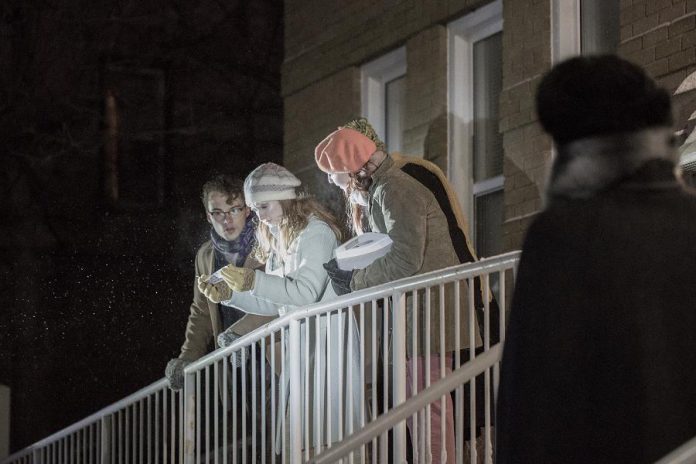 There are only a handful of tickets left if you want to see 4th Line Theatre's new Christmas show The Fool of Cavan: A Christmas Caper.
Written by Lindy Finlan and directed by 4th Line's managing artistic director Kim Blackwell, The Fool of Cavan is 4th Line's newest outdoor holiday show, which starts at St. Thomas Anglican Church and brings the story out into the streets of Millbrook using the village as the story's backdrop.
Filled with mystery, music, fun, and just a bit of old world magic, The Fool of Cavan is a perfect holiday outing for the entire family.
Advertisement - story continues below
Set in 1964, The Fool of Cavan opens with progressive Reverend Peter Green (Mark Hiscox) and his uptight sister Euna Wyndham (Megan Murphy) finding themselves at odds over a local rock band, The Needlers, performing at the church's Christmas pageant. However, bigger issues than if Millbrook is ready for rock n' roll arise when strange happenings begin at the church.
Strange ghostly sounds have been heard, and the costumes for the children's Christmas play suddenly go missing. When Euna blames the rock group — made up of teen detective Joanie Sweetnam (Erin Humphry) and her friends Evie (Sarah Flanigan), Billy (Tristan Peirce), and Eddie (Ryan Tobin) — the kids reveal that their instruments have gone missing too.
When accusations and insinuations fly, the members of the church are visited by a mysterious figure dressed up as a fox, leading the characters outside where they witness a group of mysterious costumed revellers dancing through the streets. Out to clear their names and find their instruments before the Christmas concert, Joanie and her gang take on the case and follow the clues to discover the identity of The Fool of Cavan.
The second holiday show for 4th Line Theatre, The Fool of Cavan is a welcome follow up to last year's successful show The Other. However, while The Other was filled with heavy dramatic overtones, The Fool of Cavan goes in an entirely different direction. The show is pure nostalgic enjoyment, unapologetically inspired by Nancy Drew mixed with Scooby Doo.
When watching The Fool of Cavan, I often felt like I was watching an animated holiday special from days of Christmas past, but acted out live in front of me. The show has a strange rhythm to it, where the actors are larger than life and slightly over the top, which creates the illusion of cartoon fun.
The character of girl detective Joanie Sweetnam, played by Erin Humphry, is a fun and inspired concept that really appeals to me. Growing up, I was a huge fan of girl detective fiction and still have my Nancy Drew, Trixie Belden, and Dana Girl Mystery books in my bookcases. So 4th Line Theatre resurrecting the genre in a live-action holiday play was a true treat for me, and will appeal to adults who grew up on this brand of storytelling, as well as the new generation of kids who will fall head first into the mystery as it unfolds.
Advertisement - story continues below
The characters in the show are fairly one dimensional, but this allows the audience to get to know the players quickly without being bogged down in character and back story so that the journey through Millbrook can take centre stage. All characters in the show have their own distinct character traits. Joanie is spunky and clever, Reverend Greene is sensible, Eunice is a busy body, Eddie is a fraidy cat, Evie is a rebel, and Billy is a goofball.
There's also a romantic subplot involving Joanie's mother Dolly (Laurel Paluck) and church elder Dunnie (JD Nicholsen), as well as fun character parts by Matt Gilbert as Eunice's alcoholic husband Willy and Katrina McGahon as Eddie's cooler sister Speedy.
The force that drives the audience through the streets are the mysterious figures dancing through Millbrook. Garbed in costumes by Madison Costello and masks designed by Brad Brackenridge, the figures have a magical old-world quality to them, harkening back to pagan rituals and old European traditions.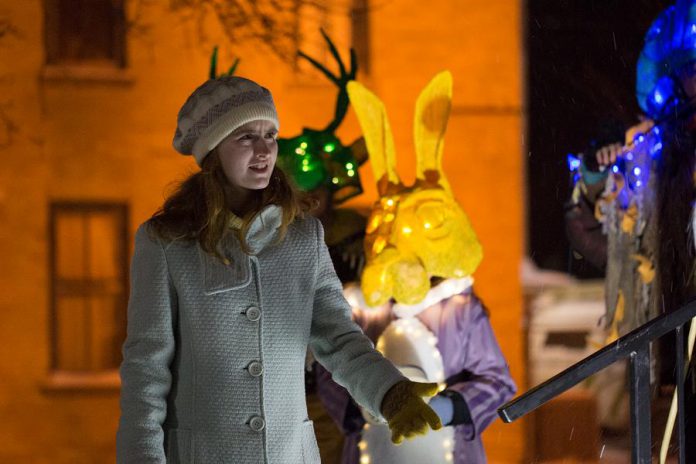 Ravens, foxes, stags and a plague doctor mingle with other mystical beasts, led by the so-called "Fool of Cavan" who bears resemblance to a yeti or a wendigo. Eerie and strange, with a sense of wonder and whimsy, these figures add atmosphere and magic to the show.
But, once again, the true star of the show is the village of Millbrook itself. Staging the play in scenic neighbourhoods, local landmarks and well-scouted locations, the walking tour through the village is beautiful, and instills a festive feeling in the crowd. Furthermore, the use of St. Thomas' Anglican Church as the home base for the show — which ends in an old-fashioned Christmas concert all its own — is a brilliant touch that brings up even more nostalgic memories of Christmas pageants gone by.
There is a beautiful Canadian country feel to the entire experience, which reminds the audience that the holiday season isn't about office parties, busy malls, and credit card debt. It's about community, friends, music, and a little bit of holiday magic.
4th Line Theatre's holiday productions are a wondrous and welcomed addition to the company's yearly programming. The walk through Millbrook is truly magical, and the festive spirit runs high. The Fool of Cavan is a wonderful addition into what hopefully will be a continuing holiday tradition for local audiences.
Note that the outside portion of the performance runs for 40 minutes, and audiences will travel snow covered streets and paths, so dress for the elements and be prepared for the physical nature of the show.
The Fool of Cavan: A Christmas Caper runs for seven more performances (December 6th, 7th, and 10th to 14th), but all performances are now sold out except for the Wednesday, December 11th one. The show begins at St. Thomas Anglican Church (16 Centre St., Millbrook) at 7 p.m., but audience members are asked to be gathered by 6:30 p.m..
Advance tickets can be purchased by phone at 705-932-4445, online at www.4thlinetheatre.ca, at 4th Line Theatre's box office in Millbrook at 4 Tupper Street and in Peterborough at the Peterborough Museum and Archives at 300 Hunter Street East (atop Armor Hill).