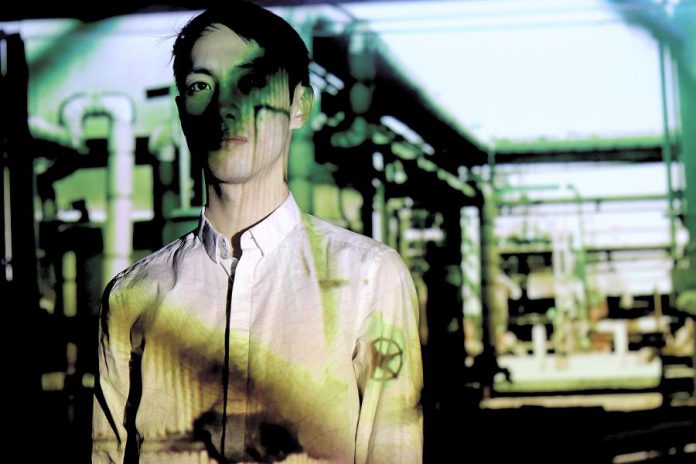 I was born inside a city where just about everyone you saw
Was workin' in the factory just like their ma and pa
Inside multicorporations where their destinies were bought
And the profits shipped across the river to the Bank of America
The factories fed off the land and people of the place
To produce their products profitably, disposing of the waste
Without fear of any consequence, they threw it all away
Into the purity of the soil and the river and the lake.
– Excerpt from "Chemical Valley" by Sarnia-born folk singer Kyp Harness
On Friday, March 6th, Public Energy Performing Arts is bringing two performances of the highly acclaimed production The Chemical Valley Project to Market Hall Performing Arts Centre in downtown Peterborough. This award-winning show about environmental activism and reconciliation is presented in documentary-theatre style by Toronto-based Broadleaf Theatre.
In the southwestern Ontario city of Sarnia, 40 per cent of Canada's entire petrochemical industry is concentrated within a 24-kilometre-wide industrial corridor just south of the city which has been known for decades as "Chemical Valley". With its 62 oil refineries and chemical plants, the pollution from Chemical Valley has brutal impacts on the surrounding communities and environment.
In 2005, Chemical Valley emitted more than 131,000 tonnes of air pollution, resulting in Sarnia being ranked by the World Health Organization in 2011 as having the worst air quality in Canada. Overall cancer rates among men in the Sarnia area are 34 per cent higher than the provincial average, with a lung cancer rate that is 50 per cent higher.
Water pollution is also a significant concern, considering Chemical Valley's close proximity to the St. Clair River. More than 700 chemical spills into the St. Clair River were documented from factories there between 1986 to 2000.
Advertisement - story continues below
One Sarnia-area community is particularly at risk: Aamjiwnaang First Nation, whose territory and more than 800 residents are surrounded by Chemical Valley's industrial refineries. One statistic is especially alarming: the birth rate of males to females on Aamjiwnaang First Nation over four years was one to two — the lowest live male birth rate in Canada.
Due to the risk of chemical emergencies, 11 sirens are installed in the area, with three of these located on Aamjiwnaang First Nation. In the event of an emergency requiring immediate action by the public, the sirens are sounded for a three-minute period — and they're tested every Monday afternoon, constantly reminding residents of the environmental risks they face.
Aamjiwnaang residents and sisters Vanessa and Lindsay Beze Gray have dedicated their lives to fighting the pollution threatening their community's land, air, and water and the health of their fellow residents. In The Chemical Valley Project, theatre makers Julia Howman and Kevin Matthew Wong have documented their activism as land defenders and water protectors.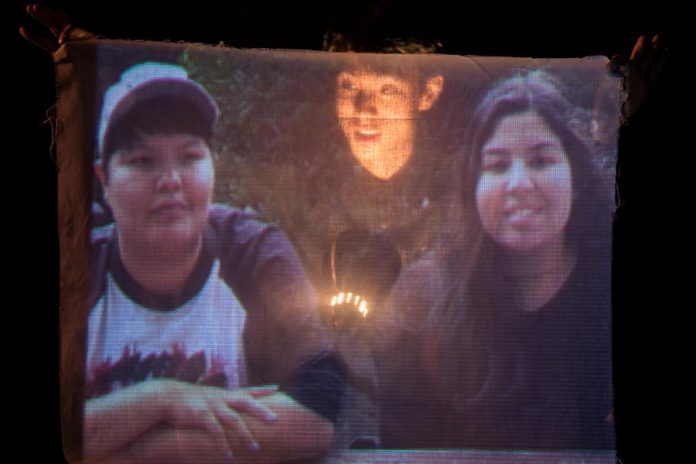 Wong is the performer in this solo show, with Howman creating the imaginative production design that includes extensive video shot on location.
The Chemical Valley Project engages audiences with a blend of documentary theatre, innovative projection design, a charismatic script, and playful solo performance.
A timely presentation given the recent nationwide rail blockades protesting the construction of a natural gas pipeline on Wet'suwet'en traditional territory in British Columbia, The Chemical Valley Project delves into difficult conversations on indigenous treaty rights and the nature of contemporary Canadian identity and values.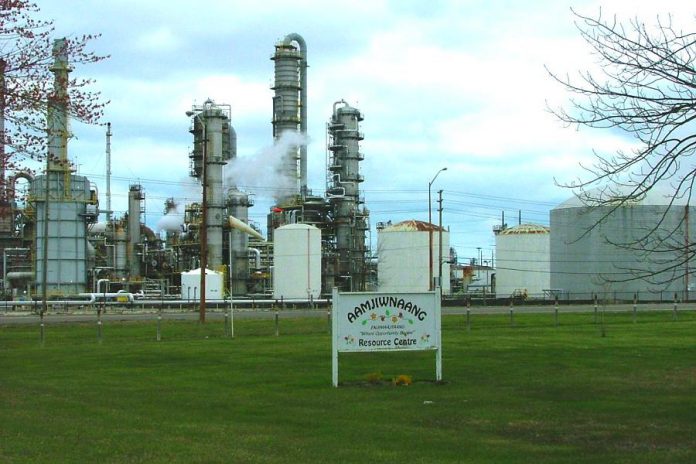 First performed in 2017, The Chemical Valley Project has achieved both critical and popular success. The critics' pick by Toronto's NOW Magazine at the 2017 SummerWorks Performance Festival, the performance toured across Canada and Germany in 2018 and premiered at Toronto's Theatre Passe Muraille in 2019.
Tickets to The Chemical Valley Project cost $25 for general admission, $12 for underwaged, and $7 for high school students. In the past, the reduced ticket price for the underwaged has only been available to students and seniors; now it's available as an option for everyone.
Tickets can be purchased in person at the Market Hall box office (140 Charlotte St., Peterborough), by phone at 705-749-1146, or online for the 12:30 p.m. performance and 7:30 p.m. performance.
Advertisement - story continues below
Along with the low-cost ticket option, The Chemical Valley Project will also be more accessible as both performances will be "relaxed performances" with American Sign Language (ASL) interpretation.
"Relaxed performances" are designed to make theatre spaces more comfortable and welcoming to audience members with autism spectrum disorders, sensory and communication disorders, or learning disabilities. Audiences are also permitted to stand, enter and exit, and make noise during the performance.
Two ASL interpreters will be signing throughout the performances, and ASL interpretation will be available at the box office as well. Six headsets available with amplified audio for theatre-goers with partial hearing loss.
VIDEO: The Chemical Valley Project at Theatre Passe Muraille

For more information about these and other accessibility options, visit publicenergy.ca/performance/broadleaf-theatre-chemical-valley-project/.
As part of Public Energy's presentation of The Chemical Valley Project, Broadleaf Theatre will be offering two workshops for Peterborough artists on the Saturday (March 7) following the performances.
"Devised Theatre Workshop: Objects and Personal", which runs from noon to 3 p.m. at The Theatre On King (171 King St., Peterborough), is a hands-on workshop with Kevin Matthew Wong.
"Isadora Digital Media Workshop", running from noon to 3 p.m. at Artspace (378 Aylmer St. N., Peterborough), is an introduction by Julia Howman to the Isadora visual programming environment, widely used in contemporary performance to control images, sounds, movies, lights, and more.
Space is limited for both workshops, so register in advance by emailing admin@publicenergy.ca.
kawarthaNOW.com is pleased to be a sponsor of the 2019-20 season of Public Energy Performing Arts.