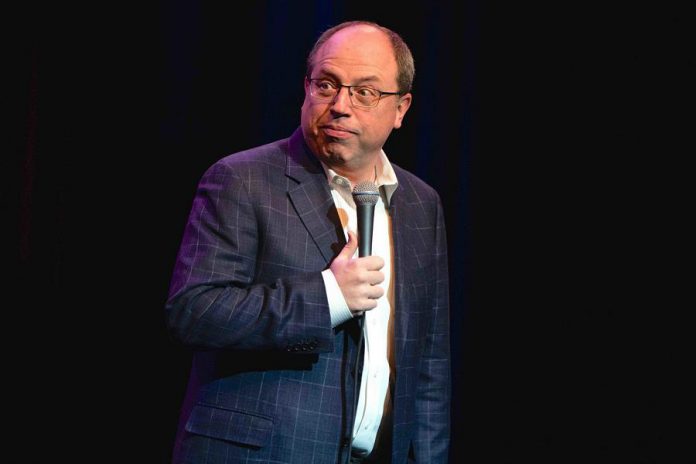 COVID-19 UPDATE – This event has been cancelled due to COVID-19 concerns. Showplace Performance Centre is suspending its operations until Monday, March 30th in compliance with Ontario's chief medical officer suggesting the immediate suspension of all gatherings over 250 people because of the ongoing COVID-19 pandemic. Showplace is working with its booking agents in an effort to reschedule any affected shows and will keep patrons informed in the coming days.
Most all of us have a happy place.
For some, it takes years to discover where that is while others know early on and, from that day one, make it their mission to get there.
"Once I saw that it was a thing, stand-up comedy made more sense than anything else to me," reflects Brent Butt of his pre-teen "epiphany moment" that resulted from seeing a stand-up comedian perform for the first time via the family television in Tisdale, Saskatchewan.
"Until then, I didn't know it (stand-up comedy) was something you could do for a living and, second, it was the only thing that made sense to me," he says. "When I saw that guy standing there talking and trying to be funny … well, it was what I tried to do with my siblings and my friends all the time."
"It immediately became my career path. I told my mother that day I wanted to be a stand-up comedian. I thought if I could do that and make a living doing it, I would probably be the most content human being on the planet."
Advertisement - story continues below
On Monday, March 30th, a very content Brent Butt — feet firmly planted in his happy place — will perform at Showplace Performance Centre (290 George Street North, Peterborough, 705-742-7469).
Tickets to the 8 p.m. performance cost $54 ($49 for seniors and students) and are available in person at the Showplace box office, by phone at 705-742-7469, and online at www.showplace.org.
While best known for his role as Brent Leroy on the CTV sitcom Corner Gas, Butt is no one-trick pony. Besides creating Corner Gas and starring in it, he also contributed to its writing and co-executive produced. Later, he wrote and produced the CTV comedy series Hiccups, and co-wrote and starred in the dark comedy No Clue and Corner Gas: The Movie.
VIDEO: Brent Butt on Jeff Dunham @ JFL

Still, for all his various projects, stand-up comedy remains Butt's thing.
"Stand-up is where I'm most me," says Butt, who made his debut in February 1988 at a Saskatoon comedy club before joining Yuk Yuk's roster of comics, eventually moving to Toronto, and performing as part of the touring group, including appearances in Peterborough.
"If I didn't have a background as a stand-up comedian, if I didn't continue going on stage and exercising those muscles, it would really hamper my ability to do the other things that I do. I get very itchy if I don't do a stand-up show in awhile. I miss it and I want to get at it."
"Every time I step on stage I feel I'm re-realizing the dream that this 12-year-old kid had. I know the vast majority of people aren't fortunate enough live whatever their childhood dream was. I did and that's never lost on me."
Advertisement - story continues below
The success of Corner Gas remains something that Butt marvels over. He notes he pitched the idea to his friend and director David Storey, who in turn pitched it to CTV.
"Somehow we convinced them to let us do 13 episodes but, A, surely nobody is going to watch it and, B, there's not likely to be a season two because sitcoms in Canada, at that time, didn't have a long and glorious track record," Butt recalls. "It was 'Let's just make a show that we like, that we're proud of, because that's all we're going to be able to take away from this.'"
"Well, the first episode was watched by three times as many people as what we thought our high-water mark would be. It just grew from there. It connected and resonated with people in a way that surprised us all. None of us saw it coming."
VIDEO: "Corner Gas" Highlights Reel

Set in the fictional town of Dog River, Saskatchewan where Corner Gas, owned and operated by Butt's character, is the only gas station for miles around, the sitcom aired 107 episodes over six seasons from early 2004 to spring 2009. With a remarkable average of one million viewers per episode, it won nine Canadian Comedy Awards, six Gemini Awards, including two for Butt for Best Male Performance (TV), and an International Emmy Award.
"Who knows what made it work? It if was a recipe, I would have 11 shows on the air, each doing multiple seasons," says Butt.
"I do believe we did a really good show. I think it was smart, funny, well-acted, well shot … it was all those things. The network did a good job marketing it and was very supportive. But a lot of times shows will have those same things and they don't click, so there's some lightning in a bottle that I don't think anybody will ever be able to put their finger on."
"Sometimes I wonder if the fact that we didn't think anybody would watch it made us not worry about whether anybody was going to watch it. The result of that was an intangible authenticity. We weren't trying to make a show to make people watch. We were trying to make a show we could be proud of. That created a certain authenticity that maybe audiences picked up on."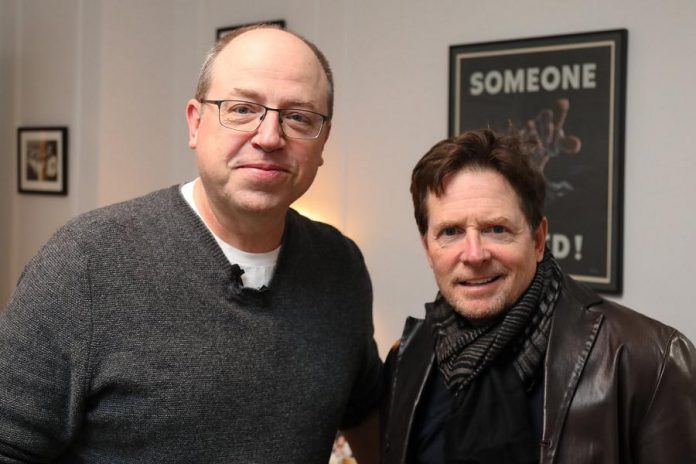 The success of the original sitcom (which can currently be streamed on Crave) led to an animated revival on CTV Comedy Channel in 2018, created and co-written by Butt. Corner Gas Animated features the voices of all the original Corner Gas characters, except for Janet Wright who passed away in 2016. CTV Comedy Channel has renewed the show for a third season, airing later this year. As of last fall, U.S. viewers can also stream the series, along with the entire Corner Gas catalogue, on Amazon Prime Video's IMDb TV.
When it comes to stand-up, as a highly respected and successful member of Canada's comedy fraternity, Butt remains well positioned to assess the current state of his craft.
"I think, especially at the club level, we're in a really strong time," he says. "When I came along, there was a real comedy boom. Every place in the country had a comedy night chicken wing special. But the fact that it was such an in-demand thing led it to become populated with a bunch of comedians who probably shouldn't have ever gotten into the business."
"What resulted was that (stand-up) comedy became weak, with audiences hearing the same four jokes reformulated over and over and over. That caused a crash but that crash led to a culling, which was good because a lot of people who were in comedy for the wrong reasons got out."
Advertisement - story continues below
"Comedy again became a thing that not everybody thought they could do and that led to a resurgence of real original thinkers. When I go to a club now to work on new material and see a bunch of comedians in their 20s, I'm really impressed with how different and original and unique so many of them are. I think we're in great shape. Stand-up is competitive but in a good way, and incredibly supportive. If comedians think you're funny or decent, they will go to the wall for you, even if they barely know you."
Butt says his Showplace audience can "expect a dude coming out talking and trying to be funny … a greasy nightclub comedian." Other than that, anything can happen and often does — "One of the things I learned early on is if I lay out the things I'm going talk about, it loses some spontaneity."
VIDEO: "Corner Gas Animated" Trailer

"I have way less hair now and I weigh less but, stylistically, I haven't changed a lot. Like anything, the more you do it, the stronger you get at it. I'm certainly better now at crafting a joke but for the intrinsic part of it, the nuts and bolts, I'm the same."
"When you're 20 or 21, you know how the whole world works but my comedy has always sprouted from the stance of 'I don't know what going on'. My comedic footing is I don't understand things, so I was never really that type of person. But I have noticed that there are some things that I did in my act early on that I kind of chuckle over now."
"I had a really strong stance on certain things then and that could not have been more clear to me at the time. I don't know that I have the same thoughts now that I'm older. I'm wiser now, but the 20-year-old me set the bar low in terms of wisdom."
Advertisement - story continues below
Currently writing a feature film he hopes to see made, Butt is also writing treatments for other shows. And then of course, there's his happy place, making with the funny in front of a live audience.
"No complaints on this end," says Butt. "You hear people say they're living the dream. When I hear that, it really hits home for me. It's like 'Yeah, goddamn … I am.'"
For more information on Brent Butt, visit his website at www.brentbutt.com.