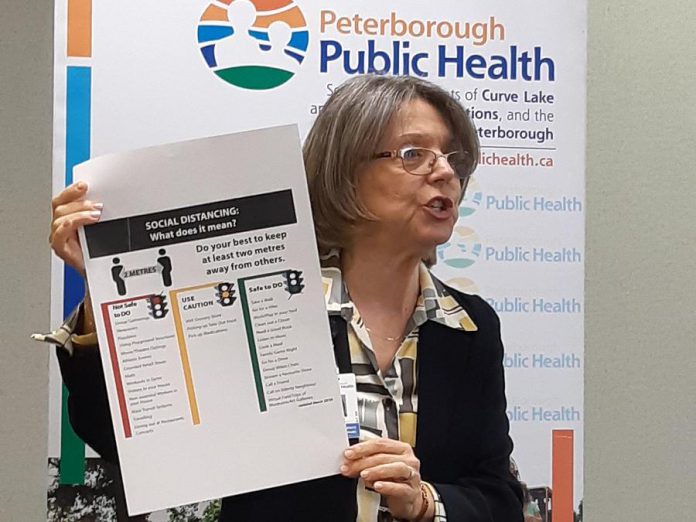 Peterborough Public Health has confirmed two new positive cases of COVID-19, bringing to seven the total number of cases in Peterborough city and county, Hiawatha, and Curve Lake.
Peterborough Medical Officer of Health Dr. Rosana Salvaterra shared that news during her daily media briefing on Wednesday morning (March 25).
Of the two new cases, one is a female, age 65, whose exposure occurred at a nursing home in Bobcaygeon. She has one contact identified by Peterborough Public Health.
The second case is a male in his 20s, whose contact was with another positive case outside of the city. Both are in self-isolation.
To date, 455 COVID-19 tests have been conducted with results awaited on 282 of those tested. Another 166 cases have been confirmed negative.
For the area served by the other health unit in the Kawarthas (Haliburton, Kawartha, Pine Ridge District Health Unit, which includes Kawartha Lakes, Northumberland, and Haliburton), there have been 12 positive cases, including one death.
For the most recent information on COVID-19 in Ontario and the Peterborough area, visit ontario.ca/coronavirus or peterboroughpublichealth.ca.
Peterborough Regional Health Centre is also providing news, updates, information and resources on its website at prhc.on.ca/cms/covid-19-novel-coronavirus.
What to do if you think you may have COVID-19
Complete the COVID-19 self-assessment at covid-19.ontario.ca/self-assessment.
Based on the results of your self-assessment, contact Telehealth Ontario at 1-866-797-0000 or Peterborough Public Health at 705-743-1000 ext. 401.
If symptoms are severe, please call 911 and alert the dispatcher to your travel history and symptoms.