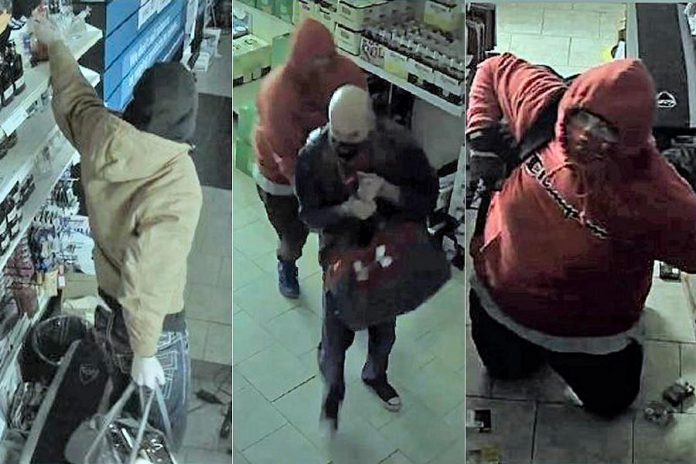 Kawartha Lakes Ontario Provincial Police (OPP) is asking for the public's help in identifying three suspects in a recent break, enter and theft in Janetville east of Lake Scugog in Kawartha Lakes.
On Thursday, March 12th, the owner of a convenience store on Pigeon Creek Road in Janetville discovered the store had been broken into sometime overnight and contacted police.
Initial investigation shows three suspects entered the store and removed alcoholic beverages, vaping products, knives, and cigarettes.
The OPP's Forensic Identification Unit attended the scene to assist with the investigation.
The suspects are described as follows:
Suspect #1 – a white man in his mid 20s, around 6'2″ tall with a thin build, wearing white running shoes, a black hooded sweater, a tan-coloured jacket, and blue jeans.
Suspect #2 – a white man in his mid 20s, around 6′ tall with a heavy build, wearing a red Championship brand sweater with a hood, and black and green pants camouflage pants.
Suspect #3 – a white man between 40 and 50 years of age, with a slender build, bald, and wearing a blue jean long sleeve shirt under a camouflage green vest and blue jeans.
Anyone having information on this crime or any others is asked to contact the City of Kawartha Lakes OPP at 1-888-310-1122. Information can also be reported anonymously by calling Crime Stoppers at 1-800-222-8477 (TIPS) or by visiting www.kh.crimestoppersweb.com and submitting an anonymous tip online.