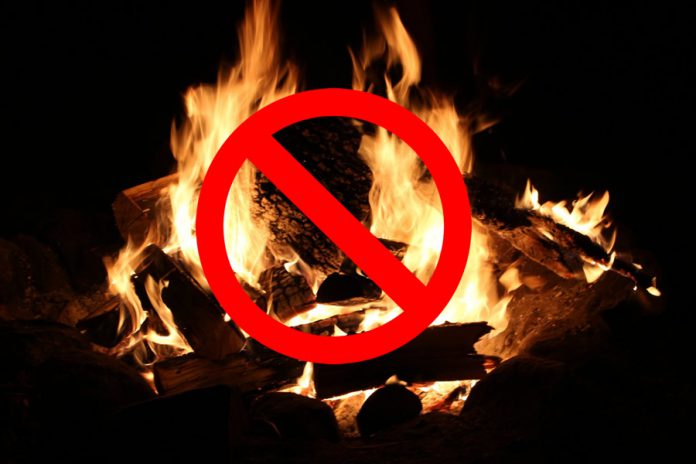 If you're looking forward to heading up north to have a campfire at the cottage, you are going to be disappointed.
On Thursday (April 2), the Ontario government announced that Ontario's entire legislated fire region will be designated as a restricted fire zone effective April 3rd.
Residents who live in the restricted fire zone cannot have an outdoor fire of any kind. This includes burning of grass, debris, and campfires — even when using an outdoor fire grate, fire place, or fire pit.
Ontario's legislated fire region is a series of 36 zones stretching from all of northern Ontario to portions of central Ontario.
In the Kawarthas, the fire region includes Haliburton County and northern portions of Hastings County, the City of Kawartha Lakes, and Peterborough County (see map below).
The restricted fire zone does not extend outside of the fire region. For example, southern Peterborough County including the City of Peterborough is not in the fire region. However, municipalities outside of the fire region may have their own by-laws.
For example, the City of Peterborough has always had a by-law prohibiting outdoor open-air burning. Only Technical Standards and Safety Authority (TSSA) approved appliances such as fire bowls, fire-pit tables, and barbecues that burn propane or natural gas are permitted. Chimineas and other wood-burning devices are not approved appliances for open-air fires in Peterborough.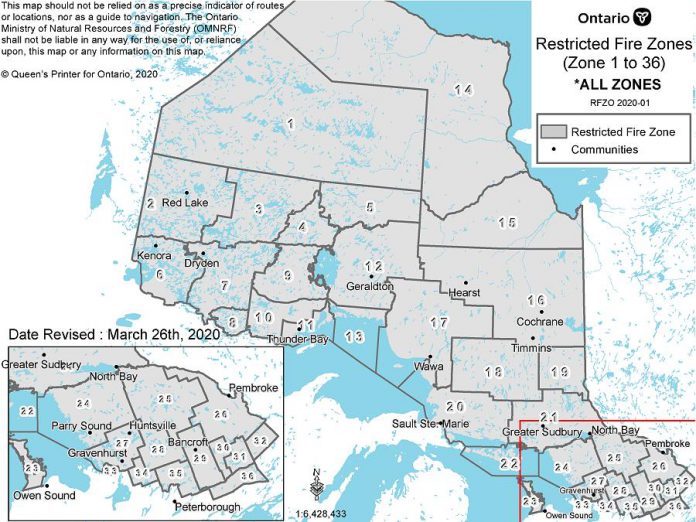 The Ontario government made the decision to support emergency responders during the COVID-19 pandemic.
"During this very challenging time when we are fighting the spread of the virus, our number one priority is the health and safety of the people of Ontario," said John Yakabuski, Minister of Natural Resources and Forestry. "We are putting these important preventative measures in place now to ensure that our emergency responders are able to focus their efforts where they are needed most."
If you need heat for cooking and warmth and you're in a restricted fire zone, you can only use certain equipment — such as a portable gas stove or propane stove — if you follow certain rules.
Failure to comply with the law in a a restricted fire zone could result in a fine up to $25,000, three months in jail, and financial responsibility for any costs incurred in fighting a forest fire.
This restriction will remain in place until Ontario's ability to respond to emergencies is no longer impacted by the COVID-19 outbreak.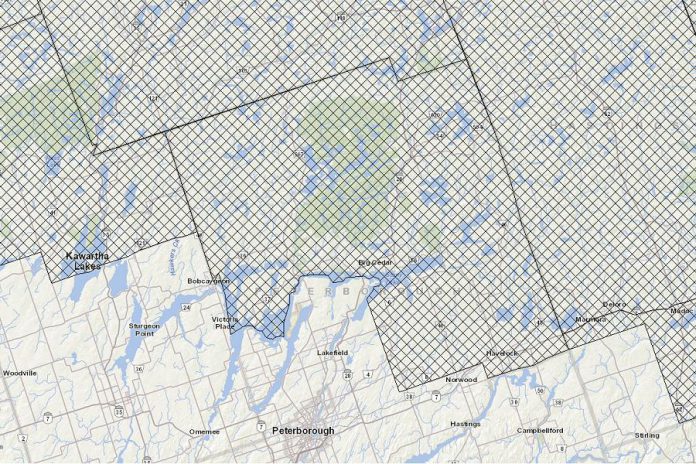 Local municipalities are working to update their websites with information for residents.
For more information for the rules to follow in a restricted fire zone, visit ontario.ca/page/outdoor-fire-restrictions.
This story was updated to include a link to the Ontario government website.