Charities that normally collect donations of clothing and textiles are urging Canadians who are decluttering during the COVID-19 pandemic to stop dropping off items at donation bins.
Charities such as Diabetes Canada and Goodwill stopped accepting donations across the country in late March, including in Ontario after the provincial government closed all non-essential services.
With the charities closed, there are no workers available to pick up donations from either homes or donation bins. For example, Diabetes Canada has temporarily laid off more than 500 staff who manage its donation bins.
However, people continue to drop off donations at the bins — although signs on the bins clearly ask them not to.
Even worse, some people are now also using the bins as a location to dump their garbage and other unwanted items.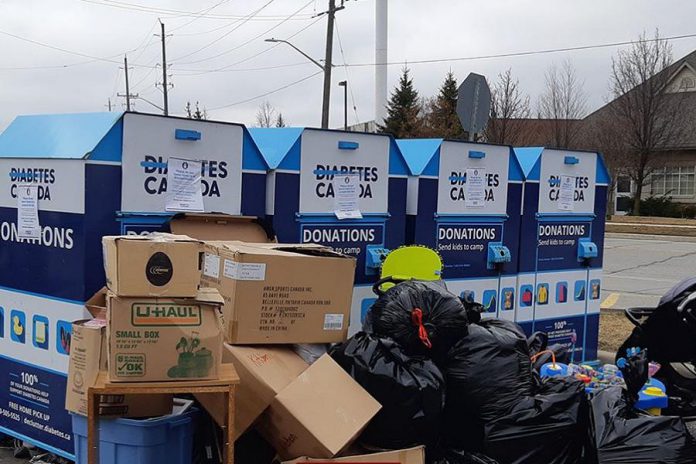 "This is posing a serious health and safety issue," Diabetes Canada writes in an email. "We have contacted government agencies to help us to remove the garbage; however we have not yet been successful. We simply do not have the financial resources to deploy staff to clean the garbage around our more than 5,000 bins."
The COVID-19 pandemic has already created a major challenge for charities that rely on clothing donations for a significant source of revenue. For example, Diabetes Canada uses the revenue to support diabetes research and to send children with Type 1 diabetes to camp. The organization's donation bins also divert 100 million pounds off textiles from the landfill annually.
So not only have the charities lost their major revenue source, they are also dealing with complaints from local residents about the mess around donation bins.
If you have unwanted clothing and textiles for donation, hold onto them until the donation bins are open again. These charities will need the donations more than ever when they can actually use them, when the crisis has passed.