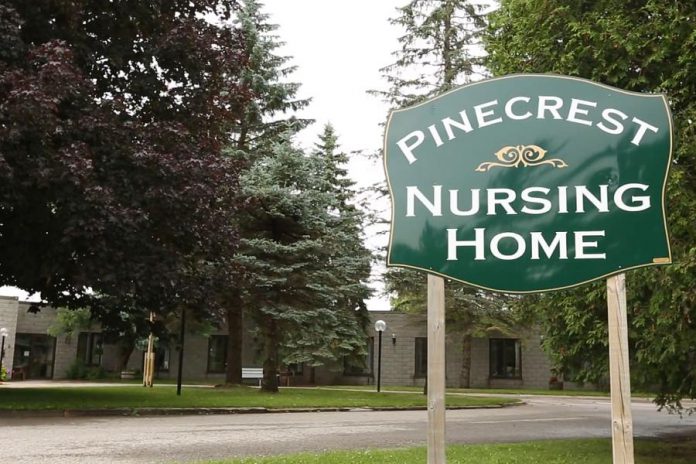 More good news for the Easter weekend out of Pinecrest Nursing Home in Bobcaygeon.
Administrator Mary Carr reports on Saturday (April 11) that no additional residents have died at the long-term care facility.
"We are again fortunate to report that there have been no new deaths at Pinecrest Nursing Home," Carr writes in an update to the community. "Our staff are working hard to prioritize the health and safety of our residents and our activation staff are connecting residents with their families through FaceTime and other technologies to share Easter greetings."
"All staff, especially new team members, have been trained and oriented on the correct use of personal protective equipment (PPE) and our home has been fully stocked with PPE from day one. I want to thank our staff for being diligent and prioritizing the health and safety of our residents."
"We continue to work closely with Public Health and the Ministry of Health to implement all ongoing and new care directives from the province. We are also committed to sharing relevant information with health authorities and other homes in the province as the situation unfolds and as we learn more about this virus."
Carr has been consistent in issuing daily updates by email to the community, and is asking members of the media seeking information to refrain from visiting the home.
"We are committed to providing open and transparent information to our community and ask that you refrain from coming on our property and approaching our staff members and residents' families," Carr writes. "Our community has been very kind to us in the past few weeks and we ask that you work with us to maintain the privacy of our residents and the safety of our community."
Carr also shared news about how the Bobcaygeon community is supporting the home.
"Our community continues to be so generous to us, donating DVD players, TVs and free cable for our residents. Staff are delighted to open our windows for residents as community members park outside and play music for us during these sunny days. We are beyond grateful and couldn't do this without their support."