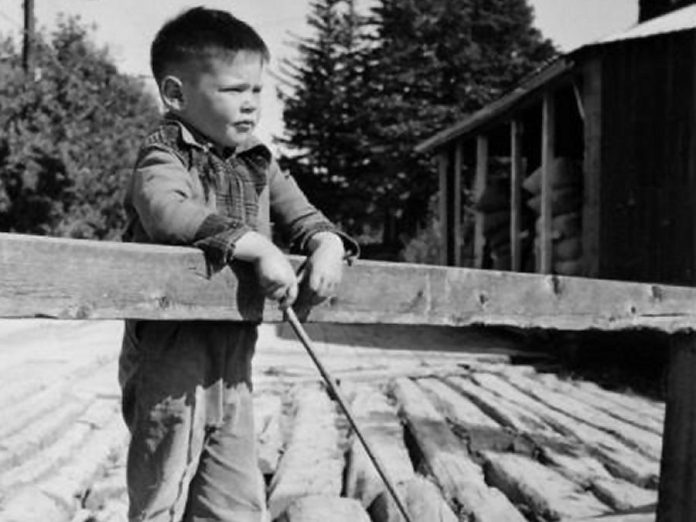 It was 65 years ago this week when a vaccine was approved to prevent polio, the most feared disease of the 20th century and one that almost took the life of the Kawarthas' most famous native son — Neil Young.
For many of us, the COVID-19 pandemic is the first time we've faced widespread closures of public facilities and experienced the stress and anxiety of catching a virus that causes a potentially deadly disease, and for which we have no vaccine.
But for Canadians who grew up in the first half of the last century, COVID-19 is a reminder of the ravages of polio, which was also called "infantile paralysis" and "the crippler" because the virus can permanently damage nerve cells that control muscles and result in paralysis.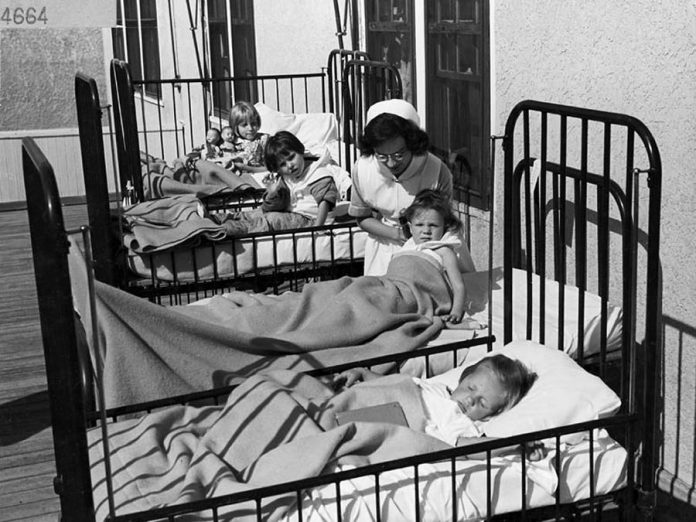 Polio was also called the "summer plague", because epidemics happened again and again during the warmest months, and the "middle class plague", because it was most prevalent in countries with higher standards of living.
Famous Canadians who contracted polio include Neil Young and Joni Mitchell, who were both infected in 1951 during the a major outbreak of the disease in Canada — an epidemic with 2,568 cases nationwide, including 1,701 in Ontario.
Other celebrities who contracted polio in the 20th century include pianist Carl Perkins, folk singers Judy Collins and Donovan, jazz saxophonist David Sanborn, and rock musicians Ian Dury and Gene Simmons.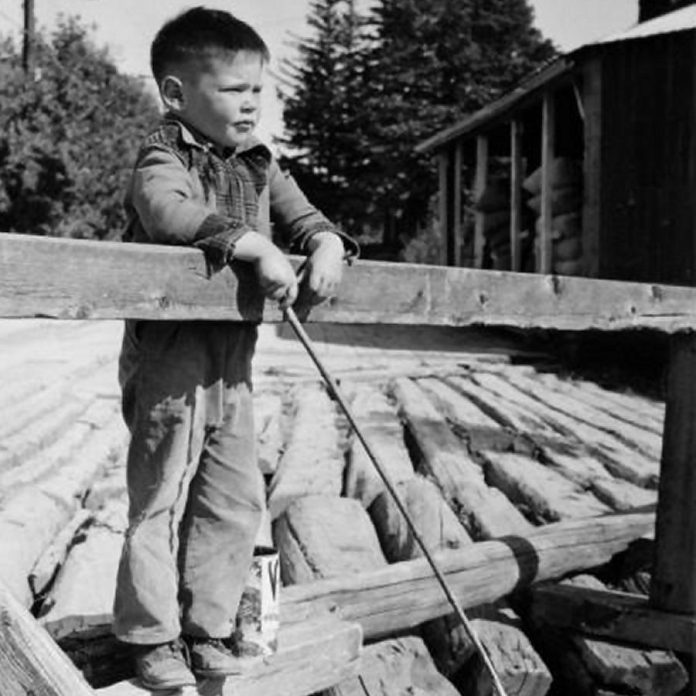 Neil Young developed symptoms on the morning of August 31, 1951, when he almost six years old and living in Omemee.
The previous day, he and his father Scott had gone swimming in Pigeon River and Neil woke up the next morning with a fever and a sharp pain in his shoulder. By the next day, the fever had intensified and the pain had worsened so much the Youngs' family doctor suspected polio.
"I was real young and I had no idea what the fuck was goin' on," Neil says in Shakey, a biography by James McDonough. "I just remember lying there, partially paralyzed."
Neil's parents drove him to Toronto's SickKids Hospital, where he underwent an excruciating extraction of spinal fluid to confirm he had polio. While Neil remained isolated in the hospital's polio ward, the Young family returned to Omemee where they were quarantined in their home.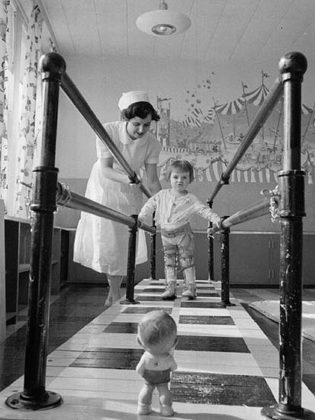 After six days in hospital, Neil returned home to Omemee to undergo several months of painful recovery. In December, the Young family moved to Florida, where they remained until the spring of 1952 so Neil could continue his recovery.
It's believed that Young's 1970 song "Helpless" refers to his experience with polio — both in the song's title and with the line "The chains are locked and tied across the door" being a reference to a polio isolation ward.
Polio (poliomyelitis) is an infectious disease caused by the poliovirus. It enters the body through the mouth, multiplying along the way to the digestive tract, where it multiplies even more.
Highly contagious, poliovirus spreads through person-to-person contact, primarily through exposure to contaminated feces and sometimes through saliva.
In about 98 per cent of cases, polio is a mild illness, with no symptoms or with viral-like symptoms. In paralytic polio, the virus leaves the digestive tract, enters the bloodstream, and then attacks nerve cells in the brain and spinal cord.
Around one per cent of people who contract polio become paralyzed. In severe cases, the throat and chest may be paralyzed, resulting in death if the patient does not receive artificial breathing support.
The virus is believed to be thousands of years old, but reached epidemic proportions in the early 20th century. The first polio outbreaks appeared in Europe in the early 1800s and, in 1894, the first major documented polio outbreak in the United States occurred in Vermont, resulting in 18 deaths and 132 cases of permanent paralysis. In 1916, a major outbreak in New York City killed more than 2,000 people, and paralyzed thousands more.
VIDEO: "The Shot Felt 'Round the World" Trailer

At the time, nobody knew how poliovirus spread or why outbreaks occurred without warning during the summer and early fall. Similar to wild theories about COVID-19, some believed polio was spread from imported bananas or stray cats. There was no cure or vaccine, creating fear and anxiety in families around the world.
The first known outbreak in Canada occurred in 1910 in Hamilton, Ontario. Despite various experimental treatments and efforts by public health authorities to contain the virus, including quarantining infected people, nothing worked. Later, it was theorized the virus spread in developed countries because improved sanitary conditions meant that mothers no longer had antibodies against the virus to pass on to their children.
Swimming pools and movie theatres were regularly closed during epidemics, and parents stopped sending their children to playgrounds or birthday parties for fear they would catch polio. During the polio epidemic in 1937, public schools in Ontario were closed until Thanksgiving.
Between 1949 and 1954, around 11,000 Canadians were left paralyzed by polio, with the disease peaking in 1953 with nearly 9,000 cases and 500 deaths — the most serious epidemic in Canada since the 1918 influenza pandemic.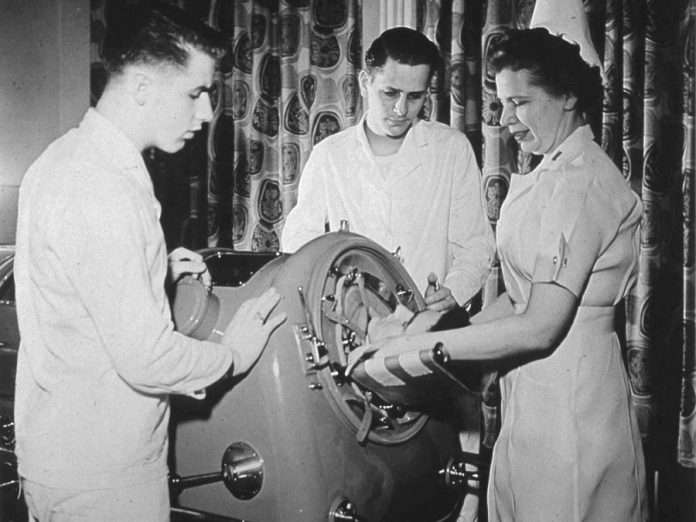 In 1929, Philip Drinker and Harvard University's Louis Agassiz Shaw Jr. invented what became known as "the iron lung" — an artificial respirator for patients suffering from paralytic polio.
In 1930, Canada's first iron lung was brought to The Hospital for Sick Children in Toronto from Boston. After a severe outbreak in 1937, there was a rush to assemble more iron lungs, with the Ontario government paying to have 27 iron lungs assembled in a six-week period.
Building on the work of scientists between the 1930s and 1950s, Jonas Salk and his team at the University of Pittsburgh developed the first successful polio vaccine, an injected dose of dead poliovirus. On April 12, 1955, the Salk vaccine was declared "safe, effective, and potent" and was rapidly adopted around the world.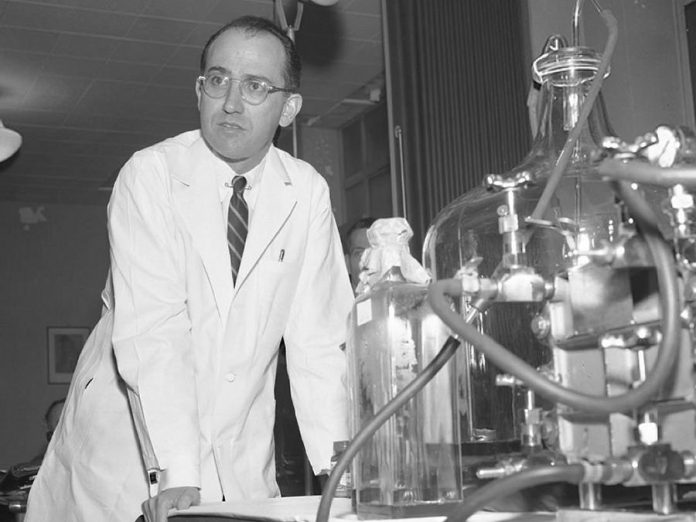 After two years of field trials involving more than 1.8 million children, the Salk vaccine proved to be up to 90 per cent effective in preventing paralytic polio. Following mass immunizations, the annual number of polio cases in the United States was reduced from a peak of nearly 58,000 cases to 5,600 cases. Salk become a hero, and was featured on the cover of Time magazine.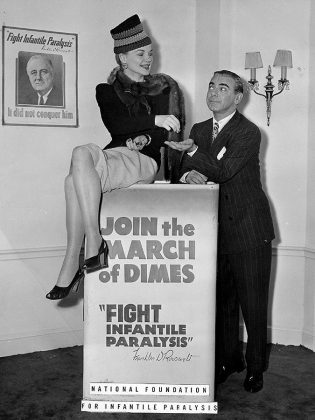 The vaccine was largely funded by the March of Dimes, an organization founded as the National Foundation for Infantile Paralysis in 1938 by U.S. President Franklin D. Roosevelt. Roosevelt himself was thought to have contracted polio in 1921, leaving his legs paralyzed for life.
Despite the condition, which he hid from the public, Roosevelt went on to become Governor of New York in 1928, and then defeated Republican President Herbert Hoover in a landslide in the 1932 presidential election.
The name "March of Dimes" was coined by entertainer Eddie Cantor, who suggested on the radio that people send dimes to President Roosevelt at the White House to help fight polio. Within a few weeks, people had mailed 2,680,000 dimes to the President.
Eight years after the Salk vaccine, Albert Sabin developed an oral polio vaccine that used live but attenuated (weakened) poliovirus. After Sabin's vaccine was approved for use, a second wave of mass immunizations led to a further decline in the number of cases, with only 161 cases recorded in the United States by 1961.
In Canada, the last major outbreak happened in 1959 with nearly 2,000 cases. The vaccines brought polio under control by the early 1970s, and Canada was certified polio free in 1994.
Humans are the only known reservoir of poliovirus and vaccination efforts continue today in the few regions where polio continues to circulate, including countries in the Middle East, Africa, and Asia — a testament to why vaccines are the greatest public health success of all time.