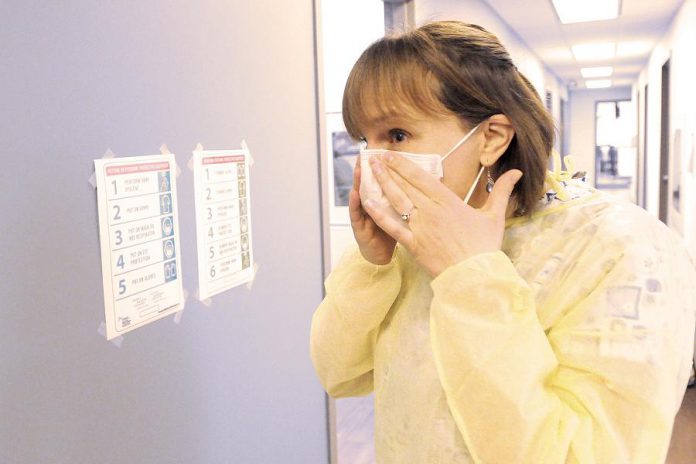 As encouraging as local COVID-19 numbers have been lately, Peterborough's medical officer of health believes the pandemic will be with us in some form for "18 to 24 months at least."
"It's going to depend on how soon we get an effective vaccine into clinical trials and, once we have an effective vaccine, how quickly they can ramp up production so we can get it into people's arms," Dr. Rosana Salvaterra said at her weekly media briefing on Wednesday (May 13).
"The only reason a second wave (of COVID-19) wouldn't happen is if we're able to contain the virus and completely eliminate it," Dr. Salvaterra explained. "What makes COVID-19 particularly challenging is the fact that it can be transmitted while people are asymptomatic or pre-symptomatic."
"Given that, I think it's highly unlikely we will contain this one. We'll either see sequential waves, like we do with seasonal influenza, or we might see it go up and not come down. I think there's lots more COVID-19 in the future until we have a way to prevent it and that won't come until we have a vaccine."
"We are not going back to normal. The province is not even at stage one in the recovery yet. In the weeks and months ahead, we will need to create a new normal."
Referring to updated COVID-19 data for the region, Dr. Salvaterra notes that as of Wednesday (May 13), the total number of positive cases for the region is 73 — an increase of six cases over the last week.
Advertisement - story continues below
Of those cases, 64 have been resolved while seven cases remain active. More than 5,600 people have been tested, including more than 3,500 residents and staff tested over the past three weeks at the region's eight long-term care homes, 11 retirement homes, and the Congregation of Sisters of St Joseph.
"The data in Peterborough continues to be reassuring but we are fighting a virus that is easily transmitted, even before someone has symptoms or by people who infected and may not have any symptoms," says Dr. Salvaterra.
"Although Peterborough's curve is flat, there are hundreds of new cases occurring daily in Ontario. I'm asking everyone to continue to restrict visitors, to avoid risky activity, and to respect physical distancing."
"We need four things in order to be sure we are keeping safe while we re-open our economy and our community. We need to see daily and sustained decreases in the number of new cases, and continued and aggressive case and contact follow-up by public health. We need to stay at the top of our game with high per capita numbers of testing. And we need enough health care system capacity and access to PPE (Personal Protection Equipment) to make sure we're able to respond to any new cases that arise."
Advertisement - story continues below
Of note, according to a recent report issued by the Institute for Evaluative Clinical Sciences, Peterborough Public Health had one of highest per capita rates of COVID-19 testing in Ontario as of April 30th.
Dr. Salvaterra says credit for that is due to the collaborative efforts of Peterborough Public Health, Peterborough Regional Health Centre and Peterborough Paramedics.
There are currently two institutional outbreaks in the region: a longstanding one at St. Joseph's at Fleming and an outbreak recently declared at Kawartha Heights Retirement Living where a staff member has tested positive. Dr. Salvaterra expects the St. Joseph's at Fleming outbreak will be declared over this week.
Gender wise, COVID-19 continues to afflict more females (53 per cent) than males (47 per cent). As for the source of COVID-19 exposure, half of those who have tested positive had contact with a known case with the remainder having contracted the virus via travel abroad (31.5 percent) or community transmission (17.8 per cent).
Also participating in Wednesday's media briefing were Peterborough-Kawartha MP Maryam Monsef, Peterborough Mayor Diane Therrien, and Selwyn Mayor and Peterborough Public Health chair Andy Mitchell.