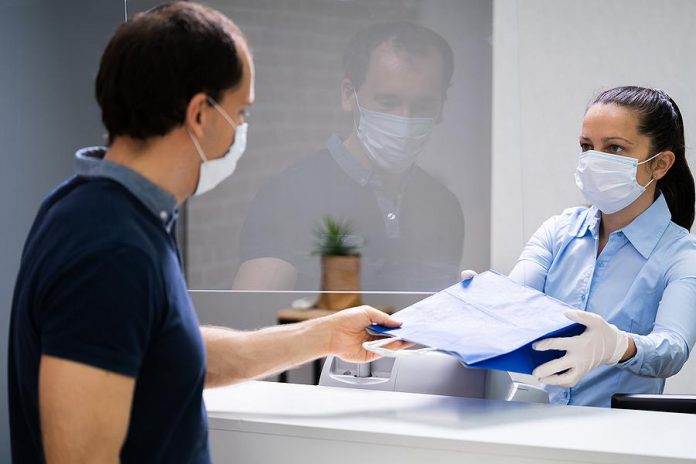 Last Thursday (May 14), the Ontario government announced that retail stores that are not in shopping malls and have separate street-front entrances can resume operation just after midnight on Tuesday (May 19).
kawarthaNOW has recently received several questions from readers about the reopening of these retail businesses during the COVID-19 pandemic. What are retailers required to do when it comes to protecting the health and safety of their customers and employees? Who do we call if we feel a business is not operating safely? Are employees required to wear face masks? Are customers required to wear face masks?
Some of these questions are not new, but have become more frequent as more and more businesses resume operation during the pandemic. Grocery stores (including big box stores that sell groceries) and drug stores have remained open throughout the pandemic, garden centres and hardware stores reopened earlier in May, golf courses and marinas reopened on the Victoria Day long weekend, and now retail businesses are also reopening.
Advertisement - story continues below
Many of our readers have reported inconsistencies in the way businesses that have already opened are dealing with health and safety issues. For example, many grocery stores have stringent procedures in place, while some hardware and big box stores seem to be more lackadaisical in their practices.
Part of the confusion comes from how the Ontario government is using words like "restrictions" and "guidelines" when it comes to businesses reopening.
For example, in its media release announcing the reopening of retail businesses, the government states that retailers "need to restrict the number of customers per square metre — for example, one customer per 4 square metres (43 square feet) — to ensure physical distancing of 2 metres at all times", that "only fitting rooms with doors would be used, not curtains, to facilitate disinfecting," and that retailers "would restrict use to every second fitting room at any one time to allow for cleaning after use and ensure physical distancing".
While these sound like legal requirements, kawarthaNOW can find no specific emergency order or public health directive that includes this wording. So it appears this is guidance only.
Indeed, the Ontario government has provided a series of guidelines and best practices for Ontario businesses that are operating during the COVID-19 outbreak. These "guidance documents" are provided for each sector, including retail, and reflect the requirement of employers to protect workers from hazards in the workplace as set out in the Occupational Health and Safety Act and its regulations, as well as the public health directives coming from Ontario's chief medical officer of health.
For example, for the retail sector, the health and safety guidance includes options such as:
Provide online ordering, delivery or curbside pick-up to reduce need for customers to enter your premises.
Provide hand sanitizer for visitors to use upon entry as well as sanitizing wipes to use on shopping carts and hand basket handles.
Have all employees and visitors wash their hands thoroughly with soap and water, or an alcohol-based hand sanitizer if soap and water are not available, before entering the workplace, after contact with others, or with surfaces others have touched.
Control how many customers enter the workplace at one time (metering entry/exit).
Manage traffic flow and physical distancing with such measures as floor markings and barriers.
Limit the number of people working in one space so that they can distance themselves from each other.
Sanitize surfaces and immediate area between each transaction if possible (for example, sanitize the counter, conveyor belt, Plexiglas barrier).
Screen workers regularly for health issues.
See the full list at Workplace Safety & Prevention Services – Guidance on Health and Safety for Retail Sector during COVID-19.
For the retail sector, there are also guidance documents available for cashiers, garden centres, retail general labour employees, and sales and customer service representatives.
Advertisement - story continues below
However, all of these are guidelines rather than requirements for employers — meaning they are optional — as long as employers can keep their workers safe. Under Ontario law, employers have the duty to keep workers and work sites safe and free of hazards, and workers have the right to refuse unsafe work. If employees cannot resolve health and safety concerns internally, they can file a complaint with the Ministry of Labour, Training and Skills Development's Health and Safety Contact Centre at 1-877-202-0008.
For customers who are concerned about the health and safety conditions at a business, your only recourse is to report concerns to your local public health unit. While local police services are enforcing the Ontario government's emergency orders (such as the current prohibition on restaurants offering sit-down service), they have no legal authority to enforce health and safety guidelines at businesses.
As for whether customers and employees of a business must wear a face mask, there is also currently no requirement for this.
While businesses can supply personal protective equipment for employees, such as gloves or goggles or face shields, this is considered a last resort if other guidelines are not sufficient. It's up to the business depending on their unique situation.
If you're a customer of a business, wearing a non-medical face mask (such as a cloth mask or bandana) is also optional. Public health officials point out that a non-medical face mask will not protect you from getting COVID-19, but may reduce the risk of transmission of the virus if you are unknowingly infected (of course, if you know you have the virus, you shouldn't be out shopping in the first place).
However, face masks are only effective at reducing the spread of the virus if they are used properly. That means washing your hands immediately before putting a face mask on and immediately after taking it off and ensuring the mask fits snugly over both your mouth and nose.
Avoid touching your mask while you are wearing it, such as by moving it around or adjusting it often. Keep the mask on at all times — do not remove it to speak, as that defeats the purpose. If you wear glasses, there are various techniques you can try to prevent fogging while wearing your mask.
According to both the Canadian government and the Ontario government, medical-grade face coverings (such as N95 masks) should be reserved for use by health care workers, first responders, and others providing direct care to COVID-19 patients.
This story has been updated to include a note that the Ontario government is now sstrongly recommending that people wear non-medical face coverings when physical distancing is a challenge, such as on public transit and in small stores.