Have you been considering your gardening options this year? Would you like to save money, beautify your property, and reduce the risk of flooding in your neighbourhood?
If so, then the new Rain Garden Subsidy Program offered by the City of Peterborough and GreenUP is worth checking out!
City residents can now complete an online application for a rain garden subsidy to help offset the costs associated with installing a rain garden. The subsidy will provide qualifying residents up to a $500 reimbursement towards a rain garden based on the volume of rain water storage the garden provides.
Full details, including frequently asked questions and links to apply, are available at greenup.on.ca/ready-for-rain.
Advertisement - story continues below
Residents who take part in a questionnaire to verify their garden dreams will be eligible prior to application. Approved applicants will then be invited to take part in an online rain garden design and installation workshop, offered by GreenUP on Wednesday, June 17th. The workshop will provide all the necessary steps and best practices so you can feel confident to get dirty and plant your garden.
If you are not familiar with rain gardens, they are a type of garden that is gaining popularity throughout Ontario. These bowl-shaped gardens are designed to slowly absorb rain flowing from surfaces such as rooftops.
"Rain gardens are an aesthetically pleasing way to do your part to limit the pollution caused by the urban run-off generated from your property," says Curtis Mei, stormwater systems coordinator with the City of Peterborough. "Not only are they functional — helping with flood control and reducing pollution — but they can also increase the curb appeal of your property and attract birds, butterflies, and beneficial insects."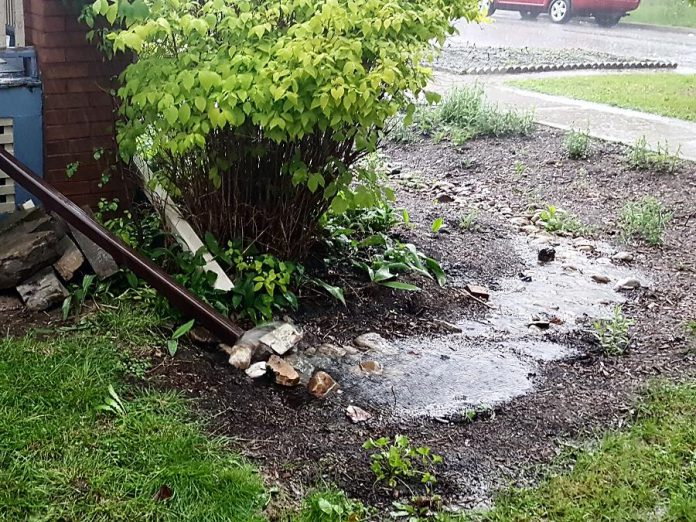 Rain gardens are designed with both an inlet and an outlet, often using stone such as pea gravel or river stone. The inlet is where water is directed into the garden — for example, under a downspout and into the garden. The outlet provides a safe place (away from basements) for the water to go should the rain garden be overwhelmed with a heavy rain event.
Rain gardens are also excellent for pollinators because they add habitat and colour to any property. If mosquitoes are a concern, have no fear: rain gardens are not suitable breeding grounds for these pesky insects, as they drain too quickly for mosquito larvae to survive.
Rain gardens are useful for absorbing rain that would otherwise run off rooftops and driveways and directly into the storm sewer system. Storm sewers collect rain water and direct it through a series of underground pipes before it is released into natural waterways, including Jackson Creek and the Otonabee River.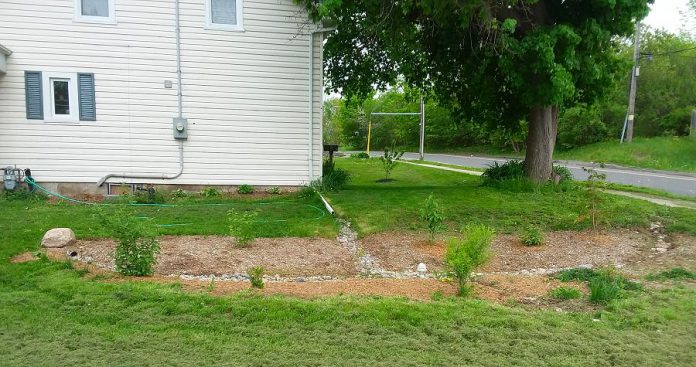 When the rain flows over surfaces like driveways and asphalt roads, it can collect pollutants such as oil and gas leaked from cars, garbage, and road salt. Without rain gardens, this run-off carries these pollutants into the storm sewers and then into our waterways.
"Currently only 25 per cent of the city's storm water is treated by some sort of storm water management facility before flowing into our natural watercourses," Mei observes.
This means that most run-off enters our rivers untreated and unfiltered. All of this pollution can reduce the quality of the water, making it less livable for fish, frogs, and other wildlife.
Residents who decide to take advantage of the new rain garden subsidy will benefit directly from GreenUP's extensive experience installing rain gardens in the Peterborough area.
From 2016 to 2018, the GreenUP Ready for Rain Program installed eight demonstration rain gardens. These gardens are located in the Avenues neighbourhood, including along Park Street beside the former location of BE Catering. In the fall of 2017, residents of the Avenues and volunteers planted these gardens, which have been growing and absorbing the rain ever since.
The GreenUP Depave Paradise project has also installed two large rain gardens in the city: one near No Frills beside the Otonabee River, and one at the corner of Brealey Drive and Lansdowne Street West at Domino's Pizza.
Between 2018 and 2019, the GreenUP Sustainable Urban Neighbourhoods program added three new rain gardens within East City to reduce flood risk in this neighbourhood.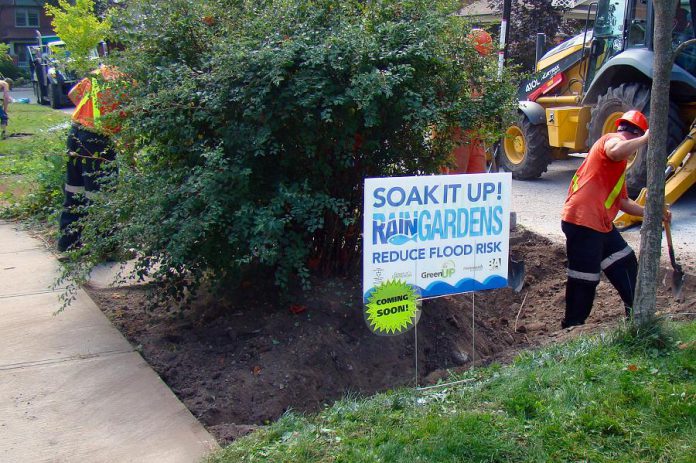 GreenUP's team is here to assist residents interested in building their own rain garden. The application process for the rain garden subsidy is through the City of Peterborough website.
GreenUP staff are available to answer questions that residents may have about the application process and rain garden design. Additionally, GreenUP is hosting informational sessions and workshops online to guide residents through the process.
The first online session is an informative rain garden primer and Q&A, hosted on Wednesday, May 27th from 7 to 8:15 p.m.. The second online event is a rain garden design and installation workshop, held on Wednesday, June 17th from 7 to 8:15 p.m. Participants are asked to register for these opportunities through the events calendar on the GreenUP website.
Advertisement - story continues below
The 2020 Rain Garden Subsidy Program is a pilot program with the goal of providing up to 50 subsidies to participating residents. Subsidies are intended to offset the cost of installing the rain garden, including soil, mulch, and plants.
Residents can begin applying now by completing the pre-approval application on the City of Peterborough website to receive a subsidy.
The process of installing a rain garden has several steps, such as locating underground utilities, conducting a soil drainage test, and using an online tool to calculate your roof area to determine the best size for your garden. GreenUP and the City of Peterborough are here to help you through each step. Together, we can create rain gardens across the community and be ready for rain!
If you are interested in participating in the program, you can get started right away. Simply visit the City of Peterborough website, complete and submit your pre-approval application, and attend the GreenUP rain garden primer and Q&A on May 27th and the design and installation workshop on June 17th.
For more information, please contact GreenUP Water Programs Coordinator Jenn McCallum at jenn.mccallum@greenup.on.ca.