It's a baby step to be sure, but a small drop in the incidences of community transmission of COVID-19 in Peterborough city and county, Curve Lake, and Hiawatha is cause for optimism moving forward.
Countering that good public health news, however, is a dramatic increase in the number of suspected opiod-related deaths in May.
During her weekly media briefing held Wednesday (May 27), Peterborough's medical officer of health Dr. Rosana Salvaterra reported that 16 per cent of the total 83 positive COVID-19 cases found in the region have been a result of community transmission — down from more than 17 per cent seen over prior weeks.
Advertisement - story continues below
Dr. Salvaterra has stated that before a return to pre-pandemic activity can occur, that number in particular must come down.
"It is encouraging to see that number come down," she said, adding "It's hard to know how low we can get it, but we certainly need to keep our eye on that number."
Referring to updated COVID-19 data for the region, Dr. Salvaterra notes the total number of 83 positive cases for the region marks an increase of seven cases over the past week. Of the positive cases, 71 have been resolved while 10 cases remain active, with a total of two COVID-19 related deaths reported.
More than 7,350 people have been tested, 450 of them over the past week. One of every 20 residents in Peterborough Public Health's catchment area has now been tested.
Meanwhile, with an earlier outbreak at Kawartha Heights Retirement Living resolved, there are currently no outbreaks reported in the region — a first since the very early days of the outbreak.
Particularly encouraging is the low number of cases locally in comparison to the provincial average. In this catchment area, there are 56 positive cases per 100,000 people compared to Ontario's rate of 178 positives cases per 100,000 people. Meanwhile, the local incidence rate over the past week is 4.7 per cent, again much lower than the provincial incidence rate of 18 per 100,000.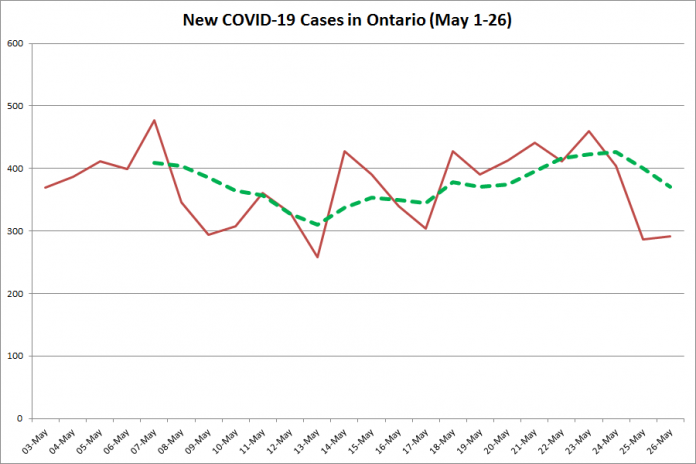 Dr. Salvaterra says the relative success of local public health initiatives taken during the pandemic crisis hasn't gone unnoticed in Ontario public health circles.
"I meet with all my medical officer of health colleagues at least three times a week by phone, and two of those calls are also with the Ministry of Health Emergency Operations Centre," she said, noting best practices are shared during those chats and that some local initiatives have been adopted by other health units.
With the current hot and humid weather conditions, Dr. Salvaterra noted the particular challenge being posed in relation to outbreak control measures. With the province having extended emergency orders to June 9th, access to typical ways of cooling off, such as public swimming and wading pools, is prohibited for the next few weeks at least.
"We need to adapt our practices and find other ways to stay safe in the heat," said Dr. Salvaterra.
"I'm hoping people will be able to take advantage of any existing shade in our outdoor green spaces. If you have vulnerable family members or friends, please check on them. The operation of businesses within this context is putting a strain on everyone."
"Line-ups outdoors are the norm for people shopping for groceries and other essential goods. I'm asking everyone to continue to stay at home as much as possible and reduce the number of shopping related trips to weekly."
Particularly disturbing for Dr. Salvaterra has been the receipt of complaints about human waste in public places including parking lots.
"This is simply unacceptable … it creates a health hazard and it is illegal," she reminded, adding "Designated shoppers must be prepared to have no access to washrooms."
Advertisement - story continues below
Dr. Salvaterra also addressed a recent dramatic increase in the number of local suspected opioid-related deaths with three reported in the last 48 hours, bringing to six for the total in May.
"That is more than the COVID-related deaths that we've had since March," she said.
"We need to continue to address this critical public health crisis which in some ways is intensifying due to COVID-19. Know what to when an overdose occurs and call 9-1-1 right away."
The substance causing these poisonings is not yet confirmed. However, Peterborough Public Health says there are some reports of a blue (both a bright blue and a dark shade of blue) and dark purple opioid product that is suspected to primarily contain fentanyl.
Users are reminded to never use drugs alone, avoid mixing drugs, carry a naloxone kit and keep it visible for others to see, do not use drugs at the same time as those with you, and test your drug using a small amount first.
In relation to the COVID-19 connection to the increase in suspected drug overdoses, health promoter Deanna Vandenbroek suggested a possible reason.
"One, for example, could be changes to the drug supply. There are limits to the borders and ports which affect what drug supply could potentially be here. If certain drugs are less available, people could be turning to more toxic drugs which they may have little to no tolerance for."
Also participating in Wednesday's media briefing were Peterborough-Kawartha MP Maryam Monsef, Peterborough mayor Diane Therrien, and Selwyn Mayor and Peterborough Board of Health chair Andy Mitchell.