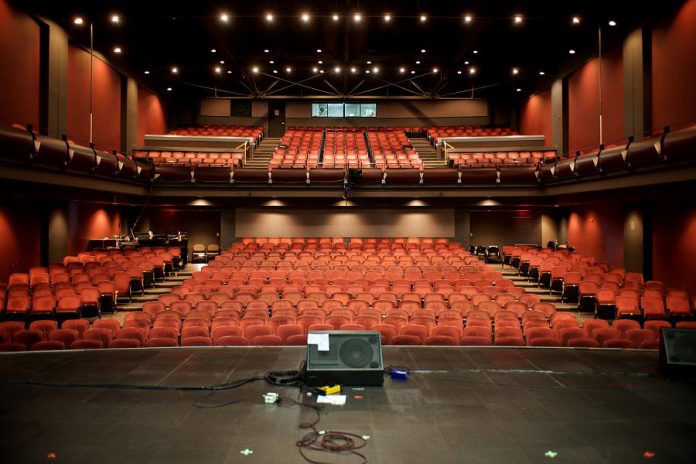 A fundraising campaign is underway for the Peterborough Arts Alive Fund, which will help charitable arts organizations in the Peterborough area make it through the COVID-19 pandemic — with an anonymous donor pledging $20,000 to launch the campaign.
The arts sector has been hit especially hard by the pandemic, with artists in any discipline unable to perform or exhibit their works in person, and performance venues and galleries closed by the Ontario government since March 17th.
The Peterborough Arts Alive Fund is an initiative of Electric City Culture Council (EC3) — an independent not-for-profit corporation mandated by the City of Peterborough to champion the development of the local arts, culture, and heritage community — in partnership with the Community Foundation of Greater Peterborough.
Advertisement - content continues below
The fund will provide grants of up to $10,000 each to local arts organizations to help them manage the impact of the COVID-19 pandemic and prepare to reopen.
The grants will be available to arts organizations working in any discipline — including visual arts, media arts, circus arts, theatre and performance art, dance, music, literary arts, spoken word, and interdisciplinary arts — and in any capacity, including creation, production, exhibition, presentation, and performance.
"COVID-19 has had a massive impact on the arts community," says EC3 president Bill Kimball. "This is a sector that makes an enormous contribution to the quality of life in Peterborough, and plays a profound role in our social and economic well-being. "
"Both organizations and individual artists are suffering as facilities close, exhibitions are cancelled, audiences drift, box office revenues disappear, and fees and commissions evaporate. These grants will allow the arts community to pivot, adapt, collaborate, plan and retool for the current situation."
The initial idea for the Peterborough Arts Alive Fund came from local educator and arts supporter Deborah Berrill. She is leading a group of private donors, along with EC3 executive director Su Ditta, EC3 board member Peg McCracken, and the Community Foundation of Greater Peterborough.
The group is hoping to raise $100,000 for the fund — enough to provide grants to at least 10 organizations.
Advertisement - content continues below
An anonymous donor has already pledged $20,000 to kick off the fundraising campaign.
"To start the campaign for the Peterborough Arts Alive Fund with such a generous donation is inspiring beyond measure and we are very grateful," says EC3 executive director Su Ditta.
"We live in an extraordinary community that combines an outstanding tradition of philanthropic giving with a passion for the arts and respect for the outstanding artists and arts organizations that create the vibrant cultural life we are so fortunate to enjoy here."
People can donate to the Peterborough Arts Alive Fund at cfgp.ca/project/arts-alive-fund/ or by mailing a cheque payable to the Community Foundation of Greater Peterborough at 261 George St. North, Suite 202, Peterborough, ON, K9J 3G9.
Details of the grant program will be announced when they are available.
To support the local arts sector during COVID-19, kawarthaNOW has donated advertising on its website for local non-profit arts organizations including Showplace Performance Centre, Market Hall Performing Arts Centre, Public Energy Performing Arts, Peterborough Symphony Orchestra, ReFrame Film Festival, The Theatre On King, and New Stages Theatre Company.