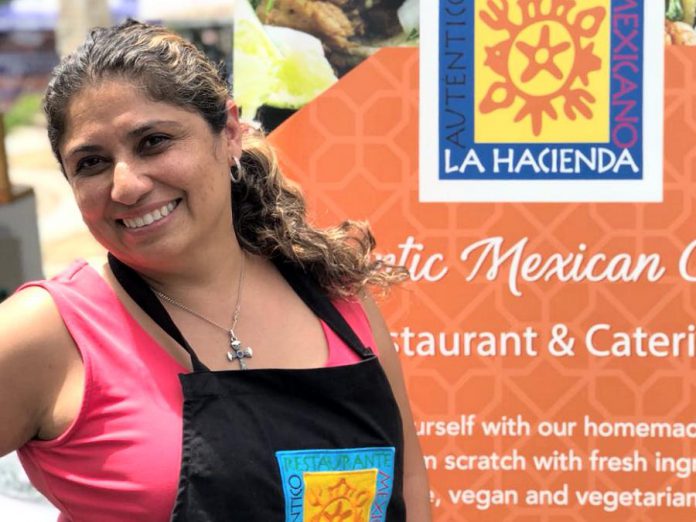 With every meal served at Peterborough's La Hacienda Mexican Restaurant, a Hunter Street destination since 2002, owner Sandra Arciniega celebrates everything she loves and misses about her home country.
Sandra enjoys people and entertaining, which drew her to tourism management studies while at university in her hometown of Guadalajara in Mexico. After graduation, she met her future husband while on a celebratory trip with university friends and, after six months of a long-distance relationship, she followed her heart to Toronto and, eventually, she and her new husband made the move to the cottage country community of Buckhorn.
It was a massive cultural change for Sandra as a recent newcomer to Canada, but she took it all in and made the most of new opportunities.
"I always loved hosting friends and family without appointment," Sandra recalls. "I have always loved my culture and good food and, when I got pregnant, I was craving so much of what I had left behind."
Sandra's pregnancy cravings were so strong she decided to open a restaurant to recreate and share the feasts and the flavours that she was missing. When she stumbled upon the unique space on Hunter Street in downtown Peterborough, she knew she had the perfect ingredients to pursue her dream.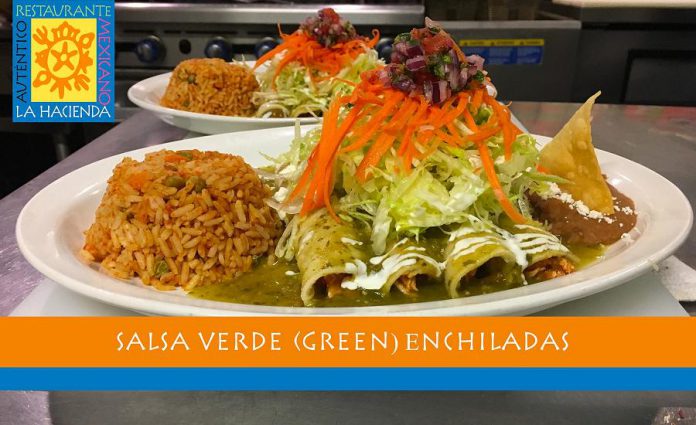 "The spot was so beautiful," Sandra says. "It had a good feeling and it was time for Peterborough to have some ethnic food in the area."
Sandra says La Hacienda lets her celebrate each day. Sometimes those days are long, and the money is not going to make anyone rich, but she says everything she missed was brought to life in the cozy restaurant that has stood the test of time over the past 18 years.
Sandra raised her kids and her restaurant at the same time, and sometimes there was jealousy — but there was also pride in their mother's accomplishments.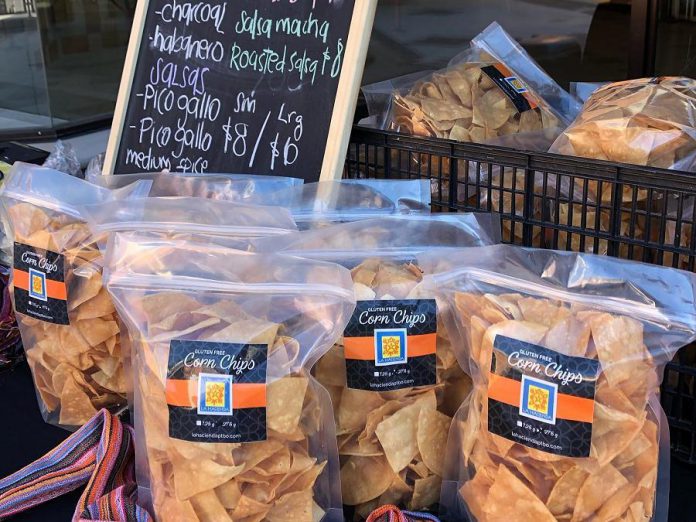 "When they started hearing from friends and teachers that it was someone's favourite place to eat and had the best food, they were proud and it was okay with them," Sandra laughs.
That pride got her kids through some tough times — experiencing the feeling of being different and of not being white. Eventually, the kids embraced their culture and now there is much more happiness.
Sandra notes how the Peterborough community has changed over the years. The community is more multicultural and, from the range of ethnic foods to the variety of languages people speak, there is far more diversity.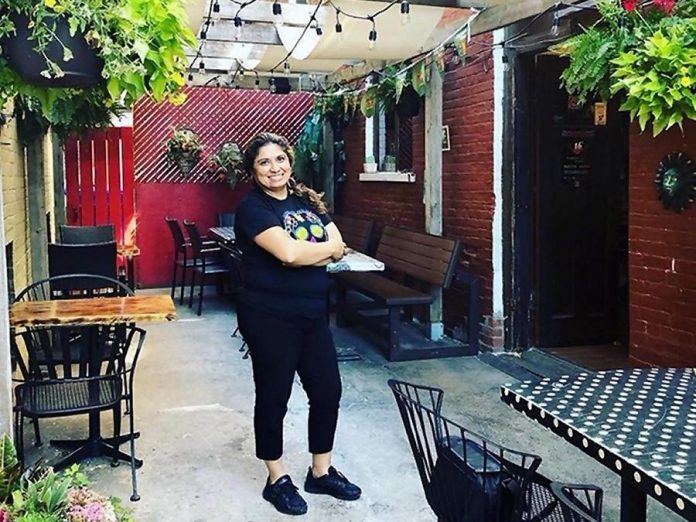 This diversity has always played a part in how Sandra runs her business. She provides employment for many newcomers to Canada, making sure everyone has a chance to be successful and to put down roots.
"I don't just sell food," Sandra explains. "Stories are shared in a plate. Everything is fresh and flavourful — we share emotion with food for your soul."
Sandra has focused on that food-to-soul connection since the COVID-19 pandemic hit small businesses across the region. The team at La Hacienda has faced each new challenge with the understanding they are an important part of Peterborough, and that they matter to community.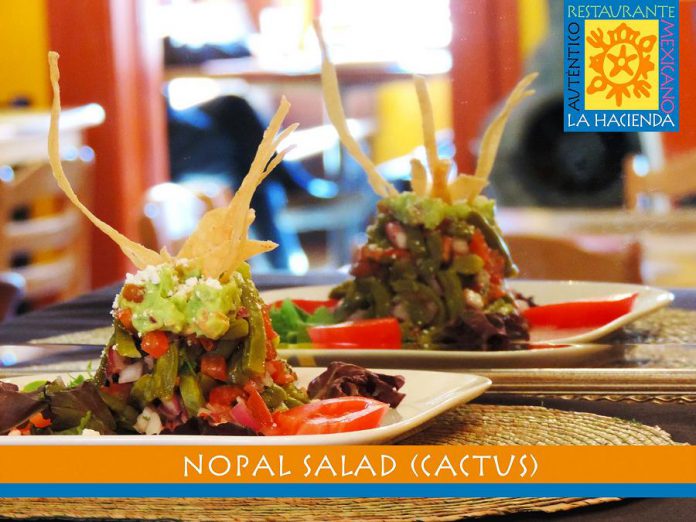 Through it all, Sandra keeps focusing on opportunity.
"We closed for the first 10 days and then we decided to try take-out and delivery," Sandra says, her voice wavering. "I was even making the deliveries myself, and the response from people was so beautiful my heart was broken with happiness. I kept hearing how we were needed, and how much the food meant to people."
Sandra says she has always been an independent worker, but she's grateful for the support from the Peterborough community — not only from customers who continue to order food but also from her landlord and from her family.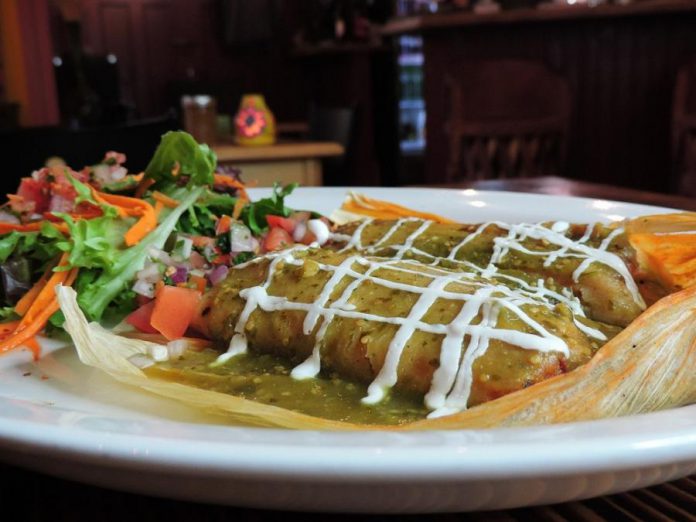 "I do this because of what it means to people," she explains. "This is a time when to make food means even more. With passion you can do anything, but for now I just have to do a little and expand as I can."
Despite the uncertainty of how long restrictions will stay in place during this life-changing pandemic, Sandra and her team are doing their best to stay connected to the community and to be as responsive as possible to the community's needs.
"Right now, I want to keep giving people something to be excited about," Sandra says. "And this is what I need to do to help."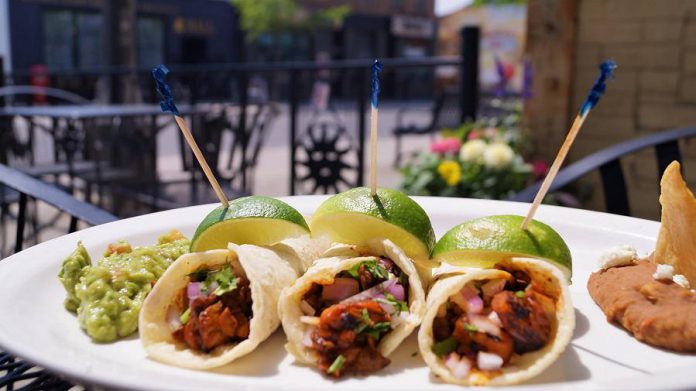 La Hacienda Mexican Restaurant serves authentic Mexican dishes based on family recipes, from scratch and using fresh seasonal ingredients. Vegan, vegetarian, and gluten-free options are available.
Located at 190 Hunter Street West in downtown Peterborough, La Hacienda is open for take-out and patio sit-down dining from 11 a.m. to 7 p.m. from Tuesday to Saturday (temporary reduced hours due to the COVID-19 pandemic). For patio reservations, call 705-742-1559. For more information, email info@lahaciendaptbo.com or visit lahaciendaptb.com. You can also connect with La Hacienda on Facebook, Twitter, and Instagram.
This year, the New Canadians Centre is celebrating 40 years of welcoming and supporting newcomers, and the annual Multicultural Canada Day Festival is an important part of this history. The festival brings our community together for a celebration of our country's birthday and the multiculturalism that is core to Canada's national identity.
Newcomers and their families have grown to be part of the rich cultural fabric that binds our community together. "Peterborough Is My Home" — our chosen home that we love, cherish, and support. This year's Multicultural Canada Day programming embraces this sentiment and has been adapted to reflect physical distancing guidelines due to the COVID-19 pandemic.
To learn more about other #PtboIsMyHome activities and events leading up to and on Canada Day, please visit nccpeterborough.ca. You can also follow New Canadians Centre on Instagram, Facebook, and Twitter.