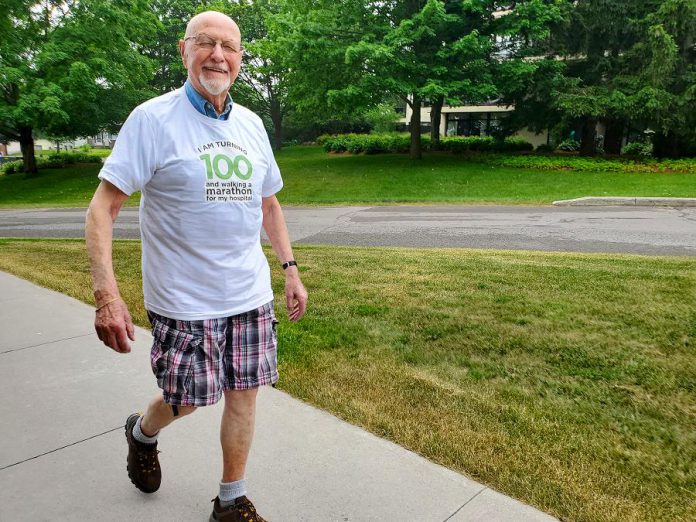 In honour of his 100th birthday this fall, Guy Aiello is walking the distance of a marathon in July to raise funds for equipment and technology at Peterborough Regional Health Centre (PRHC).
A long-time supporter of the hospital, Aiello will begin his marathon walk of 42.2 kilometres on Canada Day, walking 1.8 kilometres every day except Sundays throughout July.
He's already an avid walker, which may help explain his excellent physical condition at 99 years of age.
Advertisement - story continues below
According to a media release from the PRHC Foundation on Thursday (June 25) announcing the marathon, Aiello has been a PRHC Foundation donor and former hospital volunteer for almost 30 years.
He wants to do "something challenging and unforgettable — something that not only reflects his personal determination, but inspires others to support their regional hospital through the spirit of philanthropy" before turning 100 this fall.
"We are grateful to Guy for his ongoing support of our hospital," says PRHC Foundation president and CEO Lesley Heighway. "As a donor, and now by fundraising through his walking challenge, he's helping make sure PRHC's doctors, nurses and staff have access to the very best tools and technology that support innovative and compassionate care for patients from across our region."
Heighway adds the money raised through Aiello's initiative will be used to fund the hospital's most critical priorities, helping to transform patient care.
"There are significant investments needed to fund the technological advancements and essential medical equipment required to support world-class patient care," she says.
If you want to help Aiello meet his goal, you can donate online at prhcfoundation.ca or over the phone at 705-876-5000.