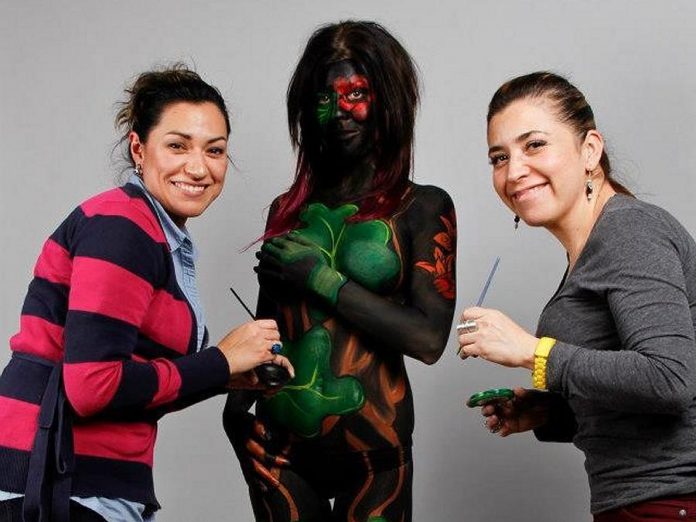 Not much compares to the joy kids experience through whimsical face painting. And no one knows this better than Rosie Salcido and Vange Rodriguez, the women behind Faces by 2, a professional and creative face and body painting and makeup company with locations in Peterborough and British Columbia.
Normally, the two independent entrepreneurs — who both hail from Mexico — are a favourite at summer festivals and gatherings. Unfortunately COVID-19 restrictions have prevented the two self-professed "makeup addict moms" from doing what they love most this summer.
Still, while their business plans are on hold, the two women remain committed to staying positive. That's because they've been through a lot together and know the importance of connection.
Both Rosie and Vange ended up coming to Peterborough from Mexico because of their partners.
Vange, an accountant, came to Canada when her husband was working on his Master's degree at the University of Guelph. After he graduated, they settled in Peterborough.
Rosie married a Canadian whose job brought them to Canada from Mexico 14 years ago. She still remembers the isolation she experienced as a result of culture shock, the winter months, and being at home with a young child.
When their children were at school together, Rosie and Vange met and immediately clicked. Sharing language, culture, and a passion for all things makeup, the two decided to pursue their dream of running a special event makeup business together.
They started out by entertaining people with their craft at festivals and soon they were the special feature at bridal parties.
Just as their business was starting to take off, Rosie and Vange connected with the women's group at the New Canadians Centre (NCC). They fell in love with the program that supported newcomer women, describing it as a "welcome place with open arms".
Because NCC provided child minding, the program provided a much-needed break for newcomer mothers. It wasn't long after that the two women began facilitating the NCC women's group.
"We taught the women in the program about face painting," Rosie recalls. "We wanted to build community and each week we would gather together to cook, make crafts, and then we started doing makeup together."
Vange also loved the experience at NCC.
"The biggest impact we felt was the power of belonging," she explains. "You see how much a person can grow by feeling welcomed and feeling part of a group or community."
"This group gave me the opportunity to meet women from different backgrounds, share our experiences as newcomers, empower each other, and feel at home in Canada."
They both say they will miss NCC's annual Multicultural Canada Day in-person festivities this year, but are hoping their happy memories will carry them through.
Vange and Rosie are representative of so many businesses that depend on seasonal work, special events, festivals and fairs to earn a living.
While the pandemic means their entire line of services is on hold — from face painting (the biggest part of their business), to weddings, lash services, and the incredible body painting processes they love creating — the two women remain upbeat. They finish each other's sentences with lots of laughter and banter back and forth.
VIDEO: Faces by 2 body paint the Canadian flag in honour of Canada's 150th birthday

Over the years, Rosie and Vange have built a loyal following across the Peterborough region and, with Vange having relocated to Delta in British Columbia, the two entrepreneurs planned to continue to grow their business at two locations.
Both women know the importance of staying hopeful and connected and, even during these challenging times, remain optimistic about what will come.
"We have to see what the future will deliver," Vange says. "We will keep learning so we can be ready when the time is right."
For more information about Faces by 2, call 705-930-7029 or 705-868-6540, email info@facesby2.com, or visit www.facesby2.com. You can also follow Faces by 2 on Facebook and Twitter.
This year, the New Canadians Centre is celebrating 40 years of welcoming and supporting newcomers, and the annual Multicultural Canada Day Festival is an important part of this history. The festival brings our community together for a celebration of our country's birthday and the multiculturalism that is core to Canada's national identity.
Newcomers and their families have grown to be part of the rich cultural fabric that binds our community together. "Peterborough Is My Home" — our chosen home that we love, cherish, and support. This year's Multicultural Canada Day programming embraces this sentiment and has been adapted to reflect physical distancing guidelines due to the COVID-19 pandemic.
To learn more about other #PtboIsMyHome activities and events leading up to and on Canada Day, please visit nccpeterborough.ca. You can also follow New Canadians Centre on Instagram, Facebook, and Twitter.