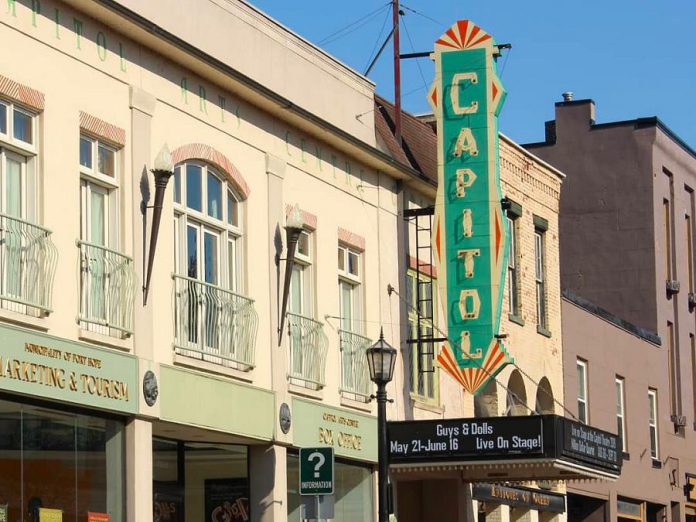 Port Hope's Capitol Theatre is suspending all of its main stage live theatre and concert performances for the rest of 2020 due to continued uncertainty around the COVID-19 pandemic.
Artistic director Susan Ferley and managing director Erin Peirce made the announcement on Friday (July 10).
"Every effort is being made to reschedule the affected performances and we remain very optimistic in our plans to announce programming and scheduling for the 2021 season in the coming months," Ferly and Peirce write in the announcement. "At this time, future dates have not yet been confirmed."
Showplace Performance Centre in downtown Peterborough made a similar announcement in early July.
Advertisement - story continues below
Live theatre shows on the Capitol's main stage scheduled for the rest of 2020 included The Wizard of Oz, BOOM, and Disney's The Lion King Jr.
Scheduled concerts included The Knopfler Effect (Dire Straits tribute), Jack de Keyzer, Lord of Song (Leonard Cohen tribute), Jukebox Jamboree (Elvis hits), The Legacy Rhythm and Blues Revue, Against the Wind (Bob Seger tribute), Motown Mania, and Abbamania & Night Fever (ABBA and Beegees tributes).
Ferly and Peirce are asking patrons to support the non-profit theatre's financial sustainability by holding onto tickets as the theatre works to reschedule performances.
Alternatively, they are asking patrons to place the value of their tickets on a Capitol Theatre gift card can be used at any time in the future, or to donate the value of their tickets to the theatre in return for a tax receipt for the full value of the purchase.
Advertisement - story continues below
The announcement of the cancellation of live theatre on concerts for the remainder of the year comes on the cusp of the Capitol's 90th anniversary. The theatre, which opened its doors for the first time on August 15, 1930, is planning how it can celebrate the anniversary.
"The Capitol Theatre family realizes that we are all affected by the circumstances surrounding the COVID-19 virus and we want to offer our best wishes for the continued good health of you and your family," Ferly and Peirce write. "We look forward to returning to the stage, after this now extended intermission."
For more information about the Capitol Theatre, including updates on rescheduled performances and how to support the theatre by becoming a member or making a donation, visit capitoltheatre.com.