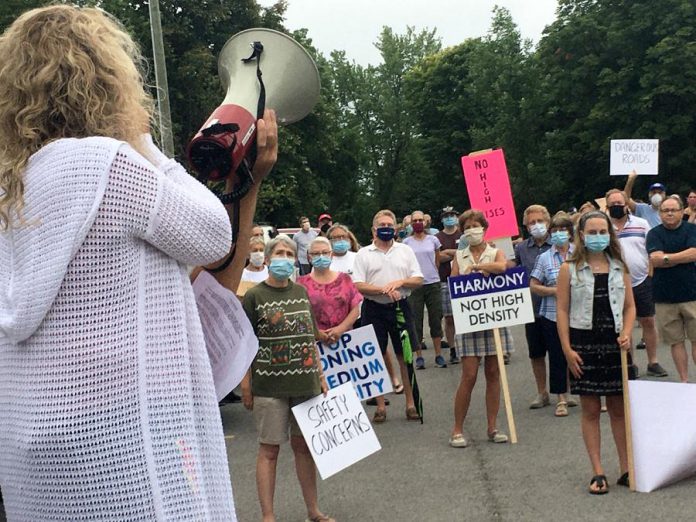 If there's still something to be said for power in numbers, consider it said — with an exclamation mark.
A rally organized by the Frances Stewart, Ashdale, and Armour Road Residents For Harmonized Communities (FAAR Residents) saw close to 200 people, many brandishing placards, come together Thursday night (July 16) in the parking lot of Thomas A. Stewart Secondary School (TASS) in Peterborough, before walking to the site of a planned seven-storey apartment building at Armour Road and Cunningham Boulevard.
On July 6, Peterborough city councillors, sitting as general committee, voted 7-4 in favour of changing the vacant site's land-use designation from commercial to high-density residential, clearing the way for the Parkview Homes development to proceed. The proposed rezoning will go to council on July 27 for a final vote.
Advertisement - story continues below
"We're not anti-development, we're against crazy development that's going to have to be fixed after the fact," stressed rally participant Greg O'Heron, who was also one of six residents who had spoken against the zoning change before council via a speaker phone call.
One of O'Heron's concerns with the zoning change is that it removes an option for the commercially underserviced neighbourhood. A sign on the property still promotes a commercial neighbourhood plaza with a bank, grocery store, drug store, restaurant, and more — even though the developer now intends to pursue high-density residential development.
"The biggest nut to overcome is that this is the only commercial plot from Parkhill to Pioneer Road. From my house, you're 1.7 miles to a store. So now, rather than active transportation the city is promoting — foot, skateboard, bike or anything else — you're in your car. If you live in this (Armour Road) corridor, every time you need something, you're in your car."
And then there's the increased traffic concern.
According to a media release issued by FAAR Residents, more than 600 additional vehicles will find their way onto the already busy Armour Road — not only because of the apartment building planned for Cunningham Boulevard, but also another residential development proposed for a vacant lot just north of TASS.
While the latter development is not as far along in the process, it calls for the construction of two six-storey apartment buildings comprised of 122 units as well as 126 townhomes.
"There's good development and there's bad development," said Ashburnham Ward councillor Keith Riel who, along with fellow ward representative Gary Baldwin and councillors Kim Zippel and Kemi Akapo, voted against the zoning change. Mayor Diane Therrien and councillors Stephen Wright, Andrew Beamer, Dean Pappas, Don Vassiliadis, Henry Clarke, and Lesley Parnell voted in favour of it.
"We all know there's a need for housing, but this city needs geared-to-income housing," Riel said. "These are all high-end apartments. But the biggest concern is Armour Road. We've asked for a traffic study. You've got the biggest high school here (TASS) and Trent University up the road. We've already had a traffic cop here two hours every morning. Traffic is going to get worse."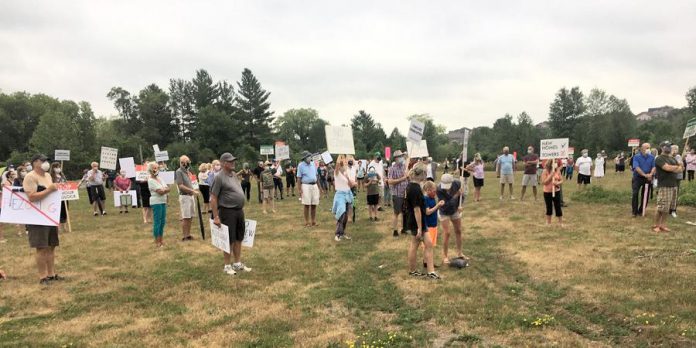 According to O'Heron, aside from the two proposed developments themselves, another point of contention for the group is council's consideration of the rezoning recommendation during a time when council meetings are being held virtually due to COVID-19 restrictions.
"The whole process has been really tainted," says O'Heron, adding "The billboard there (on the development site) still says it's going to be a plaza, so everyone assumes it's going to be a plaza."
"My first question as we head into stage three (of the COVID-19 recovery plan) is if the (council) meeting on July 27th is going to be in person or is it going to be on the phone? Why not put it off until delegates can be there in person?"
Advertisement - story continues below
According to the FAAR Residents' media release, "Many in our community … may not have the technological savvy to navigate online meetings. This is unfair to those who are most affected by the rezoning. We feel that things have been pushed through without fair and equal process."
Organizers of the rally, such as O'Heron, are hopeful their coming together as a community will make a difference.
"If we can defer it (the final vote), councillors can get more information about the issues we are raising," says O'Heron, whose family ties to the area date back to the 1870s.
Councillor Riel adds the squeaky wheel still gets its share of oil, noting he's hopeful the rally will prompt his council colleagues to visit the neighbourhood, view the proposed development sites, and come away with a clear understanding of what those in the community are concerned over.
As for those who would view the residents' concerns as just another case of NIMBY (Not In My Back Yard), O'Heron has a message.
"Take our flyer, look at the Auburn North Secondary Plan, Schedule N, and realize that everything north of the property we're talking about is zoned medium or high density," O'Heron explains.
"You've got all the opportunities in the world (for residential development). Don't take that only commercial development away from us. Don't put high density on a low-density island."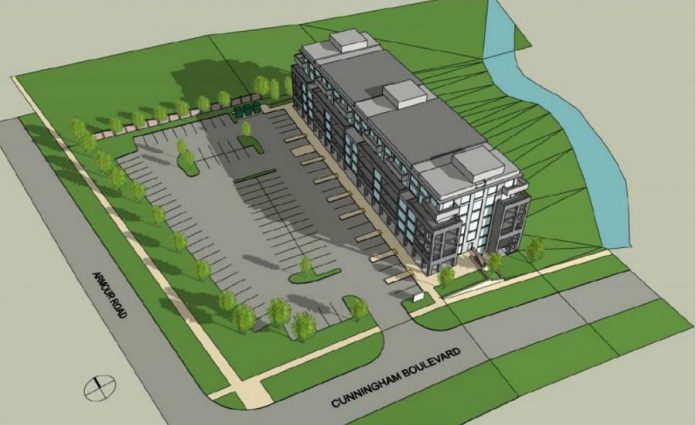 For more information, visit the FAAR Residents website at faarresidents.com.