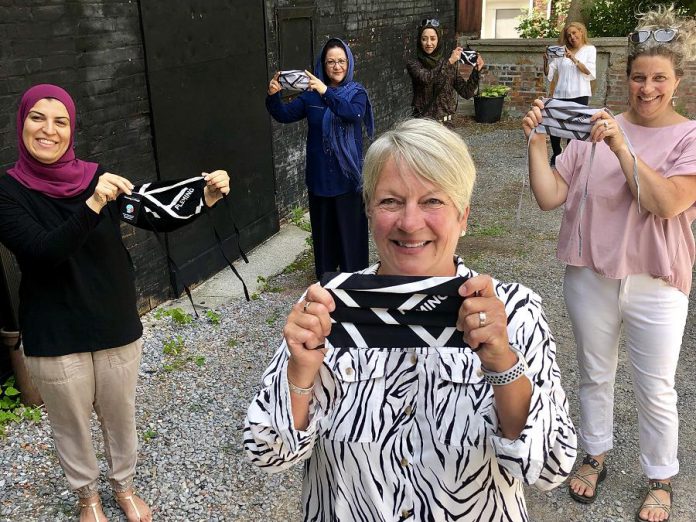 A group of newcomer women in Peterborough has created custom hand-stitched cloth face masks for Fleming College while earning a living wage.
Fleming College, Madderhouse Textile Studios, and the New Canadians Centre came together to provide the Newcomer Sewing Crew — a collective of talented artists and sewists who learn entrepreneurial skills while receiving fair compensation for their work — with the opportunity to create the masks, which are being distributed to Fleming students, faculty, and staff as they return to campus for summer bootcamps.
"We are thrilled to work with Madderhouse Textile Studios and the New Canadian Centre to provide important work for the Newcomer Sewing Crew, a collaborative project that in turn will help keep our Fleming community safe," says Fleming College president Maureen Adamson.
Advertisement - story continues below
"As a public asset, Fleming has an obligation to create opportunities that unlock potential in our community," Adamson adds. "We are grateful for the work done by the Newcomer Sewing Crew and are pleased to showcase the face masks to our Fleming community."
The face masks were designed by Fleming's marketing team, printed at Madderhouse Textile Studios, and constructed by hand by the Newcomer Sewing Crew. The crew created 300 masks available in three different colours and in either elastic or tie style.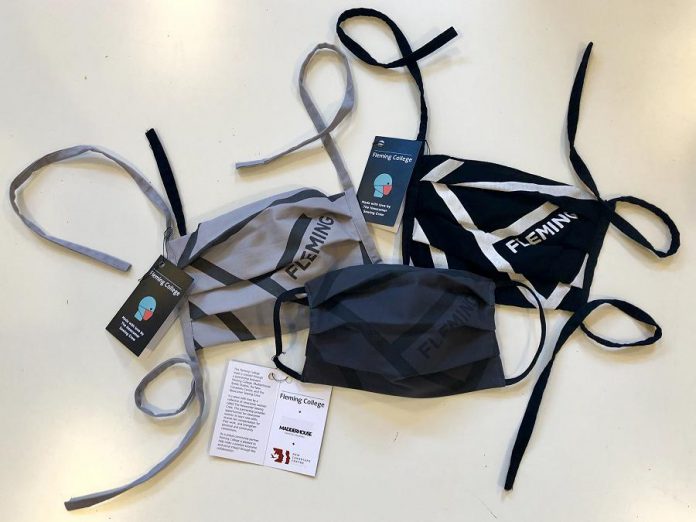 "As a social enterprise, our mission is to strengthen our personal and community connections through our products and our stories, and to champion the importance of locally sourced products as a catalyst for boosting community health and well-being," says Madderhouse Textile Studios owner Leslie Menagh.
"Through the work that we do, we also hope to highlight the value of our skills and to change the conversation about women's careers and contributions to our greater society."
Since January of last year, Madderhouse Textile Studios and the New Canadians Centre have partnered on projects that build on the centre's existing sewing programs. The goal of the partnership is to expand newcomer women's knowledge and skills in the textile industry and provide them with the space to express themselves through their artistic and technical abilities.
"We are very excited about these face masks and are looking forward to showing them off very soon," says New Canadian Centre's workplace integration liaison Reem Ali. "A lot of work has gone into planning, coordinating, and implementing this project."
"It was always the goal of our sewing program to train and equip newcomer women with skills that they would find useful as they forge new partnerships and professional relationships in the community," Ali explains. "We certainly see how this project is helping make that happen and we are happy to continue supporting this model as the Newcomer Sewing Crew grows in our community."
For more information about the Newcomer Sewing Crew, visit madderhouse.com/newcomer-sewing-crew.