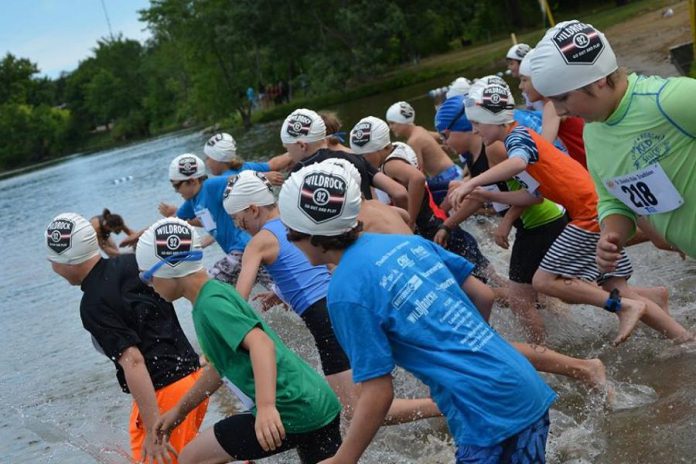 Hundreds of kids won't be running, cycling, and swimming at Beavermead Park this summer raising funds for a local charity.
Due to COVID-19 public health restrictions, organizers have cancelled the popular Dr. Shufelt's Kids Triathlon, which annually sees 250 children between the ages of two and 12 competing in a triathlon, with the goal of promoting healthy active living in children.
Dr. Katy Shufelt, an interventional cardiologist at Peterborough Regional Health Centre who is also an advocate for physical activity and wellness, has sponsored the event since 2010.
Advertisement - story continues below
"It is my favourite day of the year and I will miss the excitement of race day," Dr. Shufelt says in a media release on Wednesday (July 22) announcing the cancellation.
"However, I am delighted to see many families finding more time during the pandemic to walk, run and cycle together. This challenging time has given us new opportunities to explore our beautiful local trails, waterways and parks."
Despite the cancellation of the event, Dr. Shufelt is encouraging children to be active this summer.
"It's important to stay active and strong which will help your immune system fight off any bad colds or flus you come in contact with. Healthy kids equals healthy hearts."
Over the years, the triathlon has raised more than $25,000 for local charities. In lieu of this year's event, Dr. Shufelt will be making a $2,500 donation to Food for Kids, a non-profit organization that helps support student nutrition programs in the Peterborough area.
Even though schools have been closed throughout the pandemic, Food for Kids has continued to work with school principals, Kawartha Food Share, Youth Emergency Shelter, and local food companies.
Advertisement - story continues below
"The work has definitely not stopped,", says Angela Fuchs from Food for Kids. "We are finding alternative ways to deliver healthy food to kids and families that need it while schools are closed."
For more information on Food for Kids, visit peterboroughpublichealth.ca/your-health/healthy-living-and-eating/healthy-eating/food-for-kids/.