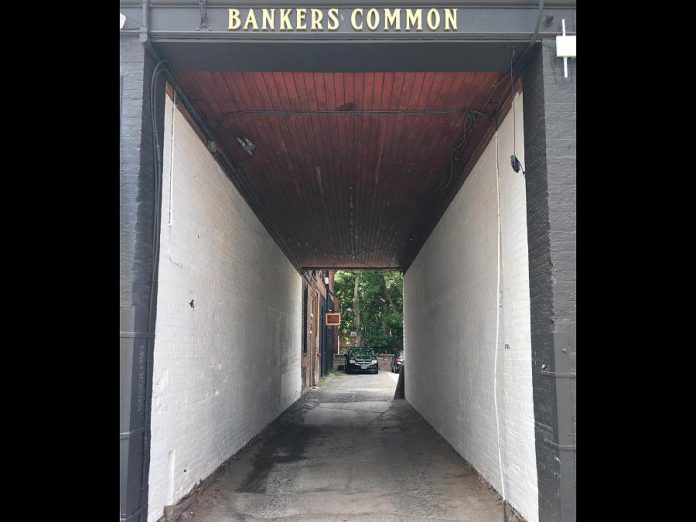 A call for proposals to local artists has been issued for a new public art mural to be installed in downtown Peterborough.
A subcommittee of the First Friday Ptbo Art Crawl is coordinating development of the mural, which will cover the two interior walls of the alleyway of the Commerce Building at the northwest corner of Water and Hunter streets.
The mural project is supported by the Peterborough Downtown Business Improvement Area (DBIA) and Ashburnham Realty, which owns the Commerce Building. The building houses the studios of many of the artists who participate in the monthly art crawl, which has been on hiatus during the COVID-19 pandemic.
Advertisement - story continues below
First Friday Ptbo is seeking proposals from local artists for the new mural. Previous experience is not necessary. Proposals from individual artists or a team of artists will be accepted, although teams must propose a complete and coordinated artwork for the two walls in question.
The proposal deadline is Tuesday, August 4th. Due to the accelerated deadline, artists are encouraged (but not required) to reformat existing works for the mural.
A selection committee of local artists and community members appointed by the First Friday Ptbo mural subcommittee will review the proposals. Deliberations will take place as soon as possible following the proposal deadline, and the selected artist(s) will be responsible for beginning and completing the mural within the month of August.
A $3,000 award will be provided to the selected artist(s). The mural must be completed using exterior latex paint only, which will be provided along with other supplies.
Upon completion, First Friday Ptbo will be hosting a mural launch in September (date to be confirmed).
For all submission requirements and to submit a proposal, visit artspace-arc.submittable.com/submit/170859/first-friday-ptbo-mural-project-2020.
For questions about the mural project, email firstfridayptbo@gmail.com.