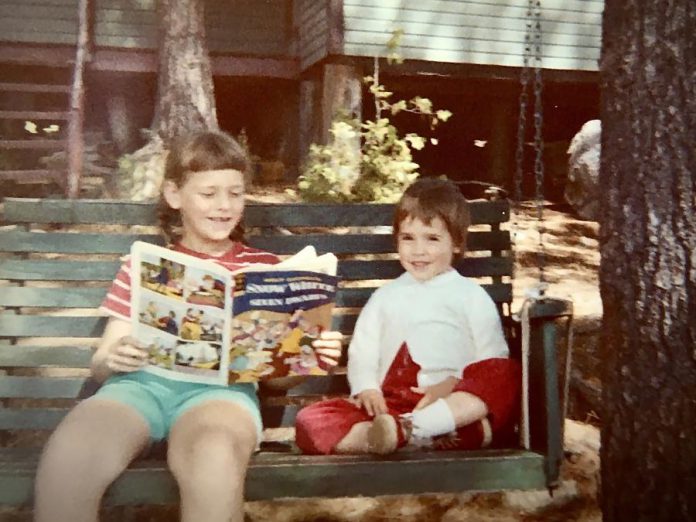 Dear Canada,
Do you remember me?
I am the little girl (now a grown woman) whose very first memories are of your pristine lakes and piney woods.
Our family's cottage is perched on a rocky granite island in the middle of a Kawartha lake so bright and clear you swear you could see all the way to the center of the earth. Since the early 1930s, members of our family have made the journey to this small slice of northern paradise.
The highlight of every summer was packing our family of seven into the station wagon with our vacation essentials precariously strapped by a tarp to the roof of the car. The longest part of our journey was when we reached the gravel and dirt road that led to the marina. We seemed to bump along forever as the trees, grasses and wildflowers waved by. Our big contest was who could see the lake first. We craned our necks and pushed on the vinyl seats to sit higher until someone would shout, "I see it! I see the lake!"
The first sliver of blue could be glimpsed through the trees and soon the car was pulling up to the store that was at the top of the hill that led down to the marina. The joys of the store (with its groceries, candy, sand pails and shovels, comic books and snack bar) would wait while we gingerly trudged down the hill to The Landing (marina).
The wooden docks creaked and swayed as we charged along them to the end to look over the blue water. We could just make out the white cottage in the dark trees that crowded up to the edge of the island.
Advertisement - content continues below
How can I begin to tell you about how much our time at the cottage has meant to us?
In the early days there was no running water and no indoor toilet. We boiled lake water from huge barrels kept on the back porch and traversed the piney path that led to the outhouse. We had a propane refrigerator and a magnificent Princess Pat wood burning range (that my mother insisted was the very best for baking cakes) as well as a Franklin stove in the main room that was especially useful on cold rainy days.
We used lanterns, candles and "fairy lamps" to light our gameplaying and storytelling at night. The cottage had two bedrooms, a loft, an "eating porch" and a screened-in front porch. This was all a far cry from our six-bedroom, two bath house with all the modern electric conveniences, television and privacy we had in our everyday lives.
But, we didn't mind.
We jumped off the dock into the often icy waters, sunned ourselves on the warm rocks, canoed and sailed, fished (my specialty was catching crayfish with my little net), had bonfires on the rocks, cranked homemade peach ice cream for picnics and cuddled in bed at night listening to the peaceful call of the loons.
Of course, all was not idyllic. We were mercilessly bitten by mosquitoes and one of my brothers stepped in a bee's nest and paid the price for days. We scraped our knees and turned our ankles on the treacherous rocks. It could rain for days and we had to keep entertaining ourselves with games, paper dolls, puzzles and books.
My brothers would play the radio loudly until my mother would scream, "If I hear that 'Yellow Submarine' song one more time, I'm throwing that thing into the lake!" (My mother bore a strong resemblance [both physically and behaviorally] to the Queen and I remember feeling so proud that they put a picture of my mother on actual money! But where was that crown? I wanted one!).
Yet, when it came time to leave, we were all sad.
We packed up our stuff (that included new lake treasures such as rocks and pinecones) and cleaned the cottage to have it ready for when our cousins would arrive next. We made last visits to our favorite island spots (the Big Rocks, the Chair Rock, the swing) whispering little goodbyes to them all.
Then, we piled everything in the fishing boats and made the trek to The Landing where everything somehow was crammed once again into and onto the station wagon (typically swearing was involved). As the littlest, I was often in "The Way Back" area of the car. As the car would pull away, I always made sure to turn and wistfully watch until the last patch of blue lake melted into the dark green trees.
Advertisement - content continues below
Since those childhood days, I have made my journey back to our cottage as often as I can. I spent part of my honeymoon there with my new husband (who had never been in a fishing boat, used an outhouse or built a campfire — a real adventure for him!). We brought our children with us and introduced them to all the joys of cottage life.
Even when living over seven hundred miles away and with chronic health issues, I kept visiting as often as I could.
But, this year is different.
You see, I am a U.S. citizen and because of COVID-19 my family and I aren't allowed to cross the border. I understand why — it's absolutely necessary. You must protect yourselves in ways that our nation has failed to do. However, I'm asking you to remember me and remember those of us who are your cousins across the border.
Many of us love and respect your country (I learned the words to "O Canada!" before I could figure out "The Star-Spangled Banner.") We are grieving the many losses to COVID-19 here in our country, but some of us are also grieving the break in our relationship with you.
We miss your kindness and your warmth. Your land and lakes have been havens that you have so generously shared with us for many years.
Advertisement - content continues below
As summer comes to an end, I'm hoping to survive the winter and last until there is a safe and effective vaccine. Our nation is in a very dark time. We are struggling so much. The pandemic, civil unrest, violence, economic crises — at times, it just seems like too much. I know you are struggling, too. This is rough for all of us.
In the midst of this, I'm traveling. But, it's a different journey. I'm remembering. In my mind's eye, I'm in that cottage on that rocky island looking at yet another beautiful, peaceful sunset.
I'm trying to look forward to next summer, to crossing the border once again, to traveling down the bumpy dirt road and seeing that navy blue water with the cottage floating in the distance.
Until then, Canada, remember me.