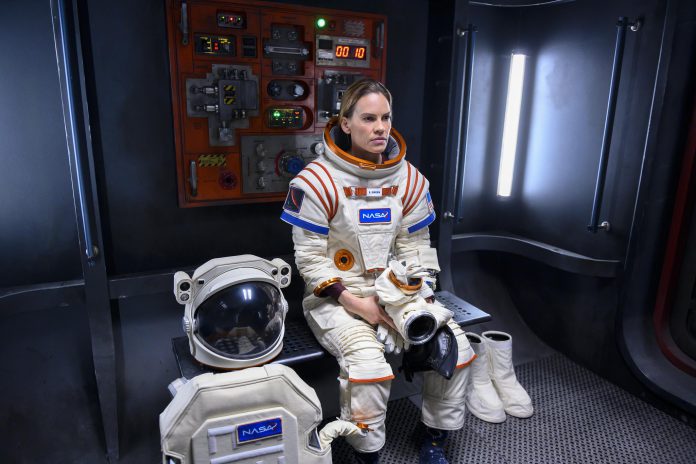 It's 10:30 on Friday morning (September 4) and the new Netflix series Away starring Hilary Swank has only been streaming since midnight, but Port Hope writer Chris Jones takes time out from pacing in eager anticipation to talk about his experiences writing for the sci-fi series that he also inspired.
It is well documented that astronauts, upon seeing Earth from outer space for the first time, experience what Frank White termed "The Overview Effect", a cognitive shift in awareness wherein astronauts experience an increased sense of connection to humanity, seeing the Earth as a shared place in this universe.
The same could be considered true for Jones, when seeing his written work come to life on the screen for the first time.
Advertisement - story continues below
"It's definitely changed how I look at the world," says Jones, who has recently transitioned from journalism to screenwriting. "The experience of writing it and then watching the show has changed me. There's no ownership. When you write a story, you can clip it out of the paper and hold it in your hands — your name's on top and you wrote every word of it. TV's not like that at all,"
"In the scheme of things, I played a very small role in it," adds Jones, who wrote one of the 10 episodes of the series. "I can't hold it in my hands — it's everybody's; everybody who put anything into that show. There's just such a massive army of people and you mix the thing together and it's better in a way because you feel like you're a part of this larger thing. But it's different in a sense because it's not yours anymore — it's somebody else's."
Jones, one of six writers on staff, hit the writers' room in LA to begin screenwriting for Away in autumn 2018. The series, about an American astronaut's struggles leaving her family on Earth to command an international space crew on a three-year mission to Mars, began filming in April of 2019. Quite miraculously, shooting wrapped in February of 2020, our year of the virus.
VIDEO: "Away" official trailer

Created by Andrew Hinderaker, Away is loosely based on Jones' 2014 Esquire article of the same name, in which he details American astronaut Scott Kelly's experiences during his year in space as an analogue for a trip to Mars.
Jones describes the traits NASA personnel look for in candidates for long-duration space flight missions. They must be "some rare combination of grit and give," he writes.
Adaptability and resiliency seem like contradictory traits for one person to possess.
"People tend to be either very passive or control freaks," Jones observes.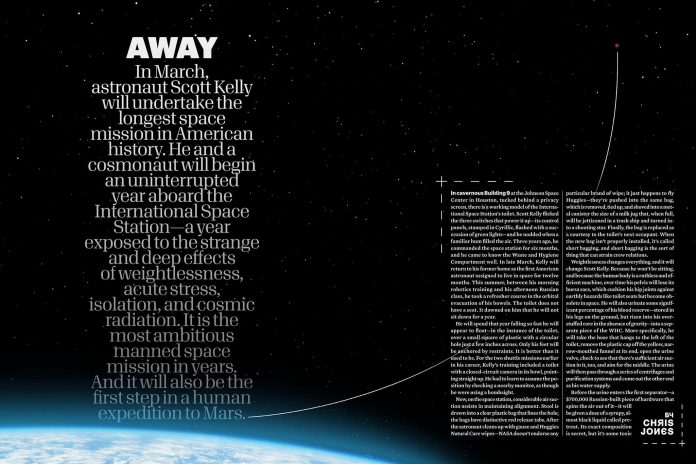 Possessing equal parts grit and give requires a person to be able to let things go in one case and, in another case, to fight unyieldingly.
"In terms of astronauts, what they're talking about is that you don't try to live in space like you do on earth, because it's going to make you crazy," he explains.
"You're going to be weightless, there's nothing you can do about that. And then when it comes to acute pressure — like an emergency situation — there you fight. You really have this resistance to anything going wrong."
Advertisement - story continues below
Indeed, grit and give — the same traits that make for world-class astronauts — also make for world-class writers.
"This was a good experience to teach me that because, going back to that whole idea of it being a team effort, the show wasn't just up to me. It was up to everybody's input; you have hundreds of creative people working on it."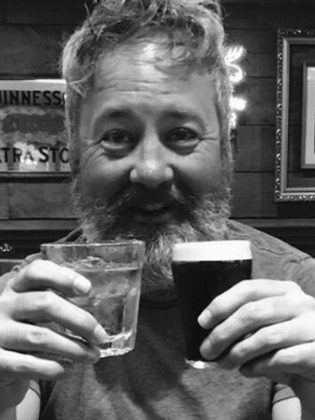 "I definitely veered on the control freak side of things, especially with the magazine," Jones says.
"You just can't do that with something like a TV show. It'll make you insane. Luckily, in my case, I was surrounded by great people who did great work. It was easy in a lot of ways."
"But that was the journey for me, learning to let go and to trust other people — that other people would do good things. It was super valuable that way. I'm much less of a control freak and now I'm much more aware of what other people might bring to that conversation."
Even for a seasoned writer like Jones, whose bylines include notable publications such as Esquire and The National Post, sharing work — in this case with 183 million global Netflix subscribers — can be a nerve-wracking experience.
"I always dreaded publication," says Jones, recalling the early years of his writing career, during which he has earned numerous awards and accolades including two National Magazine Awards for feature writing.
There is an inherent bravery that necessarily accompanies publication.
"It's like an accumulation of discipline both in terms of practising your writing and getting better, but also in terms of how it feels to have something like this come out. It's scary. Today is scary for me."
"I really can't convey to you enough how much I'm just a dad who lives in Port Hope," he adds, laughing. "This is not my normal existence."
"It's hilarious to me. I was sitting in Happenstance, the coffee shop in Port Hope, when I got the news that the show would become a show. When I told the girl behind the counter — I knew her a little bit and she was the only person I could tell — I was so excited. She said 'Oh my god, you're going to be famous!' and I was like, 'Name one TV writer.' It's not fame — you're adjacent to fame. It's a different kind of thing."
"You've caught me very fresh," he says, referring to our interview. "It came out this morning. I'm still in the scared phase but hopefully it's not long before I can take a step back and go 'That's awesome'."
Awesome seems like a bit of an understatement for such an incredible accomplishment. Not many writers are able to see their creations come to life on the screen.
"It's weird to see something that's in your head on the TV," Jones admits. "You imagine something and then it becomes real."
As an example, he points to one of the characters in the series, a Russian cosmonaut named Misha.
"He was the first character in my head as we were working on the show," Jones recalls. "He came out so true to how I hoped he would be. Watching Misha was like meeting someone you already know."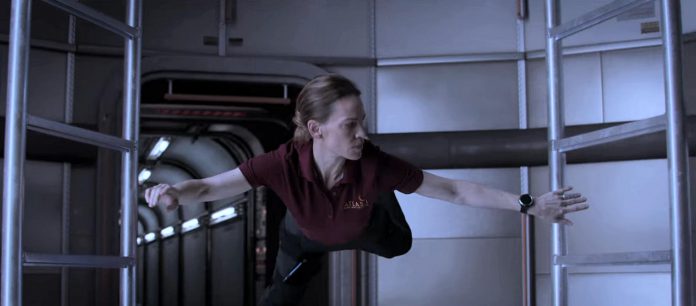 "That's what I mean by it being strange," Jones adds. "You invent these things and then there they are. It's weird, it's wonderful. I can't even tell you how strange the experience was."
Like the astronauts he writes about, Jones has been launched into new and uncharted territory, gaining new perspectives that most of us only get to dream about.
As his collaborative work takes on a new life, perhaps he will also experience an earthly form of what anthropologist Deana Weibel terms "The Ultraview Effect" — the subjective response of intense awe when viewing larger star fields.
This story has been updated to correct a misspelling of Frank White's surname in the second paragraph.