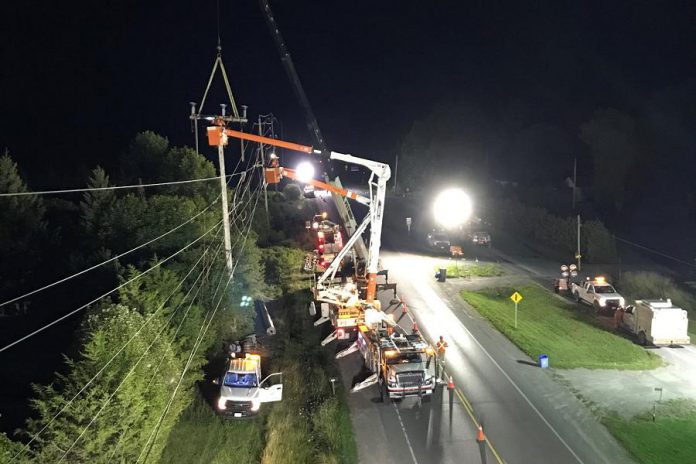 Portions of southern Haliburton County and northern Kawartha Lakes will be without power for around eight hours on Sunday (September 27) as Hydro One installs new equipment in the area.
The power outage is scheduled to begin at 7 a.m. on Sunday morning and continue until 3 p.m. in the afternoon.
Hydro One says 6,069 residential and commercial customers will be affected by the outage, in an area that includes Galway, Minden, Somerville, Minden Hills, Snowdon, Glamorgan, and Cavendish.
Advertisement - story continues below
The Haliburton, Kawartha, Pine Ridge District Health Unit reminds businesses they must remain closed until power is restored if they do not have adequate back-up generators to operate their refrigeration, ventilation, water treatment equipment, water and sewage system pumps, and other essential equipment during the outage.
The health unit is also encouraging people affected by the outage to follow these safety tips:
Keep fridge and freezer doors closed during the power outage to maintain the temperature inside. Without power, the refrigerator section will keep foods cool for four to six hours if the door is kept closed. If possible, add bags of ice to keep temperatures cooler should power be out for a longer period. Throw out any food that you think may have spoiled.
For those with private well water, fill up containers with water so that you have a supply of water available during the outage. Any containers used for drinking water should be properly cleaned and disinfected first before filling. Stocking up on bottled water is also an option. Once power is back on, run the water for approximately five minutes before using to flush out the water line to ensure it's safe.
If you have a septic system that relies on a pump, limit all water use until power is restored. Waste water will continue to fill the system and, because it can't be pumped out, may back up into the home if the tank gets too full.
If it's cold during the power outage and you rely on electric heating, heat up your home before the power goes out. Never use camp stoves, lanterns, or barbecues inside your home, as they pose a safety risk from carbon monoxide poisoning.