It's already challenging enough finding work during a pandemic without having to visit all the different job listing websites every day, searching for something local that matches your skills. Now, thanks to a new online tool from the Workforce Development Board (WDB), local job seekers can save a lot of unnecessary time and effort.
The Local Jobs Hub at www.wdb.ca/jobs is a job search engine that connects residents to active job opportunities in Peterborough, Kawartha Lakes, Haliburton, Northumberland, and Muskoka that are specifically tailored to match their skills and needs.
The online tool automatically aggregates local job listings from more than 30 online job boards, and comes with enhanced features users may find helpful with their search — including a regional map at www.wdb.ca/map that cross-references job postings with nearby bus routes, cycle routes, schools, childcare centres, and more.
Job hunters can also filter listings by key criteria, including skill level and type, part-time or full-time jobs, and whether a job is temporary, contract, or permanent.
Jennifer Lamantia, WDB's chief executive officer, points out the hub's consolidation of job listings streamlines the search process for users.
"It saves time for job seekers because it pulls listings from major sites like Kijiji and Indeed, as well as local job boards such as Trent University's, which links to our site."
The Local Jobs Hub is also a great way for employers to get more eyes on their job listings, she says.
"When an employer posts a listing on any of the popular job search websites, the Local Jobs Hub will automatically pick it up and direct more traffic to their listing, drawing them to more talent within the region."
A few months ago, the WDB initiative caught the attention of Peterborough & the Kawarthas Economic Development (PKED).
The economic development organization had already heard through the Mayor and Warden's Economic Recovery Task Force that some employers are having difficulty filling vacant positions, and that the availability of local jobs is an important factor for post-secondary students deciding to return to the region. So PKED reached out to WDB to offer additional promotional support to help raise awareness of the tool.
Rhonda Keenan, PKED president and chief executive officer, says the WDB's tool is an important asset for supporting the region's economic recovery by connecting local employers with local job seekers.
"The WDB Local Jobs Hub tool allows job seekers to see the number of available positions in Peterborough and the Kawarthas, including hundreds of full-time and permanent positions, as well as part-time jobs for students," Keenan says.
"We have so many wonderful employers in Peterborough and the Kawarthas and it's been encouraging to see the number of new job postings grow throughout September to reach levels similar to postings in January, prior to the onset of COVID-19."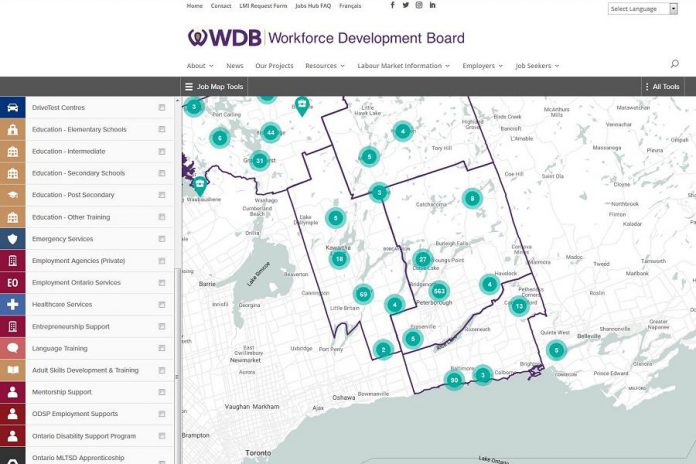 Lamantia adds that, while there was a big drop in job postings during the first two months of the pandemic, that trend has reversed now that more and more businesses have resumed operations.
"Things picked up in July as restrictions eased a little and postings started to head in a positive direction again," Lamantia says.
That trend continued for the rest of the summer and into early fall, with the number of new job postings in September rising by 12 per cent — eight per cent higher than when the tool launched in January.
Lamantia also points out that the Local Jobs Hub has now seen a dramatic rise in users, largely a result of the joint marketing efforts of WDB and PKED to promote the online tool. When it launched in January, the Local Jobs Hub had around 1,000 monthly users. In September alone, that number had climbed to around 4,600 users — an increase of 369 per cent.
While Lamantia says employment in some sectors remain limited due to the pandemic, job postings have increased significantly in health care, social assistance, retail trade, along with professional, scientific, and technical services. In Peterborough, September saw a huge increase in job postings for transportation and warehousing, with an increase of 188 per cent from August.
WDB also saw an uptick in job postings for manufacturing, construction and food and accommodation services, Lamantia says.
In addition to making it easier and faster for job seekers to find these opportunities, Lamantia explains, the Local Jobs Hub also offers useful information for community partners. The WDB publishes a monthly "Eye on the Labour Market" newsletter which highlights the top 10 jobs and skills in demand locally.
You can access the Local Jobs Hub by visiting www.wdb.ca/jobs. The website also includes an FAQ section for both job seekers and employers who would like more information.
For job seekers who don't have access to the internet, Lamantia encourages them to visit their local employment service provider or a public library to access the online tool.
For more information on WDB, visit www.wdb.ca.
This story was created in partnership with PKED and WDB.