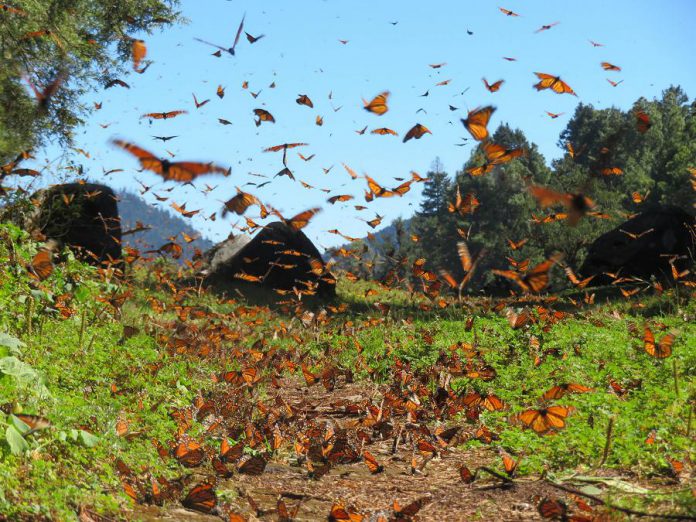 Peterborough ultra runners Carlotta James and Tim Haines are running 50 kilometres on Sunday (November 1) to help protect monarch butterflies in Mexico.
Last week, the wife-and-husband team launched a crowdfunding campaign to raise awareness and funds for the protection of the Cerro Pelón Monarch Butterfly Sanctuary, located in Macheros, Mexico.
The butterfly sanctuary was the destination of last year's Monarch Ultra Relay, an epic 4,300-kilometre and 47-day run from Canada to Mexico that followed the migratory path of the monarch butterfly.
Advertisement - story continues below
James co-founded the Monarch Ultra Relay in 2018, along with Peterborough filmmaker Rodney Fuentes, Elmira's Clay Williams, and Toronto's Galen Brown, to raise awareness of the plight of the threatened pollinator.
"When the Monarch Ultra team and I first visited the Cerro Pelón Monarch Butterfly Sanctuary in Macheros, Mexico in 2018, it was a dream come true for us," James says. "After hiking over 3,000 meters to reach the monarch colonies in the Cerro Pelón mountains, I felt like I'd entered a secret kingdom."
"Millions of monarch butterflies filled the skies, the trees and the forest floors, and seemed to be in constant activity," James adds. "Surrounded by glimmers of orange and black wings reminded me of the strength and resilience of these incredible creatures in their ability to migrate thousands of miles."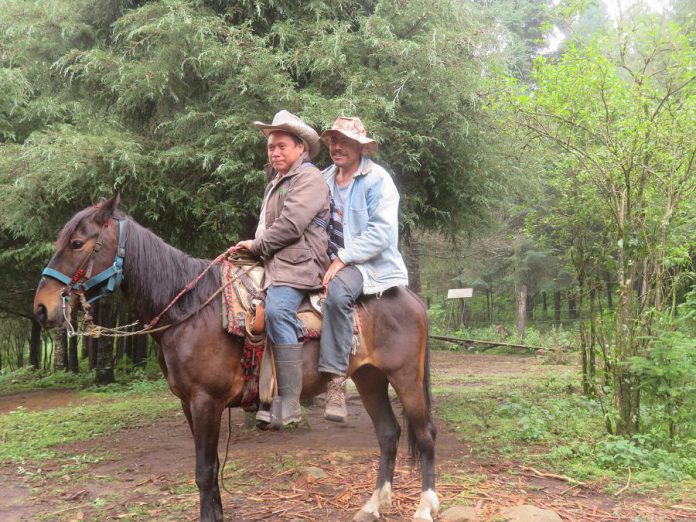 The Cerro Pelón Monarch Butterfly Sanctuary is a major ecotourism destination in Mexico. While economic desperation has always driven some local people to cut down trees in the sanctuary, now that the sanctuary is closed to visitors because of the pandemic, the situation is even worse with hundreds of locals who depend on ecotourism now out of work.
The butterfly sanctuary is preserved by Butterflies and Their People (butterfliesandtheirpeople.org), a non-profit organization based in Macheros that hires other locals to work as "forest guardians" to patrol and protect the sanctuary from illegal logging.
With their 50-kilometre ultra run, James and Haines are raising funds for Butterflies and Their People so the organization can continue to employ the sanctuary's forest guardians, whose annual salary is around $4,000 to $5,000. While the couple have already met their initial goal of $3,000, additional funds will allow Butterflies and Their People to do more.
Advertisement - story continues below
"It's heartening to see so much enthusiasm and energy in northern North America for monarch monitoring and conservation," says Ellen Sharp, founder of Butterflies and Their People. "But if this passion does not spill over into effective protection of the overwintering grounds in Mexico, all these efforts will be for naught."
James and Haines picked November 1st as the day of their ultra run as it's a significant day in Mexico, part of the country's Día de los Muertos (Day of the Dead) festival to honour the lives of the deceased. It's also when migrating monarchs arrive at butterfly sanctuaries in Mexico.
"Peterborough and Macheros are inextricably linked," James says. "Our two communities are connected because of the monarch migration. Monarch butterflies that are born in Peterborough in the late summer or early fall are the same ones who migrate to Mexico."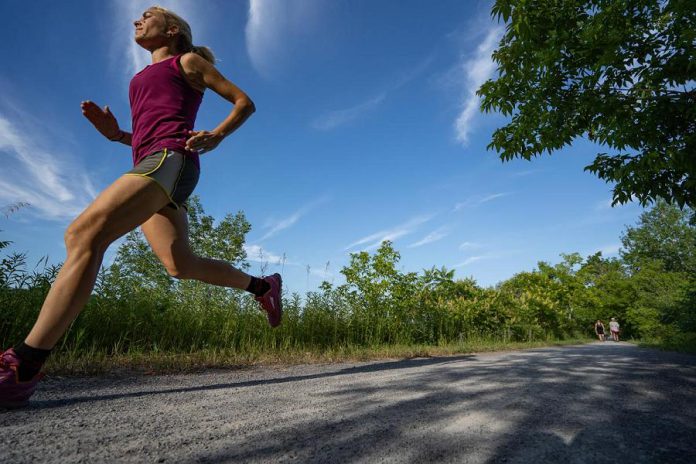 James and Haines will run 50 kilometres along The Great Trail (formerly the Trans Canada Trail), beginning at 10 a.m. on Sunday morning at 100 Water Street in downtown Peterborough (the Depave garden site). They will run east towards Hastings, turning around at Cameron Line to head back to Peterborough.
Other local runners will also join them for different legs, and all runners will be physically distanced. Aid stations will be set up every 10 kilometres along the run and staffed by volunteers. The run will end at around 3:30 p.m. on Sunday afternoon.
To support James and Haines, you can make a donation at www.gofundme.com/f/50km-popup-fundraiser-for-monarch-sanctuary.
VIDEO: Support monarch conservation – Butterflies and Their People

As for the second Monarch Ultra Relay Run in the fall of 2021, James says organizers have had to adjust their original plans due to the unpredictability of the pandemic.
Instead of running the same 4,300 kilometres journey from Peterborough to Macheros, participants will instead run around 2,100 kilometres in Ontario, along the Great Trail and Waterfront Trail.
However, like the original Monarch Ultra Relay Run, organizers will meet with students, teachers, mayors, councillors, nonprofits, and conservation organizations every day of the three-week relay run to raise awareness of the monarch butterfly's plight.