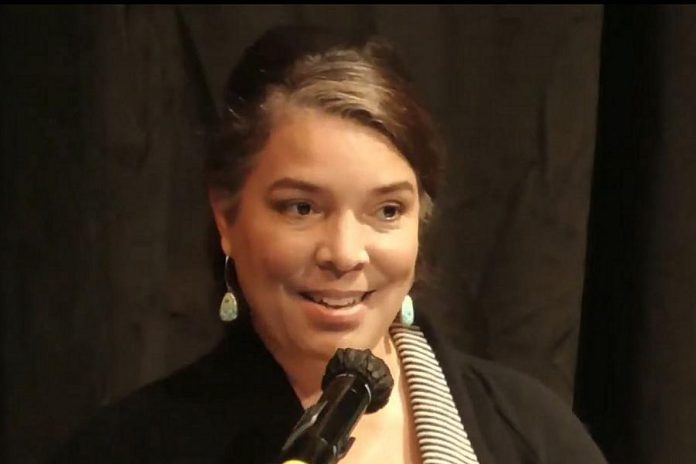 It took seven months longer than planned, but the six inductees of the 2020 Junior Achievement Business Hall of Fame finally had their moment in the spotlight on Thursday night (November 5) at a COVID-safe ceremony at The Venue in downtown Peterborough.
Junior Achievement – Northern and Eastern Ontario (JA-NEO) had originally scheduled the event at The Venue for late March, but the pandemic threw a wrench into the organization's plans.
While the crowd at Thursday night's ceremony was much smaller than usual — physically distanced attendance was limited to the inductees and their family and friends — JA-NEO also livestreamed the ceremony on Facebook and YouTube, so the audience was much larger, with around 300 people watching online.
The event was emceed by Michelle Ferreri and Monika Carmichael (JA-NEO's Business Hall of Fame Chancellor) who, along with several guests, introduced the six inductees. Short videos about each of the inductees were also shown.
The six inductees of the 2020 Business Hall of Fame are:
Morris Cox of Brant Basics
Lisa Dixon of Black Honey Bakery and Café
Bill and Cora Edgar of Lucky Strike Bait Works
Jim Glenn of Glen Isle Farms Limited
Haig Kelly of Kelly Fuels
Bill and Marion Morrison of Best Western Plus Otonabee Inn
Sanjeev Sukumaran of The Ear Company-Peterborough Audiology
Advertisement - story continues below
In her induction speech, Lisa Dixon of Black Honey Bakery and Café in downtown Peterborough spoke about the importance of leaving a legacy as a business owner — inspired by her first employer.
"Work today as if you're dead tomorrow — that was said to me 25 years ago, on my first catering slash waitressing job," Dixon said. "I was working in a cafe, it was run by an Eastern European woman by the name of Sylvia. I was shocked, and I was a bit hurt."
"It took about 25 years for me to realize what that meant. It meant what we're doing today will affect people in the future. So this became a mantra for me as a boss."
Dixon spoke about passing that wisdom not only to her own employees, but to the students she teaches at Fleming College.
"I'm learning now, and it's taken this long, that we will live in the moment," she said. "Today it will get done, and tomorrow is a new day. And by doing it well, we will pass it on. Work today like you're dead tomorrow."
Since 2016, JA-NEO (formerly known as Junior Achievement – Peterborough Lakeland Muskoka) has honoured individuals whose exemplary accomplishments of vision, leadership, and commitment to excellence have strengthened the economy and community.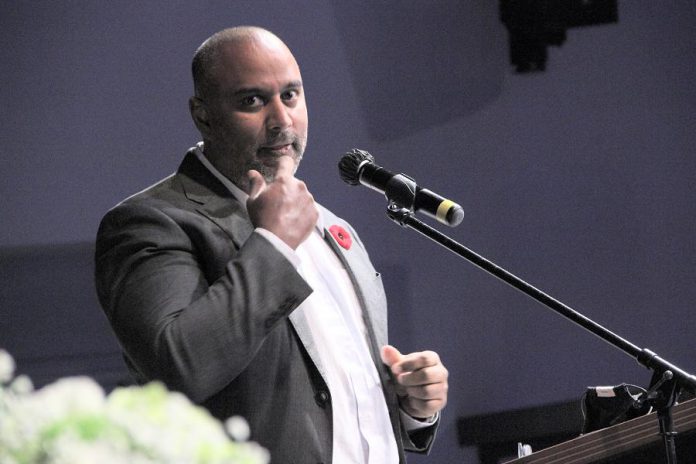 Inductees are widely respected for their integrity, business acumen, and community contributions. They are regarded as inspiring role models for enterprising Junior Achievement students and young Canadians.
In addition to the six inductees, JA-NEO also recognized Myriah and Ella Mason with the Students of the Year Award), Jennifer Brown (for Junior Achievement Lifetime Volunteer Recognition), Mike Martone (for Recognition of Outstanding Contribution to Education), and Vernon (Herb) Watt Hall (for Heritage Recognition).
If you missed Thursday night's event, you can watch the entire ceremony on Facebook or YouTube. YourTV will also be broadcasting the ceremony on Cable 10 and HD Cable 700 in the coming days; visit the YourTV schedule to find out when.