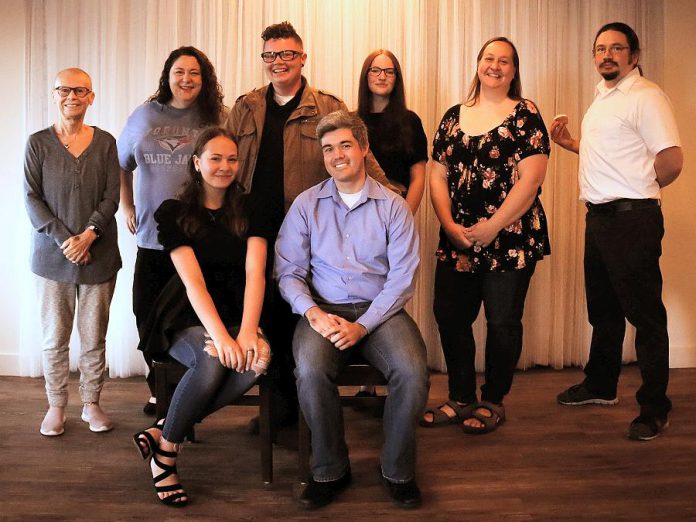 This December, Lindsay audiences will have the opportunity to safely enjoy something that's become a rarity during the pandemic: live theatre.
Community theatre company Lindsay Little Theatre and popular local eatery Pie Eyed Monk Brewery have teamed up to present "A Night of One Act Plays", a unique dinner-theatre experience that's also a fundraiser to help keep the lights on at Lindsay Little Theatre.
For the low price of $50 a ticket, patrons can enjoy an appetizer, dinner, dessert, and two one-act comedies by Canadian playwright Norm Foster in the Pie Eyed Monk's beautiful and exclusive upper-floor event space.
Advertisement - content continues below
Performances take place at 6 p.m. on Friday, December 11th and Saturday, December 12th, with an additional 12 p.m. matinee on December 12th.
Tickets can be purchased at Pie Eyed Monk Brewery (8 Cambridge St. N., Lindsay) seven days a week between 2 and 5 p.m., via email at events@pieeyedmonkbrewery.com, or by calling 705-212-2200 ext. 222.
"There's an extra level of safety that we can ensure by having Pie Eyed Monk handle all of the bookings," explains Lindsay Little Theatre director Katheryn Wooldridge-Condon.
Pie Eyed Monk personnel have become experts when it comes to best-practice safety protocols. All summer and autumn, they have been successfully ensuring patron safety for sit-down dining and small events in their spacious upper floor banquet room.
"This is an extremely well-executed experience," says Pie Eyed Monk's general manager Erastus Burley. "The safety protocols that are in place will allow guests to have a memorable experience in a very safe environment."
Burley has painstakingly organized the event above and beyond the current provincial safety standards — right down to the smallest details.
"Arrival times have been staggered so we won't have all of our guests showing up at the same time," Burley explains. "We've really spent some time figuring out how to get people in and out of the building safely."
Advertisement - content continues below
"Another thing we're doing is creating markings on the floor, to allow guests to move their chairs during the performance so there's still great sight lines," Burley adds. "Because this, of course, is not a theatre, it's a banquet hall — and that will ensure that people understand where they're allowed to move inside their table grouping."
The stunning event space, which is licensed to accommodate a capacity of 163 guests, allows ample room for a small physically distanced audience to enjoy their dinner-theatre experience without any worries.
With Pie Eyed Monk at the helm, offering best-practice operations and their fine foods and beverages that Lindsay and the greater Kawarthas have come to love, Lindsay Little Theatre cast and crew can focus on their art practice.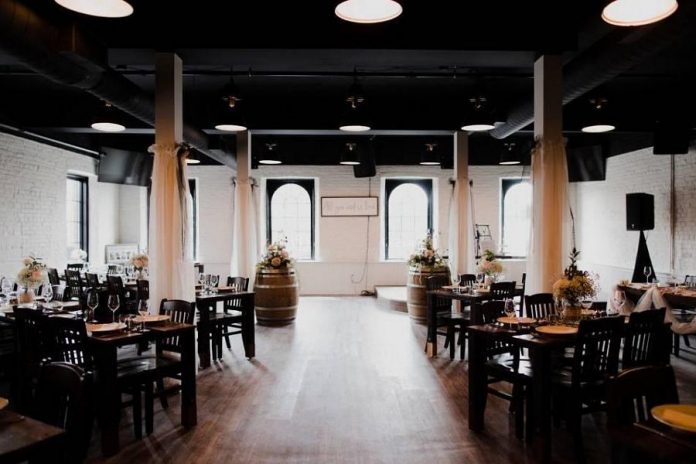 Two one-act plays, My Narrator and The Death of Me — both written by Canadian playwright Norm Foster — will be performed between the three dinner courses, with an intermission to allow staff to accommodate additional beverage service.
My Narrator, a four-hander romantic comedy, details the first and subsequent encounters between two strangers, which are narrated by the characters' inner monologues played by two other actors on the stage.
The Death of Me is a comedic two-hander that follows a recently deceased man's encounter with the angel of death, who allows the departed an extra day on earth.
Advertisement - content continues below
"We're presenting two comedies that are both really hilarious and we could all use some laughter right now," says actor Reece David, who plays Miles in My Narrator and John in The Death of Me.
"We've all been pretty isolated for a while and theatre does such a great job of connecting people — both of these stories are very easy to connect to. We've all been cooped up for awhile, I think it's a great opportunity to get out and connect with one another and laugh again."
"Whether it's an audience member or a member of Lindsay Little Theatre, we're all connected to each other in our small town," adds Nate Copeland, who plays the Angel of Death in The Death of Me.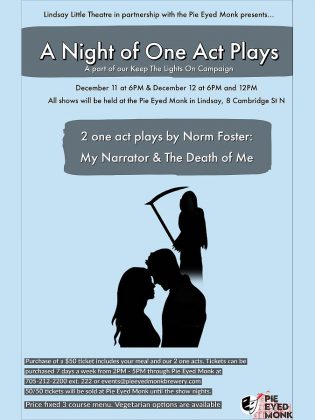 Despite interviewing the cast and crew of the two one-acts via Zoom, the energy in the room was palpable. Each artist, in their own way, expressed the same sentiment: they're thrilled to be creating theatre again.
"I'm just really excited to perform again," says Carolyn Koty, who plays the female narrator Lacy in My Narrator. "I've really missed the interacting with an audience."
"Having your in-real-life mother playing the person in your head is a whole other take I did not expect to endure throughout the production of this play," laughs Carolyn's daughter Tarina Koty, who plays Barb in My Narrator and Cassie in The Death of Me. "But overall it's been really fun."
"It's really fun to be in somebody else's head," chuckles Will Bower, who plays Bob in My Narrator and The Doctor in The Death of Me.
"We all need a laugh during this pandemic," adds Nate Copeland. "And, yes, it did cross my mind that I'm personifying death during a pandemic."
Laughter is cathartic and, after nearly nine months of these bizarre-o COVID times, we could all use a little catharsis.
Advertisement - content continues below
Interviewing this happy and excited band of theatre-makers was a delight, with so much laughter and lightness among the artists. The Lindsay Little Theatre cast and crew were nothing short of jubilant — a testament to the positive effects of the arts.
"It feels like magic," says director Katheryn Wooldridge-Condon of the troupe's return to the stage. "When you walk through the door you end up a changed person and you just keep coming back."
"We really are a theatre family," says Nate Copeland of his colleagues. "Being away from each other is like being away from your family. This is a very safe place for us — a lot of us don't necessarily fit in a lot of other places. It's just so easy to fit in here with our theatre family."
Recently the small and tight-knit theatre-family that is the Lindsay Little Theatre lost their beloved friend and dedicated long-time board member, Pam Brohm, to cancer.
"She was our heart at Lindsay Little Theatre," recalls Woolridge-Condon of the actor, director, and past-president of the board of Lindsay Little Theatre. "We're devastated — she'll be missed dearly."
"I considered cancelling rehearsal the day we learned of her passing," she adds. "But I could hear her voice in my head saying 'don't you dare' and we decided to go on with the show. We are dedicating this show to her."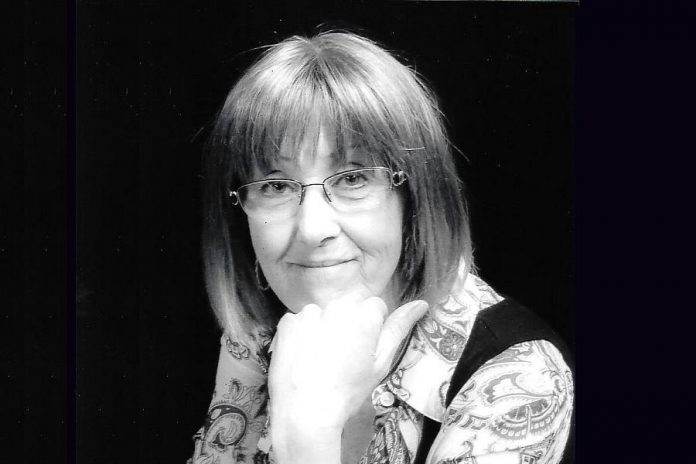 The dedication of this show, a gesture of love, demonstrates the incredible impact that Pam Brohm had on her community. It is the touching evidence of her lasting legacy at Lindsay Little Theatre.
Pie Eyed Monk's meticulous planning and execution (amazing menu notwithstanding) combined with Lindsay Little Theatre's deep and passionate commitment to their art makes the perfect recipe for a highly successful dinner-theatre event.
At this point, there is only one missing ingredient: thunderous applause from an enthusiastic audience.
A Night of One Act Plays will be performed at Pie Eyed Monk Brewery, located at 8 Cambridge Street North in historic downtown Lindsay, at 6 p.m. on Friday, December 11th and at 12 p.m. and 6 p.m. on Saturday, December 12th.
To purchase tickets, which include a three-course meal and the two one-act plays, email Pie Eyed Monk at events@pieeyedmonkbrewery.com or call 705-212-2200 ext 222.
If you can't attend a performance but still want to support Lindsay Little Theatre, you can purchase a raffle ticket for the 50/50 draw through Pie Eyed Monk. The draw will take place during the intermission for the December 12th evening performance. All 50/50 ticket-holders, whether they're in the audience or at home, are eligible to win the draw.