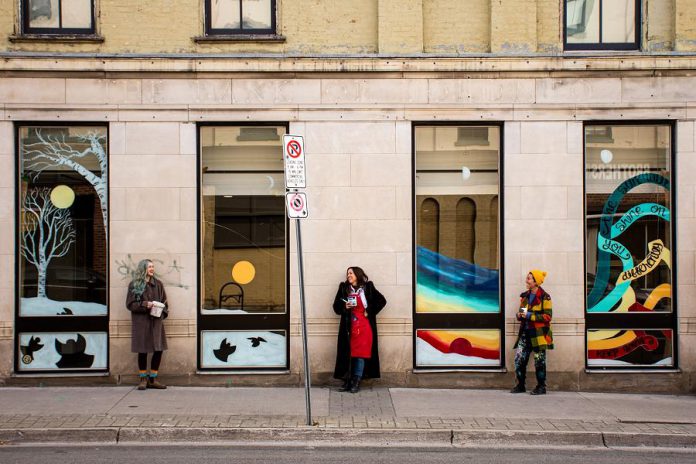 A viral public art campaign called "Neighbourhood Love" that began in Toronto this fall has now made its way to Peterborough.
"Love for the Boro" debuted on Friday night (December 4) during the monthly First Friday Peterborough arts crawl through a so-called "mural scavenger hunt".
Local artists Dawn Pond, Bethany LeBlonc, Brooklin Stormie, and Olivia Chessman joined Toronto artists Julia Prajza, Julii McMillan, and Bareket Kezwer to paint six murals in storefront windows in downtown Peterborough.
Advertisement - story continues below
"Love for the Boro is a community-led and supported initiative," reads a media release from the Peterborough Downtown Business Improvement Area (DBIA), one of the initiative's sponsors.
"Together we can make love visible by creating safe spaces and opportunities to express what we love as individuals and as a community. We have the power to support, uplift, inspire and connect with each other, even when we must stay apart."
Along with Toronto artist Natalie Very B., Toronto artists McMillan (who now lives in Peterborough) and Prajza are the founders of Neighbourhood Love, which began in September after an Etobicoke woman received anonymous hate mail in response to a mural on her garage door.
Soon after commissioning Natalie Very B. to paint the mural on her garage door, Sapna Shah found two anonymous letters in her mailbox, one of which claimed she had "devalued all of the homes in this area with that hideous graffiti" and that the mural "has made the entire neighbourhood look like a low income ghetto."
After Shah shared the vitriolic letter with its classist and racist undertones on Facebook and the Toronto Star published a story about it, there was an outpouring of support for the Shah family.
That included the artists behind Neighbourhood Love, who organized "a street-level demonstration of love". They raised more than $3,000 through a crowdfunding campaign to cover the cost of supplies to have 20 professional artists paint 25 colourful murals — depicting whimsical flora and fauna, landscapes, and geometrics — on house and garage doors, porches, and mailboxes in Shah's South Etobicoke neighbourhood over the Thanksgiving weekend.
Advertisement - story continues below
By creating public art in the private sector, Neighbourhood Love was able to circumvent much slower bureaucratic procedures, such as the jury process, common for artworks in the public domain.
Now, with the newly formed sister initiative Love for the Boro, the Toronto artists along with local artists are planning to paint a total of 10 murals. Along with the Peterborough DBIA, the initiative is being sponsored by Dulux Peterborough, Summers and Co., AsONE Foundation, and private property owners.
"By creating a variety of opportunities for community participation and support we will work together to uplift, unite and inspire positive action," the artists write on their Love for the Boro GoFundMe campaign. "We are also working to increase local public arts experience, increase local artist visibility and generate future opportunities for artists in the area"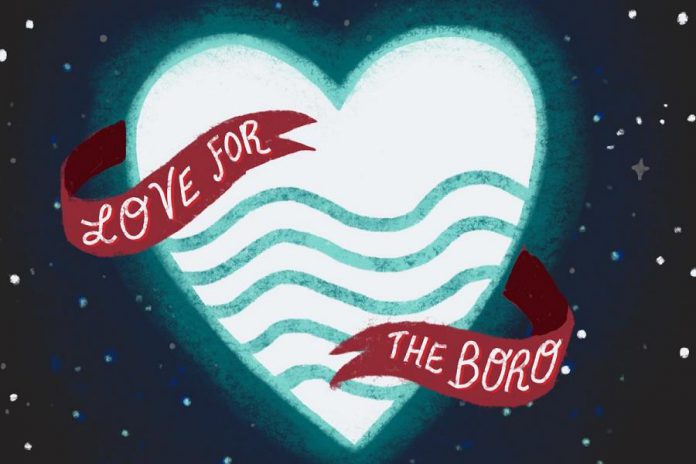 "The Love for the Boro initiative will continue into the month of December with a variety of creative community engaged activities, both online and in the real world," reads the Peterborough DBIA media release.
To learn more about the initiative and upcoming programming, follow Love for the Boro on Instagram @loveforboro.