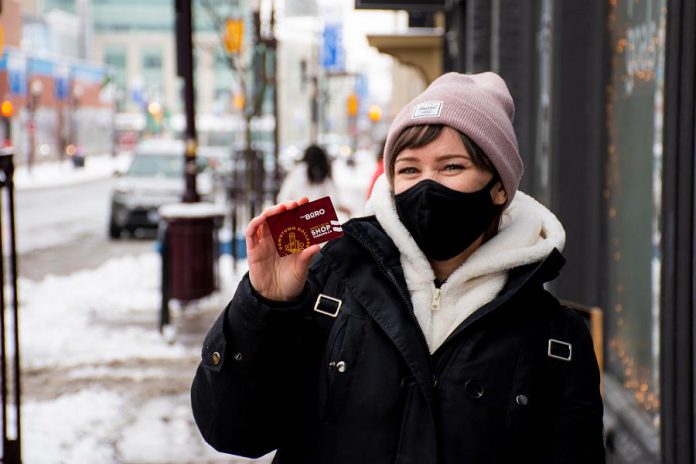 The Peterborough Downtown Business Improvement Area (DBIA) has just launched a new gift card that can be used at more than 65 shops, restaurants, and services in downtown Peterborough.
The Downtown Dollars Gift Card is available in $25, $50, $100, and $200 denominations. It works like a prepaid credit card and, unlike the original paper Downtown Dollars, can be used for shopping online as well as in-store.
"Our Downtown Dollars have long been a popular gift route," says DBIA executive director Terry Guiel. "Being able to load them onto a card really takes this program to the next level and will make for a better customer experience, which will work out to more local spending."
Advertisement - story continues below
The gift card program is expected to help increase spending at local downtown businesses, with consumers spending an average of 65 per cent more than the value of a gift card when making a purchase.
The Downtown Dollars Gift Card is available for purchase at theboro.ca/product/downtown-dollars-gift-card/, where you can also find a list of all the participating businesses where you can use the card.
You can also get Downtown Dollars at the DBIA office at 313 Water Street. For inquiries, call 705-748-4774 or email theboro@downtownptbo.ca.
The card used for the Downtown Dollars program is made of 50 per cent recycled material. When your card is depleted, drop it off at a participating retailer or at the DBIA office at 313 Water Street to be sent away for recycling.