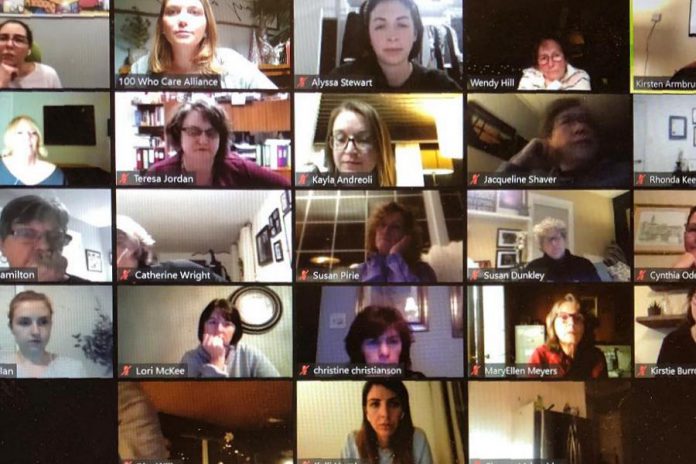 At its third and final virtual meeting this year, 100 Women Peterborough has raised more than $5,000 for Community Counselling and Resource Centre (CCRC) in Peterborough.
The collective philanthropy group met on Zoom on Tuesday (December 15) to raise funds for an organization in need. Prior to the pandemic, the group met in person four times a year, with each member committing to donate $100 during each meeting. The group has been meeting virtually during the pandemic, with attendance at meetings optional in recognition of the financial impact of the pandemic on some members.
Whether meeting in person or virtually, the group hears presentations from three organizations randomly drawn from a larger list of organizations nominated by the group's members. The organization receiving the most votes from members receives the donations contributed by the group's members.
Advertisement - content continues below
The three organizations that presented to 100 Women Peterborough at Tuesday's virtual meeting were CCRC, Community Living, and the Peterborough Regional Health Care Foundation.
CCRC was chosen by majority vote to receive the funds, and 100 Women Peterborough expects the total donation to be more than $5,000.
"Many charities are unable to pursue their traditional fundraising efforts and campaigns because of COVID-19," says Alyssa Stewart, one of the co-founders of 100 Women Peterborough. "It is so important for us to support them right now so that they can continue to support our community."
For almost 65 years, CCRC has provided services that offer counselling, support, and resources to assist with personal well-being, credit and financial management, access to housing, and connection with the community.
"No one expects to end up in a situation they can't solve," says CCRC executive diretor Kirsten Armbrust. "Job losses, trauma, grief, family, or health problems can happen to anyone and sometimes you need help to navigate that. CCRC offers counselling for personal issues and also support around housing and personal finance to get through those difficult times and find a better way forward."
CCRC's services have become even more important to the community during the pandemic and, in March, CCRC began providing it services virtually, while preparing to re-open for limited in-person appointments for those who need them. They now provide a blend of in-person and virtual supports and expect this to continue throughout the coming months. However, the pandemic has resulted in unexpected costs for the charitable non-profit organization.
"There have been many costs associated with providing safe confidential services during COVID, both virtually and in-person," Armbrust says. "These costs were not anticipated and, while we have been lucky to have received some funding from other sources to off-set these in the short term, we have been concerned with the ongoing costs as the pandemic continues. The money from the 100 Women will go a long way in helping us continue to provide these services on an ongoing basis."
Advertisement - content continues below
100 Women Peterborough was founded in February 2018 by Rosalea Terry, Catia Skinner, Wendy Hill, and Alyssa Stewart, who were inspired by similar groups in other communities.
The concept of collective philanthropy began in the United States in November 2006, when Karen Dunigan of Michigan formed the "100 Women Who Care" group. After their first meeting, the women raised over $10,000 for the purchase of 300 new baby cribs for a local organization.
The movement has grown over the past 15 years to include groups of men, women, youth, and children around the world, with more than 210 chapters in Canada alone.
Since its formation, 100 Women Peterborough has collectively donated more than $100,000 to 11 local organizations: Hospice Peterborough, Peterborough Youth Unlimited, One Roof Warming Room, New Canadians Centre, Cameron House, Five Counties Children's Centre, Casa De Angelae, Lakefield Animal Welfare Society, Community Care Peterborough, Kawartha Sexual Assault Centre, and CCRC.
100 Women Peterborough is always accepting new members. Women who interested in joining 100 Women Peterborough should visit www.100womenptbo.ca for more information.