Lockdown is about to get better. If you're like me, you've exhausted all English-speaking content available on popular streaming services throughout the pandemic. Maybe you've run out of foreign films to watch; maybe you've even watched The Floor is Lava. These are desperate times.
Fear not — help is on the way! As of Friday, January 22nd, your entire household will have online access to nearly 50 brand new films and events thanks to the ReFrame Film Festival.
I am so ready to binge-watch groundbreaking, new-release documentary films in my pj's — guilt free (passive learning via documentary film doesn't feel like a waste of time compared, for instance, to watching The Floor is Lava).
For the first time ever, festival-pass holders won't have to choose between which films to see. The digital platform eliminates schedule conflicts so, this year, you can watch every film in the program.
That said, much like in a physical theatre, there is limited space, so audiences are encouraged to register in advance at my.reframefilmfestival.ca.
Here are some must-watch films to look out for:
Advertisement - content continues below
The New Corporation: The Unfortunately Necessary Sequel
This timely sequel to the award-winning hit, The Corporation, by filmmakers Joel Bakan and Jennifer Abbott investigates how socially conscious corporate re-branding obfuscates and justifies the corporate takeover of society.
Call Me Human
Kim O'Bomsawin's film proposes a foray into a people's history in company with Innu writer Joséphine Bacon. Elders hold a link to the past. This film bears witness to the knowledge-keepers and a woman who has led a charge against the loss of a language, a culture, and its traditions: "In her language, Innu means 'human'."
The Sit-In: Harry Belafonte Hosts the Tonight Show
Yoruba Richen's look at a week in 1968 when Johnny Carson gave up his seat on the Tonight Show for actor, musician, and activist, Harry Belafonte, to host the show. For the first time ever, an African-American was the host of a late-night TV show — one of the most powerful platforms of communication — and transformed the predominately white institution into a multicultural and political experience.
The Reason I Jump
Based on Naoki Higashida's book, this immersive documentary by Jerry Rothwell explores the experiences of nonverbal autistic people the world over. The film immerses audiences in the sensory worlds of non-speaking autistic people.
No Ordinary Man
This film, by Aisling Chin-Yee and Chase Joynt, documents the life of American jazz musician and trans culture icon Billy Tipton. Tipton's story is reimagined and performed by trans artists as they collectively paint a portrait of this hero.
Starborn
Olivia Mater offers a poetic, speculative look at a post-COVID world 50 years in the future.
The film explores grief and hope; human responsibility to the the land and each other.
"Starborn is an offering to the deepest layers of the heart, and a seed of hope for the ones yet to be born."
Advertisement - content continues below
Softie
Sam Soko's film follows Kenyan photojournalist and activist, Boniface Mwangi, as he enters mainstream politics to challenge social injustice. At much peril to the safety of his family, Mwangi's journey forces him to choose between his country or his family.
9 To 5: The Story of a Movement
Academy award winners Julia Reichert and Steve Bognar investigate the intersection of women's rights and labour rights in the 1970's. A group of Boston women, secretaries and other underpaid office workers, joined together to form a movement, 9to5, that led to social change and inspired the hit movie and song by the same title.
No Visible Trauma
This timely film, by Marc Serpa and Robinder Uppal, examines the problematic rate of police brutality in Calgary, where police have shot and killed more people than officers in any other Canadian city (and more than New York and Chicago police in 2018). The film investigates the intertwined stories of the victims of police brutality in Calgary while exposing a negligent justice system that fails to hold officers accountable for their crimes.
Cottagers & Indians
This documentary is an adaptation of Drew Hayden Taylor's play by the same title. In the Kawarthas, wild rice — manoomin — almost went extinct due to boat traffic, pollution, and invasive species, among other things. But James Whetung, an indigenous man from Curve Lake First Nation, has spent a great deal of his life cultivating manoomin, reintroducing it to the area.
What is a matter of food sovereignty and cultural health for Whetung is a nuisance for landowners who claim their property values are affected by the reintroduction of wild rice to the waterways. This documentary explores this decades-long disagreement.
Drew Hayden Taylor, the award-winning playwright, author, and filmmaker from Curve Lake, will also be delivering a keynote address on the opening night of the festival on Friday, January 22nd.
Watch local!
In addition to Starborn and Cottagers and Indians, there is much local content on the ReFrame program this year. Supporting local is so important and it doesn't stop at small businesses — it also means supporting local arts and artists.
Please be sure to support local artists by watching the following homegrown films: Chúng Tôi Nhẩy Đầm ở Nhà (We Dance At Home), The Garden Collective, Gichitwaa Nibi – Sacred Water (Water Teaching with Elder Dorothy Taylor, Granite Man of Gilmour, Headwaters to Hearts: Education in Action, On Treaties with Elder Doug Williams, Pivot: Performance in a Pandemic, Rematriate: Passing the Seeds, The River, See Us, and Sing Them Home.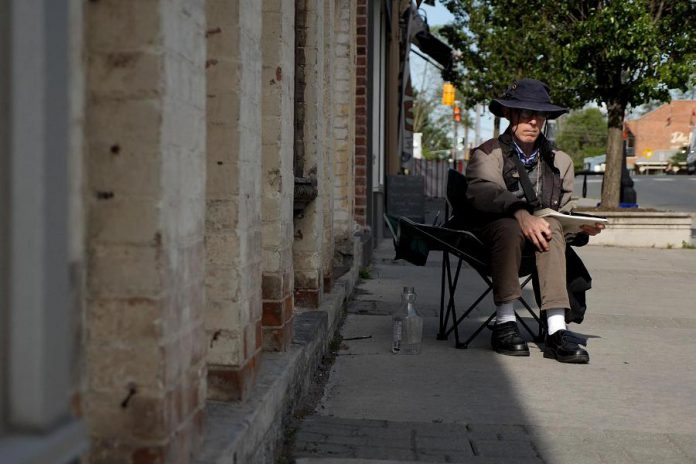 Advertisement - content continues below
The ReFrame Festival program is a curatorial masterpiece that creates an invitation to partake in a conversation. Responsive to the context in which it is presented, the festival is a forum for the collective celebration and exploration of films as a collection of creative texts.
It is precisely what this lockdown needs.
If you live in Ontario and want to buy a festival all-access pass or 5-pack, or if you already have your pass or 5-pack and want to register to watch ReFrame films, visit my.reframefilmfestival.ca today. The festival runs online from January 22nd to January 29th, 2021.
kawarthaNOW is proud to be a sponsor of the 2021 ReFrame Film Festival.