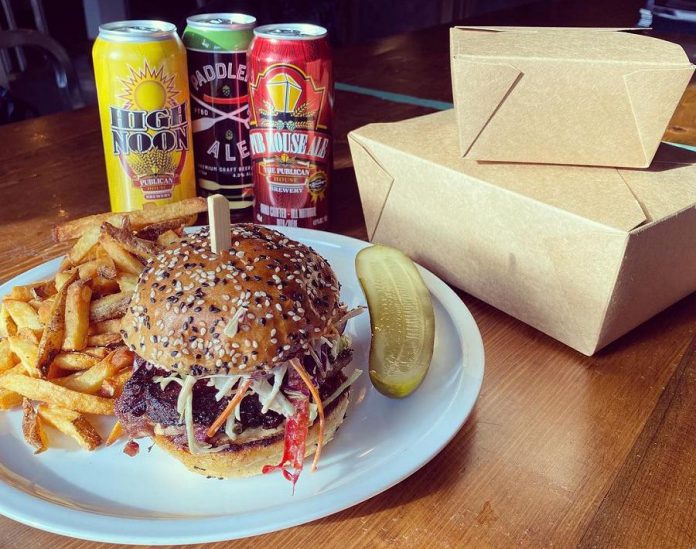 If there were ever a time to be supporting the locally owned eateries that give Peterborough its flavour, that time would be now.
The restaurant industry is among the hardest hit by the pandemic and, with the latest provincial lockdown and stay-at-home order, restaurants have once more been forced to close their doors to dining.
The pandemic has had a tremendous impact on the economy, especially on Peterborough's independent businesses. Because their owners live here, a significant portion of the money you spend at these businesses stays in the community — so you're not only supporting them but Peterborough's economy as a whole.
Advertisement - story continues below
Local restaurants have been doing everything they can to make it easy and safe for you to enjoy their food in the comfort of your own home, with many going out of their way to provide top-tier takeout services.
Here's how three locally owned eateries are coping and how you can support them during the lockdown.
KitCoffee
One local business owner is taking matters into her own hands by personally delivering takeout orders herself.
Helen McCarthy, the owner of espresso bar and bakeshop KitCoffee, has recently launched a food delivery service. Instead of going with a third-party service like SkiptheDishes, she is making the deliveries herself.
Due to the current lockdown, McCarthy says people staying at home has resulted in a considerable loss of foot traffic. She wanted to start offering delivery; however, she notes it has been a "logistical challenge."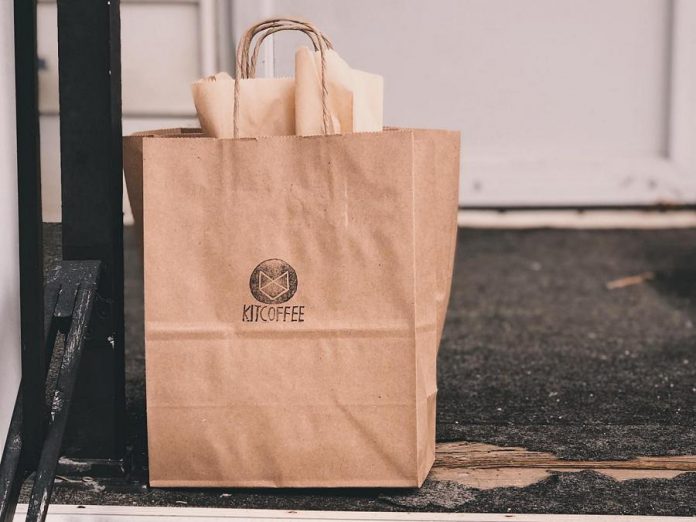 "Going through one of the apps is not feasible for us because of the fees that they take," McCarthy explains. "The profit margins are already pretty slim in the food and beverage industry."
Orders can be delivered to locations within a 10-kilometre radius of the cafe. You place your order through the cafe's website and it is delivered within 15 to 45 minutes. There's a $6 delivery fee on orders under $25, but anything above that is free.
McCarthy's COVID protocols, such as offering her staff partially paid sick days to encourage staying home when feeling ill, keep both customers and staff safe during pickups and deliveries.
"Everyone is doing their self-screening, sanitizing high-touch surfaces, and we're all wearing masks when on the floor," she says. "There is hand sanitizer at the door and the cash for staff. There's a limit of two customers in the cafe at a time (for order pickups) to maintain the six-foot physical distancing."
McCarthy says business is not nearly what it was before the lockdown, even with the new delivery sales.
"It's seasonal, as well," she explains. "It's already a slow month and, with a lockdown on top of that, it's even worse."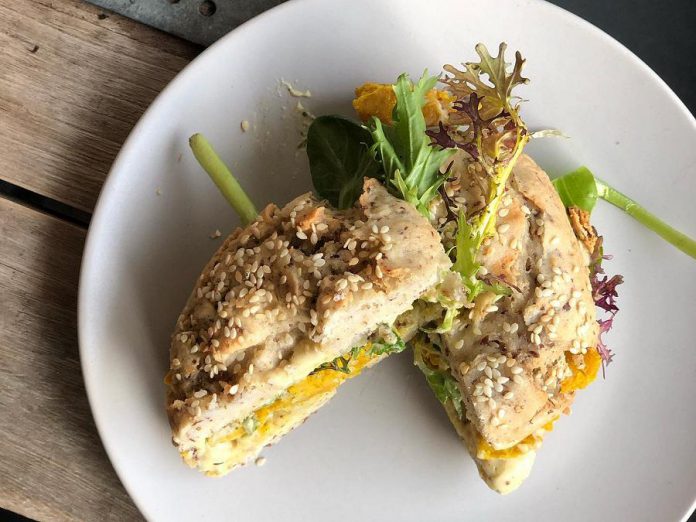 As for McCarthy's message to the community, "if you're choosing to order food from somewhere, pick locally owned restaurants," she pleads.
"Which I have been feeling like people have been doing," she adds. "I do feel really grateful to the community."
KitCoffee is located at 144 Hunter Street West in downtown Peterborough. You can place orders through their website at www.kitcoffee.ca. You can also follow KitCoffee on Instagram and Facebook.
Advertisement - story continues below
Publican House Brew Pub
The current provincial lockdown has been a difficult blow for Publican House Brew Pub owners Katie and Brad Watt, who just this winter made a significant investment in heating their outdoor patio.
"We just had that completed at the beginning of December, and were getting some really good traction with people using it as an alternative to eating inside," notes Katie Watt. "We were just getting going with that, and then we got shut down. So that's a little hard to bear right now."
Without the ability to have people dine either inside or outside the restaurant, Katie says they're facing challenges at an already difficult time of year for the restaurant industry. Even before this latest lockdown, business wasn't anything compared to what it was at the same time last year, before the virus had any effect on the restaurant industry.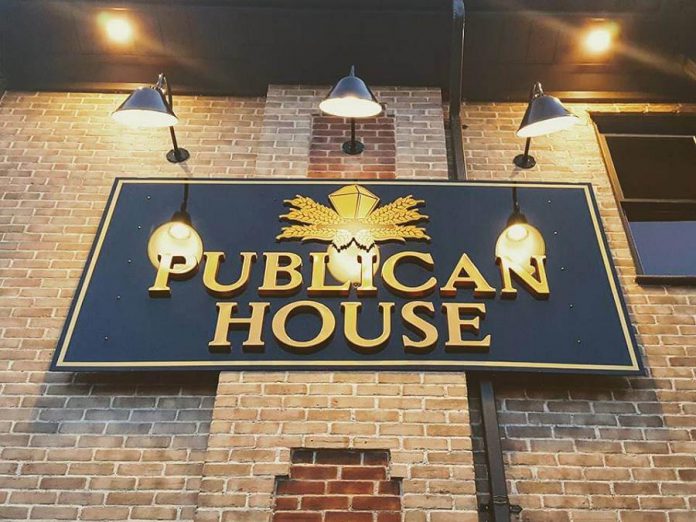 The pub remains open for takeout from Wednesdays to Sundays. All orders are pickup and must be made through phone, although Katie says they're on the cusp of having an online ordering system ready to go. You can look on their website to find their food menu and weekly specials.
Katie explains that things may look different when you come to pick up your order, given their COVID-19 protocols.
"There's a table set up with plexiglass where customers come in one at a time to pay for and pick up their order. We sanitize our debit and credit handheld machine between customer visits. Customers have to be masked; we have to be masked."
If customers want contactless pickup, they can also request that when placing their order.
Even if you're not in a position to order takeout, Katie says the community can support their business by spreading the word.
"It's really hard to get the word out to new customers," she explains. "People sharing with their networks is super helpful to us."
As a bonus to following their social media channels, Katie says that sometimes special surprise menu items are announced only there — usually something sweet, like the chocolate croissants offered a couple of weeks ago.
The Publican Brew Pub is located at 300 Charlotte Street in downtown Peterborough. You can check out their menu on their website (you can also order beverages including beer) at www.publicanhouse.com and place orders by calling 705-874-2619. You can also follow them on Instagram and Facebook.
Advertisement - story continues below
Hanoi House
While many restaurant owners are waiting for business to return to what it was before COVID-19, Susan Tung of Hanoi House doesn't fully know what that looks like. She opened the first location of her Vietnamese-style restaurant, in downtown Peterborough, only four weeks before the first provincial lockdown.
Tung says business at Hanoi House has thrived despite the pandemic, and it is continuing to grow — she has just expanded by opening a second location on Lansdowne Street. When the old Copper Branch building went up for lease, Tung says she "couldn't turn down an opportunity to be in such great location with a turn-key space."
Before the lockdown, Hanoi House was open to customers for dine-in with COVID-19 precautions in place. For now, they're able to continue offering takeout and delivery.
To order from Hanoi House, you can visit their website at www.hanoihouseptbo.com to choose a restaurant location and view their menu and specials. You can also place orders through the phone. If you select delivery, either a third-party service or Tung herself will make the contactless delivery.
Tung notes that Hanoi House has just joined SkipTheDishes for exposure purposes, but encourages customers to order delivery directly from the website instead.
"It's cheaper for both the customer and the restaurant," she explains.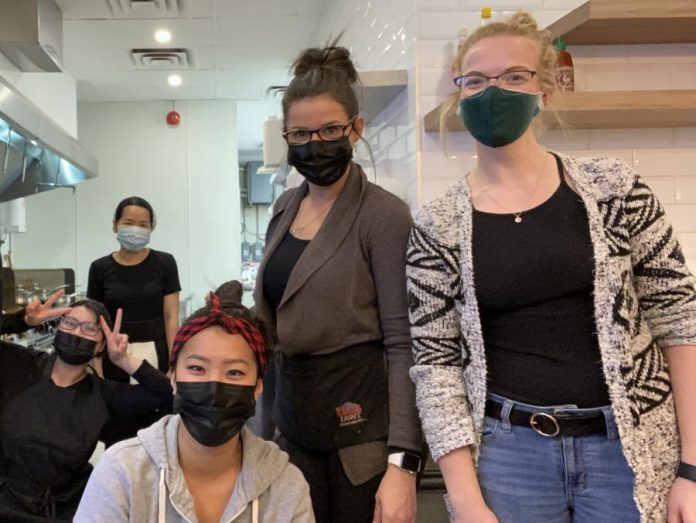 If you choose to go to either location to make an order, only a limited number of people are allowed inside the restaurant at a time. Once you place your order, you will be asked to wait in your car and your food will be brought out to you.
Tung says she sees her story as a positive one — while the pandemic has forced many restaurants to close their doors for good, she has been able to grow. For this, she attributes the support of the Peterborough community.
"We've been really lucky to establish a pretty nice customer base already," she explains. "I would love for people who have never tried Vietnamese food, or people that are just curious, to check out our website or follow our Instagram or Facebook."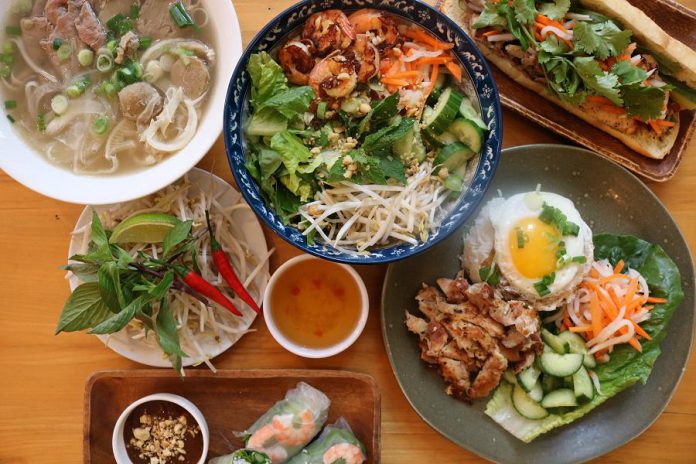 Hanoi House has locations in Peterborough at 213 Hunter Street West and 1040 Lansdowne Street West.
To view their menu and specials and to place an order from either location, visit www.hanoihouseptbo.com. You can also follow Hanoi House on Instagram and Facebook.