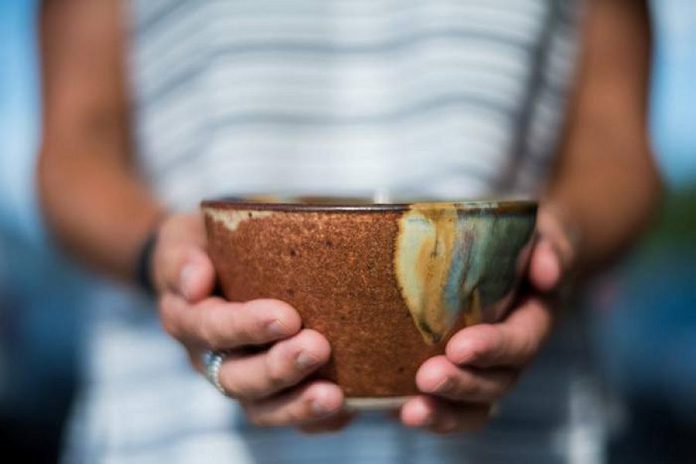 The annual YWCA Empty Bowls fundraising event is returning for its 17th year in March, but with some adjustments to accommodate the pandemic.
In previous years, the fundraiser took place on a single day, when crowds of people would visit The Venue in downtown Peterborough to select a handcrafted bowl and then enjoy a lunch donated by local restaurants.
This year, the bowls and food will still be available, but in a different format because of the pandemic.
Advertisement - content continues below
Over three days starting Friday, March 12th, you can book a 30-minute time slot to visit the Kawartha Potters Guild's Pottery Shop and choose from hundreds of unique bowls, created and donated by talented local artisans.
To keep people safe, only six participants will be allowed at a time, and all visitors and volunteers will wear masks and maintain physical distancing. Hand sanitizing stations will be available on entry and exit.
Although there will be no meal this year, participants will receive a coupon card with generous discounts from 18 participating restaurants.
"Our local restaurants have done so much over the years to help make YWCA Empty Bowls truly special," says Ria Nicholson of YWCA Peterborough Haliburton. "This is our way of encouraging participants to try new or favourite meals and show their local love in support of our amazing local restaurants."
Tickets are $40 each and include one handmade bowl donated by artisans of the Kawartha Potters Guild as well as one coupon card that includes discounts at 18 local restaurants, valid until March 12, 2022.
Participating restaurants include Amandala's, Baked 4U, Black Honey, By The Bridge, Central Smith, Fresh Dreams, La Hacienda, Naked Chocolate, Pastry Peddler, Ptbo Cooks, Rare, Sam's Place, Silk Roots, Taso's, That's a Wrap!, The Cheese Shop, Old Smoke House Catering, and The Pin.
Advertisement - content continues below
Tickets are available now at ywcapeterborough.org or by calling 705-743-3526.
All proceeds from the event will directly support the YWCA Nourish Food Program to prevent and relieve hunger in the community.
Participants are invited to share photos of their bowl and restaurant orders on social media using the hashtag #YWCAEmptyBowls.
YWCA Empty Bowls is sponsored by Kawartha Cardiology Clinic, Cornerstone Family Dentistry, Pure Country 105, and Move 99.7.