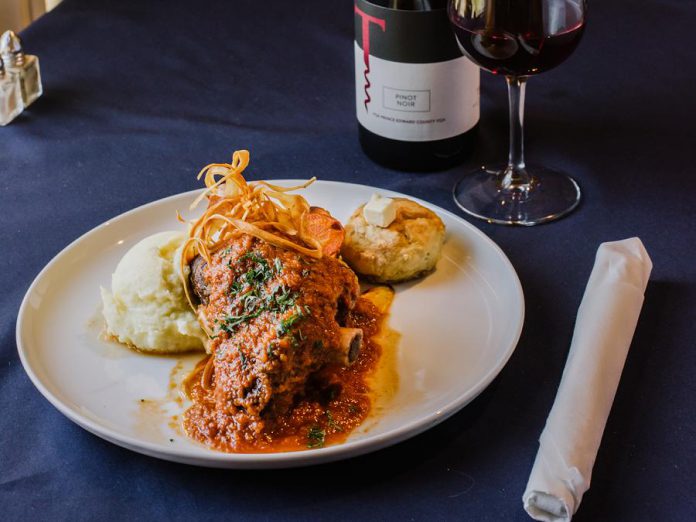 Since the onset of the coronavirus pandemic, there has been a rollercoaster ride of changes in restrictions for restaurants.
With the Peterborough region recently moving into the 'Red-Control' level of the province's COVID-19 response framework, and the local health unit requiring restaurants to ensure diners at the same table are from the same household, the rollercoaster continues for local restaurants.
Nadene Crough, owner of The Pin restaurant in downtown Peterborough, says this back-and-forth in lockdowns, restrictions, and rules has been one of the most challenging aspects of running her small business during COVID-19.
"As an owner, that's been a main stress," Crough tells kawarthaNOW. "Will we be open next week? Should I put that order in? Am I going to have the clientele to sell that? Is the money going to be there?"
Advertisement - content continues below
Peterborough's move to the red zone means restaurants are only permitted to seat 10 patrons indoors at one time, with a maximum of four people from the same household per table.
To accommodate the new requirements, Crough says The Pin is organizing set times for in-person dining reservations to keep numbers within limits. Fortunately, with the warmer weather, The Pin also has patio space on its front porch and side deck for additional tables.
To make a reservation for in-person dining, call the restaurant at 705-745-6544. Customers preferring to pick up takeout should also call that number to place their orders, rather than on social media.
"We ask for customers to call because I am working," says Crough. "I don't want to miss someone ordering over Facebook or Instagram because I'm busy and didn't see it."
Customers can order from the restaurant's full menu, which is available online at www.thepin.ca. You can also order the soup of the day or weekly features posted on the restaurant's Facebook and Instagram pages.
The Pin's efforts to quickly adapt to the ever-shifting COVID protocols are motivated by the goal of keeping the business going so, when the pandemic is over, they can once again offer the full intimate dining experience unique to their establishment.
The Pin is set inside a beautiful Victorian home, and the warm home-style dining atmosphere is a large part of what makes the restaurant so special.
Advertisement - content continues below
While takeout has helped The Pin make it through lockdowns, Crough points out in-person dining is vital to the restaurant since "that's part of the enjoyment of going out to eat — going into an establishment and being waited on and being taken care of."
The end to the province's stay-at-home order a few weeks ago was therefore exciting news for Crough. While The Pin was closed for indoor dining, Crough says people were fantastic about still ordering food, but business was much slower than during the first lockdown.
As for the recent requirement by Peterborough Public Health that servers confirm customers at the same table are only dining with household members, Crough says the majority of her guests understand servers are just doing their job.
"That responsibility is a lot to put on your servers," she says. "I know the city is trying to reiterate the onus is on the populous, and we are just doing our duty and covering our bases."
But Crough adds The Pin had already been confirming their customers were from the same household, well before the mandate issued by Peterborough Public Health.
"We decided that we'd start right off the get-go with this, because it was the province's recommendation," she notes. "I thought we might as well get used to it."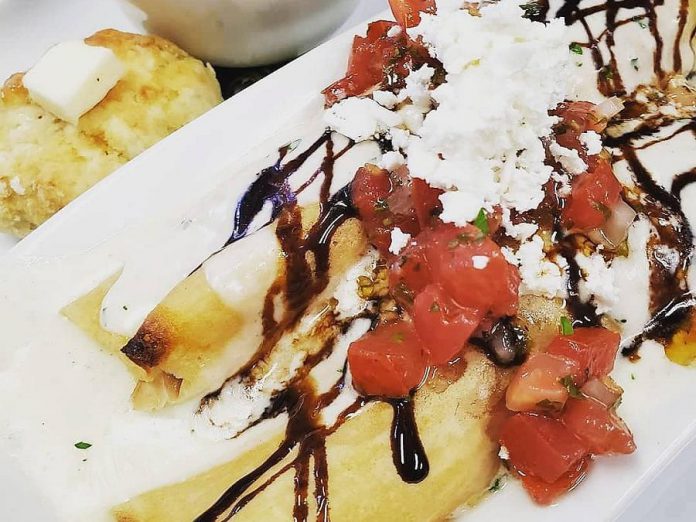 Crough points out diners at the same table don't necessarily have to live in the same home.
"We do find that the province and the city need to reiterate that caregivers are allowed to join the people to whom they give care and those living alone can join another household," she explains.
As well as collecting contact information from patrons and verbal attestations that diners seated together are from the same household, The Pin has implemented various other health and safety measures to ensure customers have a safe dining experience.
Advertisement - content continues below
"We've changed our tablecloths to make it easier and quicker for servers to clean and sanitize tables," Crough says. "We make sure we try to schedule any reservations with the time to make sure the tables are cleaned, wiped, and sanitized."
"Before COVID, we used to set our tables with the cutlery already out. The servers now roll the cutlery while in gloves in the morning so that it's protected."
Crough says small changes like these, in addition to sanitizing high-touch points often, are steps they are glad to take to instill customer confidence in the restaurant's safety.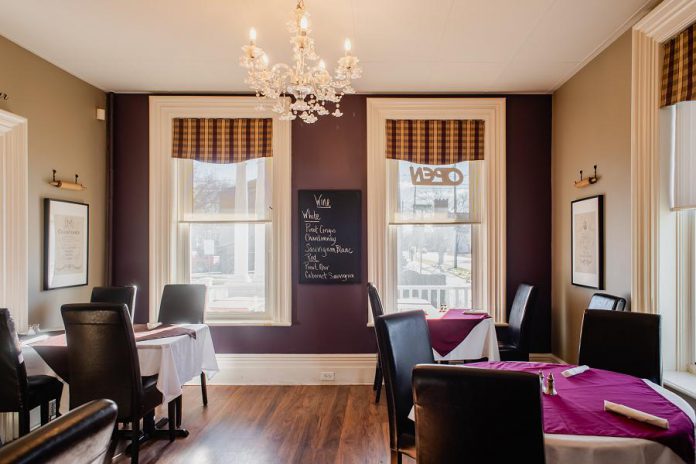 Nevertheless, it has been difficult for restaurant owners as they are forced to continually adapt to challenges they would not have foreseen prior to the pandemic. Crough reminds the community that The Pin and other locally owned restaurants need ongoing support.
"Even though people may be seeing a lot of these small independent restaurants posting 'We're sold out, thanks for a great evening', they need to remember that we're still doing only 25 to 30 per cent of what we normally do," she points out.
That said, Crough is thankful for the understanding, support, and patience the Peterborough community has shown her business as The Pin manages through the pandemic.
"Many restaurants are working with small teams because you can't staff like normal," she says. "The Peterborough community has been great, so it would be great if they would continue with their support and understanding."
"If you follow us on social media, we always appreciate shares to friends and family," Crough adds. "The more people seeing our specials and what we are doing, the more people we can get through the door."
You can support The Pin on social media by following them on Facebook and Instagram.
To view The Pin's regular lunch and dinner menu, you can visit their website at www.thepin.ca.
The Pin is located at 302 King Street in downtown Peterborough. Currently, they are open for in-person dining reservations and takeout for lunch on Tuesday and Wednesday from 11:30 a.m. to 4 p.m. and Thursday through Saturday for lunch and dinner from 11:30 a.m. until 7 p.m. The Pin is closed on Sundays and Mondays.