Depave Paradise is looking to transform pavement into greenspace in Selwyn Township.
A joint project of Green Communities Canada and local partners, Depave Paradise sees volunteers working together to remove unwanted pavement and plant gardens filled with native species in its place.
Replacing pavement with greenspace can help mitigate flooding, by allowing water to soak into the soil rather than running over the top of hard surfaces.
Advertisement - story continues below
It also reduces pollution that can happen when stormwater washes into the water system. Gardens planted with native species also help pollinators while enhancing the natural beauty of a community.
In 2019, local Depave Paradise partner Peterborough GreenUP transformed five locations, including in downtown Peterborough, with most of the projects more than 100 square metres
Now, Depave Paradise is looking for a business or property owner in Selwyn Township who has a large impermeable asphalt or concrete surface in an area with lots of public traffic.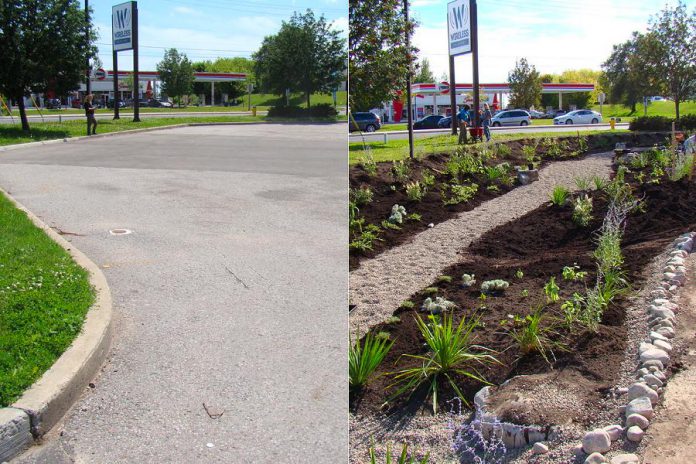 The ideal site needs to have 100 square metres of asphalt or concrete that could be removed and replaced with greenspace. The site also space for disposal bins, temporary storage of plant materials and equipment, and access to washrooms (or space for a portable toilet).
While there is no cost to the business or property owner, in-kind contributions of volunteers and donations of materials are encouraged and the owner is asked to make a commitment to maintaining the site.
Along with the environmental and community benefits, a Depave Paradise project can also add value to a property.
If you are a business or property owner in Selwyn Township with a property that meets these requirements, email acurrier@selwyntownship.ca to submit your property for consideration.
Submissions should include the address, size, and photos of the property. The deadline for submissions is Friday, March 26th.
Depave Paradise will serve as a demonstration site for Selwyn Township's upcoming Water Wise program in partnership with GreenUP. The program will provide residents with resources to incorporate water-conscious landscape design on their properties.