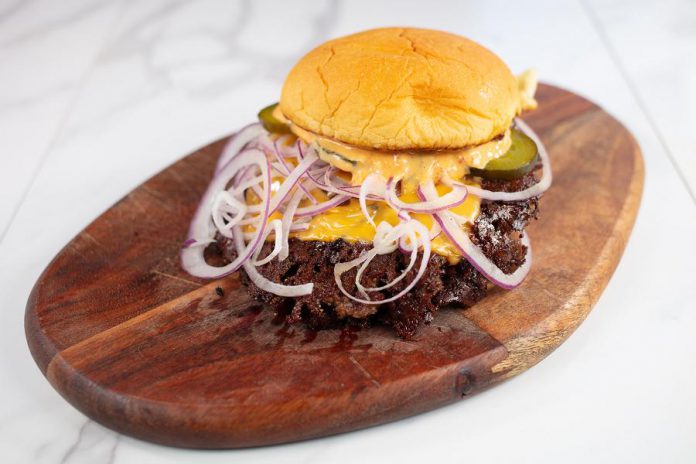 After almost a year, we welcome back our food writer Eva Fisher, who tries some hair of the dog at Bobcaygeon's Old Dog Brewing Company, explores Le Petit Bar's marché and bottleshop in Peterborough, eats the original burger at The Dirty Burger Company in Peterborough, and discovers a monthly local meat subscription through Tipsy Willow Farm in Indian River.
Advertisement - story continues below
Old Dog Brewing Company opens for business in Bobcaygeon
After four years of preparation, Old Dog Brewing Company (30 King St. E., Bobcaygeon, 705-731-1123) officially opened its taproom and brewery on March 27th.
Owner/operator Scott Nichol makes a range of beer named after man's best friend. He has a list of ideas for beers, all dog themed, which he uses as a starting point for each brew.
"I research that style, figuring out what works and what doesn't," he says. "Then I build the recipe and try a small batch."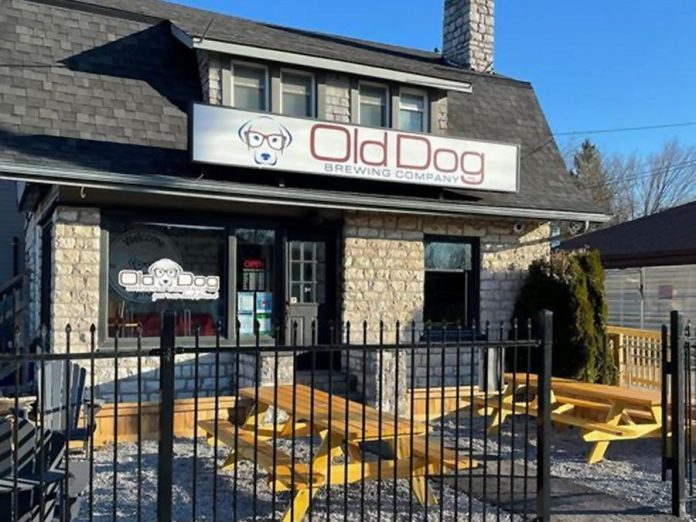 He finds out quickly if the beer is a hit and works from there.
"The last two I made — Wheaton Kings, a North American wheat beer, and British Bulldog ESB [Extra Special Bitter] — have been very well received this past week, so I will ramp up production on one or both of those."
The original offering was the Mad Dog Amercian Pale Ale (APA), but Scott's favourite so far is the Single Malt Scottie. It's a Scottish ale made with a single malted barley. Roasted barley adds colour and a nutty, toasty flavour.
"It's been one of our better sellers," Scott notes. "People are often afraid of a darker beer, but are quite surprised as to how light the Single Malt Scottie is."
The best place to buy Old Dog Brewing Company beer is at their newly opened location at 30 King Street East in Bobcaygeon. The company's brews are also available at the Bobcaygeon, Buckhorn and Lindsay LCBOs, La Mantia's in Lindsay, and Sobeys in Fenelon Falls and South Ajax. You can get it delivered through Kawartha Delivers at kawarthadelivers.com.
Find out more about Old Dog Brewing Company at olddogbrewing.com.
Advertisement - story continues below
Marché and bottleshop offers a taste of Peterborough's Le Petit Bar to enjoy at home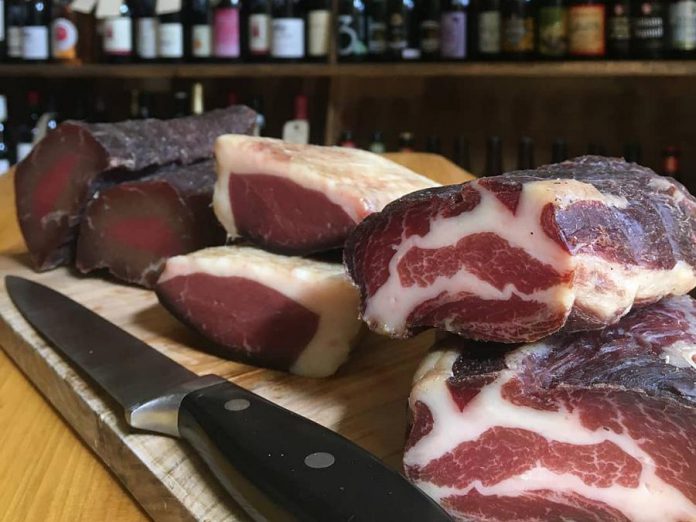 It's an experience that many of us dearly miss: standing elbow to elbow with someone that you don't quite know yet at Le Petit Bar, a Parisian inspired wine bar in downtown Peterborough (399 Water Street, Peterborough, 705-775-7384).
While cozy proximity to strangers is not an option today, you can still enjoy a taste of Le Petit Bar with their marché and bottleshop, currently available for takeout from Thursday through Saturday.
Owner/operator Shannon Mak has curated a menu that includes their house-made charcuterie, pickles and kettle chips, and a selection of small batch Canadian-made cheeses.
You can also browse an impressive bottleshop stocked with organic, biodynamic and natural wines, and Belgian beer.
Prior to lockdown they offered a picnic package, and Shannon plans to revisit the idea soon.
"We're planning a larger picnic box for pre-order for pickup on the weekend," she says. "This box will come complete with cans of wine, cutlery and plates, and packaged meats, cheese and condiments, and some other goodies — perfect for taking straight to the park."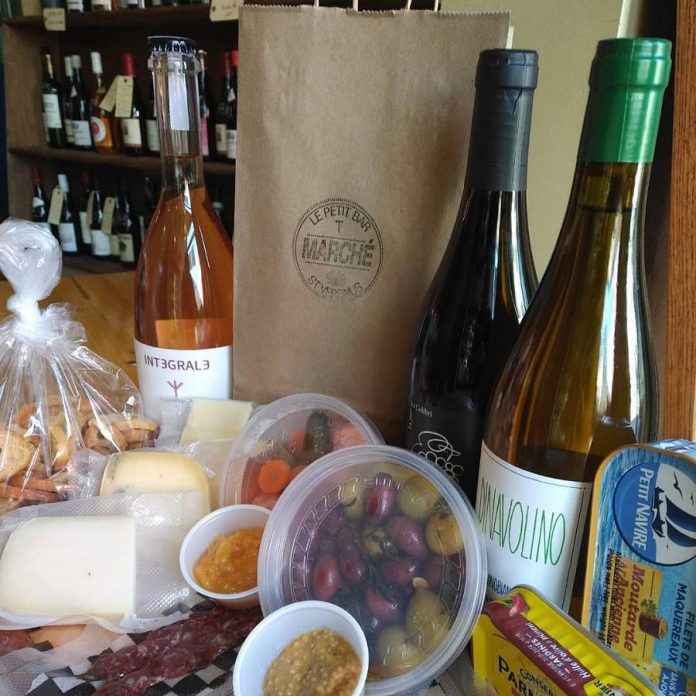 Shannon and the Le Petit Bar staff have also offered a number of collaborative dinners with St Veronus Cafe and Taproom (129 Hunter St W, Peterborough, 705-743-5714).
"Our next dinner will be Cabane à sucre themed to celebrate maple syrup time," Shannon says.
Browse the marché and bottleshop online at lepetitbarptbo.com.
Advertisement - story continues below
The Dirty Burger Company opens in Peterborough, serving burgers made the original way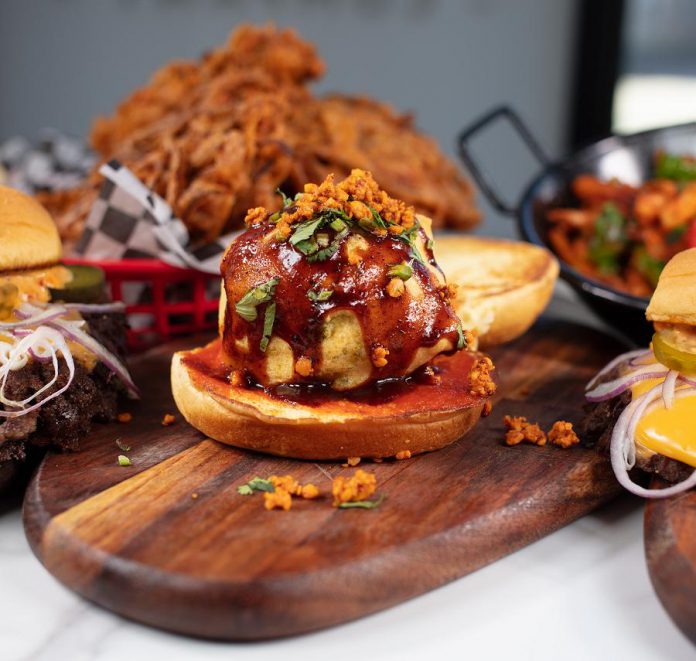 There's a new burger joint in downtown Peterborough, and it looks like it's going to be a smash. The Dirty Burger Company (211 Hunter St. W. Peterborough, 705-400-7335) officially opened on April 9th, and gave away 50 free burgers to celebrate.
The cornerstone of their menu is the smash burger. Om Patel, owner and head chef, describes how they are made.
"The process is quite simple. After we form a ball from the ground beef, we then completely smash the patty on a scorching hot griddle. Once pressed paper thin and it has formed a beautiful thin patty, we season to taste."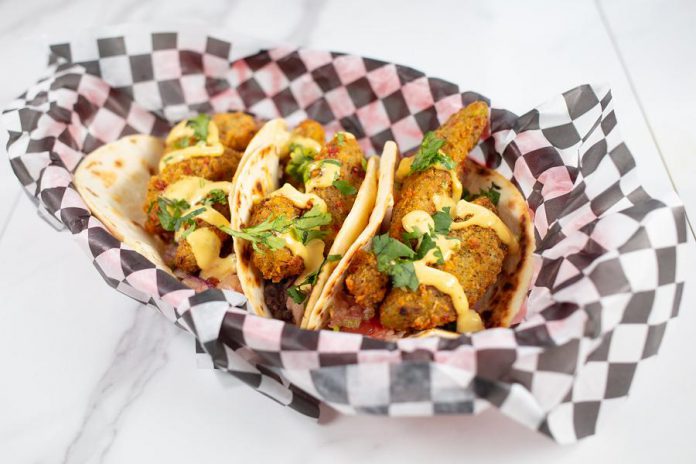 The smash burger is less greasy than a thick patty, and the cooking process creates a nicely browned outer crust. Om says that when the burger was first invented, it was a smash burger.
"Our burgers are made the original way, the first-ever way the burger was made. We mainly focus on the combination of three condiments and good fresh ground beef to shed some light towards the original burger."
In addition to burgers, The Dirty Burger Co. offers hotdogs and two vegetarian options: a veggie burger and a deep-fried avocado taco. There are also a variety of sides, including three different types of seasoned french fries, onion bhaji, and salads.
You can view their full menu online at thedirtyburger.ca
Advertisement - story continues below
Tipsy Willow Farm's monthly meat box brings ethically and sustainably raised meat to your doorstep
Many meat lovers will agree — ethically raised meat isn't just easier on the conscience, it tastes better.
Jeanette Heffernan and Katie Sherratt of Tipsy Willow Farm (1884 Division Road, Douro-Dummer, 613-922-1606) are making it very easy to enjoy local, sustainably farmed, ethically raised meat every month.
While Jeanette grew up on the farm, Katie's interest in farming developed while she was at university. Their partnership was forged on an unlikely platform: Tinder. Since 2019 the two have been working together to expand the farm, while using eco-conscious and traditional methods.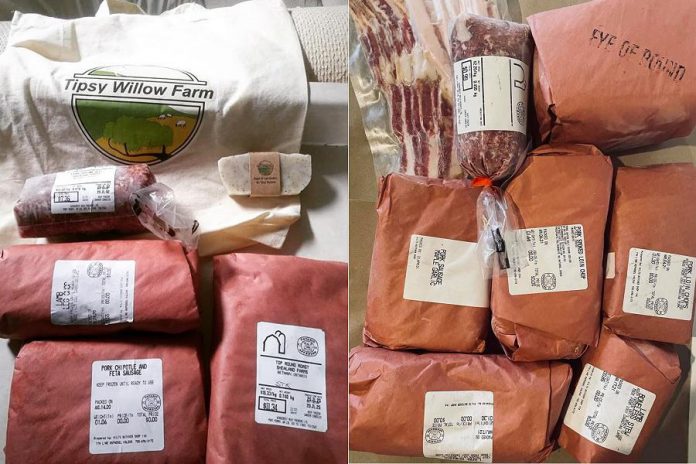 Their monthly subscription box — available in $50, $100, or $150 quantities — provides a variety of meat for you to enjoy from your freezer all month long. You can pick the box up at their farm, grab it at the Peterborough Regional Farmers' Market, or opt for delivery right to your door.
The boxes contain pork and lamb from Tipsy Willow Farm and beef from Marie and Adam Shea at Shealand Farms (Jeanette's sister's farm).
Katie notes that the deliveries vary by season.
"In the summer we do barbecue season boxes, so you can get sausage and loin chops and meat that's good on the barbecue," Katie explains. "In the winter we offer more roasts and meat that you can cook low and slow throughout the day."
VIDEO: Katie Sherratt and Jeanette Heffernan of Tipsy Willow Farm

They also cater the boxes to their customers' preferences: once you've added the box to your cart on their online store, you can select which cuts you'd prefer.
During the COVID-19 pandemic, the delivery boxes make local food easier to access during a time when many people aren't venturing to the farmers' market.
"We're trying to work with other local vendors to get more products out there," Katie says.
So far they are offering locally farmed maple syrup and honey, and they're hoping to add cheese to their repertoire in the near future.
For more information, visit www.tipsywillow.ca.