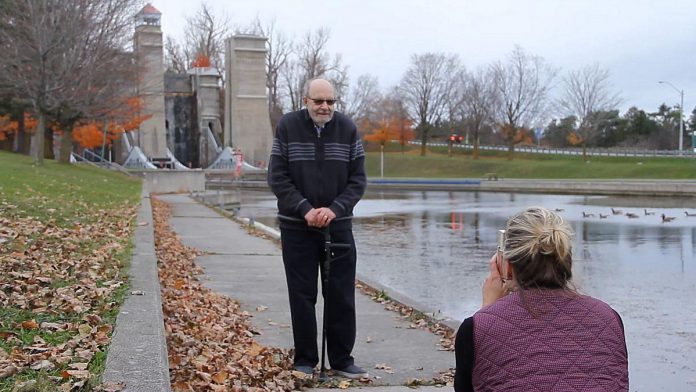 A short film called "The Photo" by Peterborough-based filmmaker R. Keith Smith — shot at the Peterborough Lift Lock in 2019 — has recently been making waves on the international film festival circuit.
Written and directed by Smith and produced and edited by Christian Moes, "The Photo" has now been shown at more than 40 international film festivals. It stars Peterborough community theatre actors Glen Walker, a veteran of the Peterborough Theatre Guild and a Pathway of Fame inductee, and Rhonda Brewster.
The 12-minute film has garnered numerous accolades and award nominations in 2021, including winner at the Cairo Indie Short Festival, finalist at both the Paris International Short Festival and the Vancouver Independent Film Festival, and a best actress nomination for Brewster at both the San Francisco Indie Short Film Festival and the Vienna Indie Short Film Festival.
Advertisement - story continues below
"The Photo" details a chance encounter between a travelling photographer (Brewster) and an elderly gentleman (Walker). Their endearing chat ends with a photographic exchange, making present that which is absent from the photo.
"The Photo" is based on a true story, one that has stayed with Smith for the better part of 20 years.
On a family vacation to Banff National Park, Smith was photographing his wife and children on the picturesque landscape. An older gentleman approached him and offered to photograph Smith and his family together. Once the photo had been taken, the gentleman asked if Smith would return the gesture by photographing him.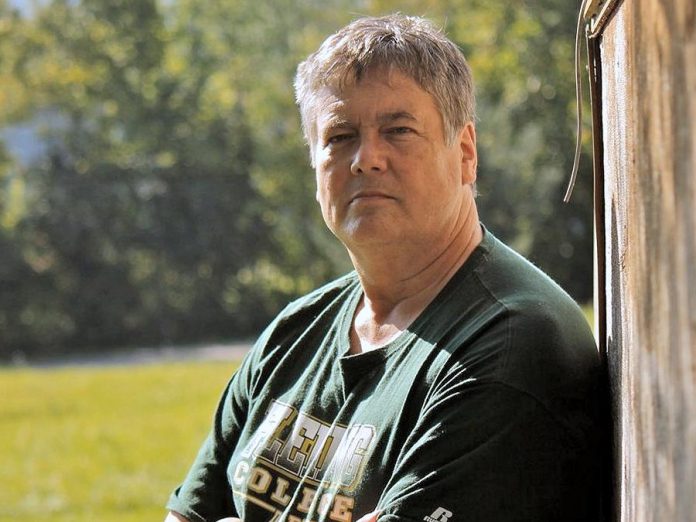 "He handed me his old Brownie camera — one of those old box cameras — and he was directing me quite meticulously in terms of positioning," Smith recalls.
"He was very precise about where he ought to stand and where I ought to stand," he laughs.
"I mentioned to him that the positioning made for a lot of empty space in the frame, and he said 'That's where my wife stands.' But he was there all alone. He then told me that his wife had passed away. Every year during their 65-year marriage, they would come to that spot — the spot where they first met — and have their photo taken on their anniversary."
"This was the first year that his wife was not there," recalls a visibly moved Smith. "I still get choked up every time I think about it, and that was close to 20 years ago."
Advertisement - story continues below
Smith felt compelled to share the story with the world and film, he decided, was the perfect medium to do so.
Smith grew up immersed in the magic of film, with most of his immediate and extended family prolific photographers and filmmakers.
"My dad was an avid photographer," Smith explains. "We had a darkroom in the basement. I grew up surrounded by people in the film and television industries."
In fact, some of Smith's earliest childhood memories are of making films and even, on occasion, helping the grown-ups get that perfect shot.
One memory, in particular, sticks out for Smith as his introduction to filmmaking.
"Don, a family friend, was a documentarian detailing most of the rail systems within Ontario," Smith recalls. "It was the last run of this steam engine [train] that was being parked down at the CNE. So my was dad was driving this Chev, which was not designed to go at that speed, down Bayview along the tracks. And Don was hanging his arse out the window trying to film this thing."
"And me, I was like five years old, I was hanging on to him as tight as I could," laughs Smith.
As a filmmaker, Smith is able to combine his experience with business systems and engineering with his capacity for creative writing and theatrical expertise. Film, for Smith, is the perfect marriage of technology and storytelling.
Advertisement - story continues below
"It was the technical side of film that first fascinated me — I love that techie stuff — but it isn't just about the machines," he says.
"I'll always remember Norman Jewison's Oscar acceptance speech," Smith says. "He summarized film so nicely. He said, 'Tell a story. At the heart of it, film isn't about technique, it's about that human interaction of telling a story from one person to another.' That always struck me."
In telling a story based on truth, Smith's short film "The Photo" honours that story with every retelling — it gives the story a new and lasting life.
VIDEO: "The Photo" by R. Keith Smith

"I'm just honouring that man," Smith says, referring to the older gentleman he and his family encountered almost 20 years ago. "And honouring life. Life is life is worth living — it's a series of events that will take you in so many different directions."
Smith attributes the positive response and international success of "The Photo" to the universality of the film's themes.
"It's incredibly humbling to think that I actually touched on those universalities of life," he says. "Bottom line, I'm humbled by the fact that I have this amalgam of a story and incredible people around me to be able to tell that story."