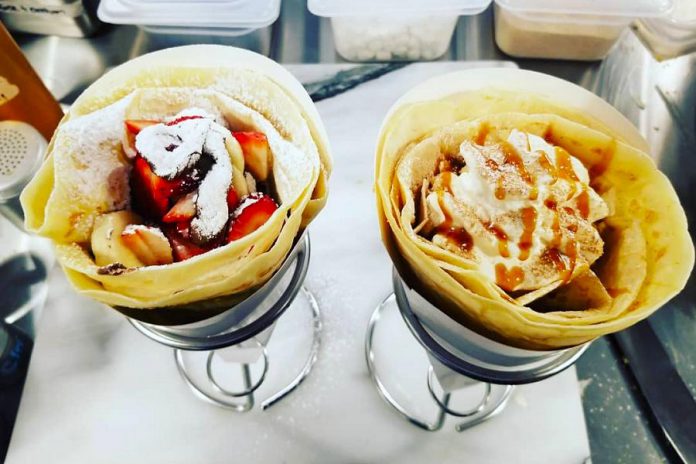 This month, food writer Eva Fisher checks out Peterborough's The Crepes of Wrath, signs up for a beer subscription with Haven Brewing Company, cooks from home with PTBO Cooks, and gets the scoop on Central Smith's newly renovated ice cream parlour in Selwyn Township.
Advertisement - story continues below
The Crepes of Wrath offers exciting flavours that don't fall flat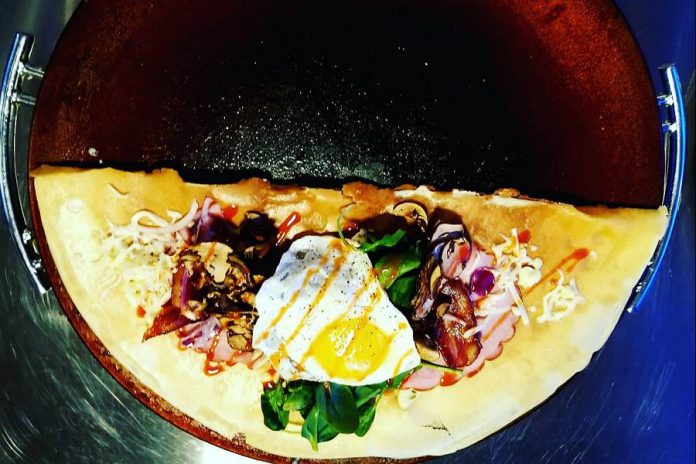 You must be bold to open a new restaurant during a pandemic, but just a peek at the menu of The Crepes of Wrath is sure to convince you: this creperie is coming in hot.
The Crepes of Wrath (170 Hunter St. W., Peterborough, 705-742-0004) opened last November, offering sweet crepes, savoury crepes and, by request, a very decadent crepe mille feuille.
Owner Brian Goeckel has created a menu rife with pop culture references. The most popular sweet variety is the Office Karen, which is stuffed with strawberry jam, cheesecake filling, graham crackers and strawberries.
"It's as decadent as it sounds," Brian notes.
On the savoury side, the Get in Mah Pork Belly special has been a hit. It's filled with roasted pork belly, Asian slaw, white cheese, greens, hoisin sauce and garlic aioli.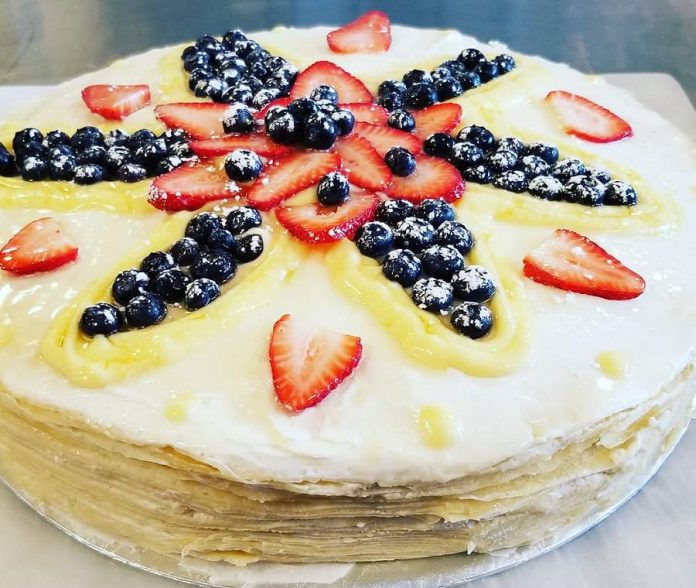 Brian often deconstructs popular dishes to develop new crepes, and he's not afraid to try something unusual.
"I look at my dishes and deconstruct them to suit the crepe form. Other times I just come up with zany ideas such as my Teenaged Mutant Ninja Maki which was a maki hand roll in a crepe. Yeah, I do this a lot."
The COVID-19 pandemic has not been kind to the restaurant industry, and Brian acknowledges that it has been difficult.
"The service industries have been hit disproportionately hard. There have been days where the constant financial and mental strain hits hard. I have been fortunate so far. Somedays I'm the old man yelling at clouds."
He stresses that it's all of our job to look out for one another.
Advertisement - story continues below
"Be safe, get your vaccine shot, and look out for your neighbours," Brian says. "I know it's hard hearing the mantra 'we are all in this together' from some who don't have the same financial insecurity, but in the end we are responsible for controlling our own actions. Jealousy, shaming, and anger doesn't help others."
"Get out there and help someone, a business, charity or family instead. Or just eat a crepe."
For more information on The Crepes of Wrath, including the menu and to place an order for pickup or delivery, visit thecrepesofwrath.business.site.
Haven Brewing Company innovates with bold one-offs and a beer subscription service
Brothers Nathan and Andrew Anker have rebranded Smithaven Brewing Company after purchasing the business in April of 2020.
Now simply called Haven Brewing Company (687 Rye St. Unit 6, Peterborough, 705-743-4747), the brewery will continue to offer European-style beers crafted the traditional way, while innovating with a beer subscription service and a new line of experimental one-offs.
Andrew was part of the first graduating class of Niagara College's Brewmaster and Brewery Operations Management Program. Prior to purchasing Haven Brewing Company with his brother, he worked as a startup consultant for nine breweries.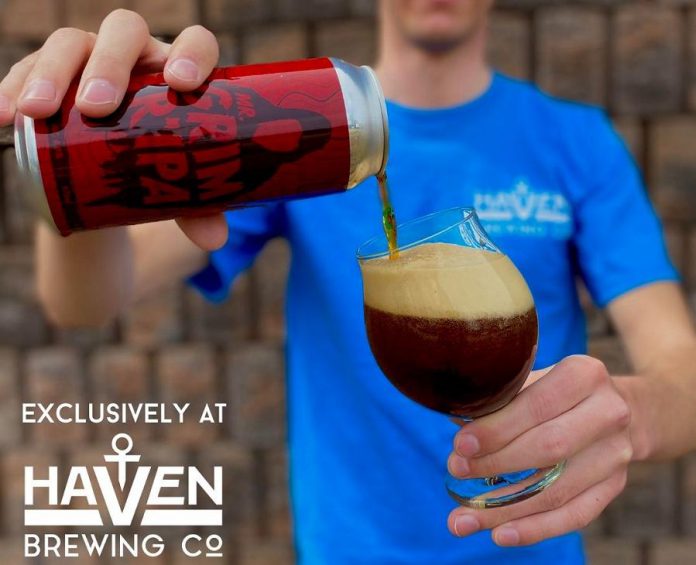 Nathan brings knowledge of brand development and business to the table, having honed these skills in the automotive sector.
"My intention was always to end up working for myself at some point," Nathan says.
They are planning to keep making the traditional recipes that Smithavens became known for.
"These are recipes that are 150 to 500 years old," Nathan notes. "They've stood the test of time and that is because they're good beer."
In addition to the classics, the brewing team have released a series of experimental one-offs that they call the Havoc Series. These include Mr Grim R'IPA (a red India Pale Ale), The Lazarus Sour Flemish Dark Ale, and the Crabby Abbey Ale (a Belgian Farmhouse Ale).
Haven Brewing Company is also now offering a monthly subscription service. You can sign up to get four six packs of beer curated for you arriving on your doorstep each month.
Shop online or sign up for a subscription at havenbrewing.ca.
Advertisement - story continues below
PTBO Cooks at home lessons are heating up kitchens throughout the Kawarthas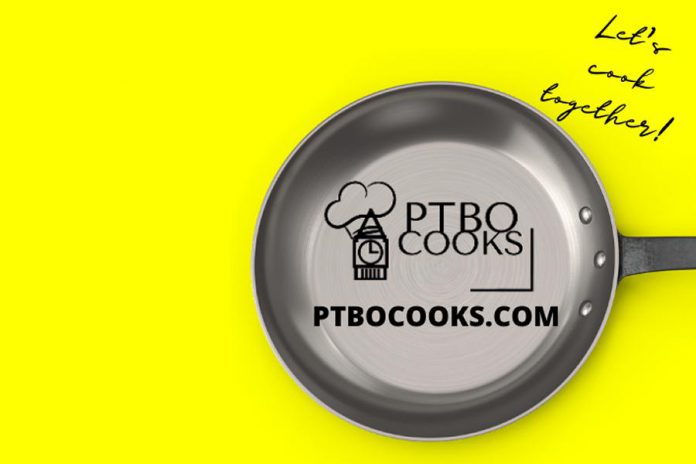 Looking to add some flavour to your evenings at home? PTBO Cooks (a division of That's a Wrap Catering in Peterborough) offers virtual cooking classes streamed right to your own kitchen.
Owner Tracey Ormond previously offered in-person classes through That's a Wrap Catering, but the pandemic made it necessary to change formats.
"That's A Wrap has always offered in-person classes that were about social interaction — a friend's night out, date night, or getting together as a family. When we had to stop meeting in person it was a natural transition to have a virtual kitchen where people could participate in their own homes."
That's when Heather Doughty and Tiffany Arcari joined the team, and PTBO Cooks was born.
Participants can sign up for a "silent seat" or for the full experience. Silent seats get the recipes and a link to join the class. They can choose to buy the ingredients and cook along with the class or just watch and learn. Those who opt for the full experience get all of the ingredients for the dish provided for them.
Have kids at home? Tracey recommends the family pizza night.
"I love when the kids or partners get involved," she says. "It's so much fun watching everyone interact."
Tracey also recommends the pickling and canning class, especially for those that might be a little bit intimidated by the preserving process.
"I think this will be a great place for people to test the waters and see how fun it can be."
Check out the full lineup of classes and book a lesson at ptbocooks.com.
Advertisement - story continues below
Central Smith's scooping parlour gets a sweet new look
Iconic Selwyn-based ice cream destination Central Smith (739 Lindsay Rd, Selwyn, 705-742-5867) has recently undergone a renovation to their scooping parlour.
Vice-president Jennifer Scates says the new renovation has updated their space and made it safer for everyone.
"We've completely transformed our scooping parlour to a new contemporary space to help keep COVID out of our building and to keep our customers and employees safe," she explains.
The interior space has received a contemporary makeover, with new sinks, new freezers, additional square footage, and accents in Central Smith red. The cherry on top is the custom wallpaper — a pink polka dot pattern made with scoops of Central Smith strawberry ice cream.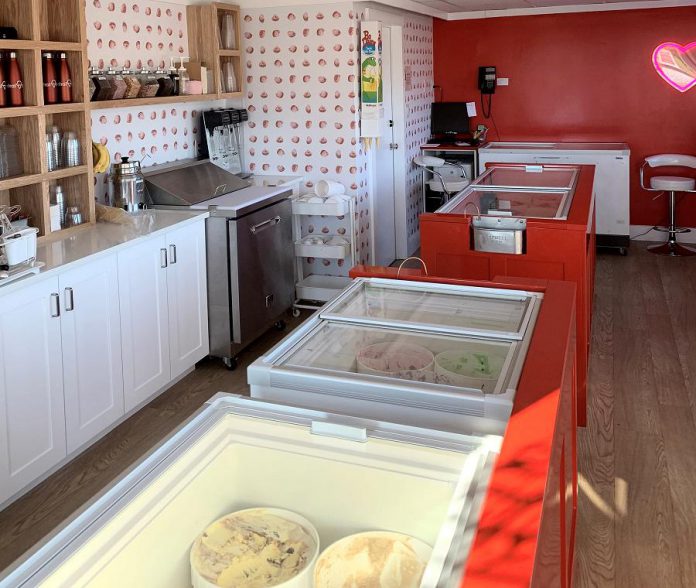 There are now two takeout windows and, once the lockdown is lifted, picnic tables will be available for physically distanced customers to enjoy their ice cream in the sunshine. There's even a bike path connecting to Creamery Road, so you can finish your visit with a walk or cycle.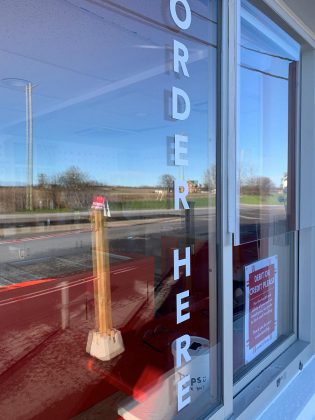 Built in 1896, Central Smith originated as a farmer's co-op, a location where farmers could go to process their milk and eggs. In 1978, it was purchased by the Scates family, who have built it into a major national ice cream manufacturer.
They make 11.4 litre tubs and ice cream bars, supplying restaurants across the country.
"Most of the chain restaurants in Canada are supplied with our ice cream," Jennifer notes.
You don't need to commit to 11.4 litres to bring Central Smith ice cream home with you. Locals can enjoy their handpacked variety packs. Each week you can get a variety of six flavours, each scooped into a one-litre tub.
Jennifer says that it's a fun way to try something new.
"We're hoping to get everyone to try at least one variety pack this season," she says. "But if you're super energetic and excited, by the end of the summer you'll be able to try every one of our 72 flavours."
For more information about Central Smith, visit www.centralsmith.ca.