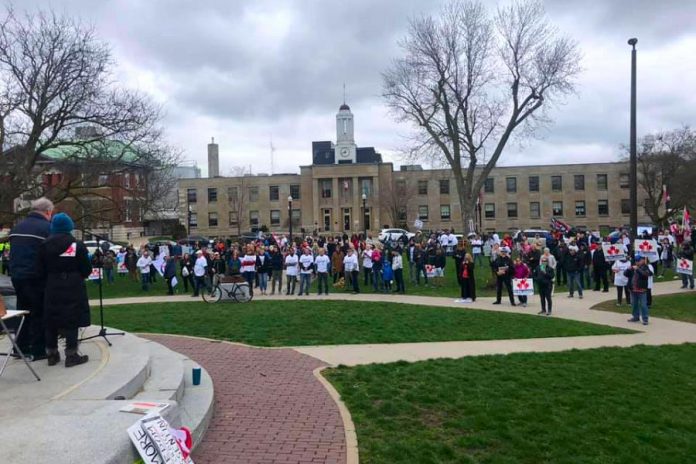 Police forces in the greater Kawarthas region issued a total of nine tickets on Saturday (May 15) under the Reopening Ontario Act.
In Peterborough, police issued three tickets in connection with an anti-lockdown protest at Confederation Square in downtown Peterborough on Saturday.
Peterborough police are also investigating an outdoor religious gathering at Nicholls Oval park that was held on Saturday. Hill City Baptist Church, led by pastor Alex Kloosterman, has been holding weekly services at the park. He was fined for organizing a service the previous Saturday.
Advertisement - story continues below
In Cobourg, police issued one ticket in connection with an anti-lockdown protest in front of Victoria Hall on Saturday. After police spoke with protestors and requested they disperse to comply with the stay-at-home order, one protestor who refused to comply was fined.
Cobourg police, along with city by-law officers, also spoke to organizers of the downtown farmers' market to address the large number of people attending the market. No fines were issued.
In Port Hope, police issued tickets to four men on Saturday after they were discovered fishing along the Ganaraska River.
The four anglers were charged because they had travelled from the GTA to fish in Port Hope. In April, the municipality temporarily restricted access to all its lands bordering the Ganaraska River to discourage out-of-town anglers.