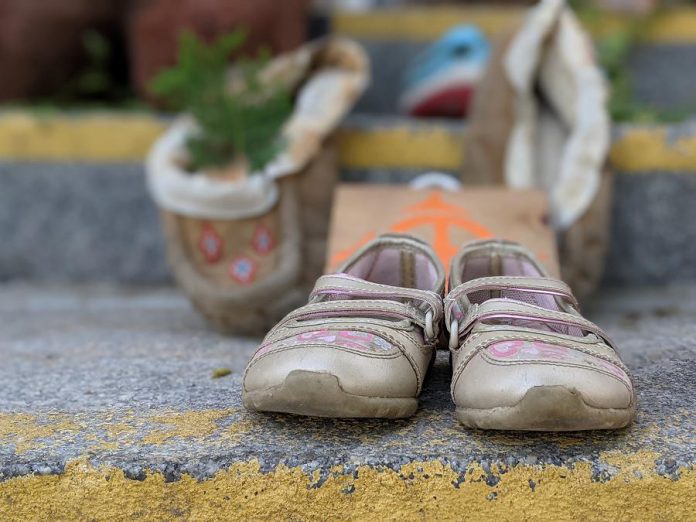 Similar to what's been happening in cities across Canada, a makeshift memorial has appeared on the steps of Peterborough City Hall in Peterborough-Nogojiwanong, following last week's discovery of the remains of 215 Indigenous children buried at the former Kamloops Indian Residential School in British Columbia.
Last Thursday (May 27), the Tk'emlúps te Secwépemc First Nation announced preliminary findings from a ground-penetrating radar survey have revealed the remains of 215 children, some as young as three years old, are buried on the grounds of the what was Canada's largest residential school.
The news, which has made headlines around the world, is once again shining a terrible light on Canada's treatment of its Indigenous peoples, leading to further calls on the Roman Catholic Church — which operated most of the residential schools — to apologize and take responsibility.
Advertisement - story continues below
At Peterborough City Hall, where the flags are flying at half-mast, people have been leaving children's shoes, toys, and other mementos on the steps.
Two local Indigenous women, Janet McCue and Amanda Brown, are among those who have been visiting the tribute.
McCue is from Curve Lake First Nation and Brown is from Listuguj First Nation on the border of Quebec and New Brunswick but grew up in Peterborough. She was part of Canada's infamous "Sixties Scoop", when Indigenous children were removed from their homes and placed for adoption with mainly non-Indigenous families.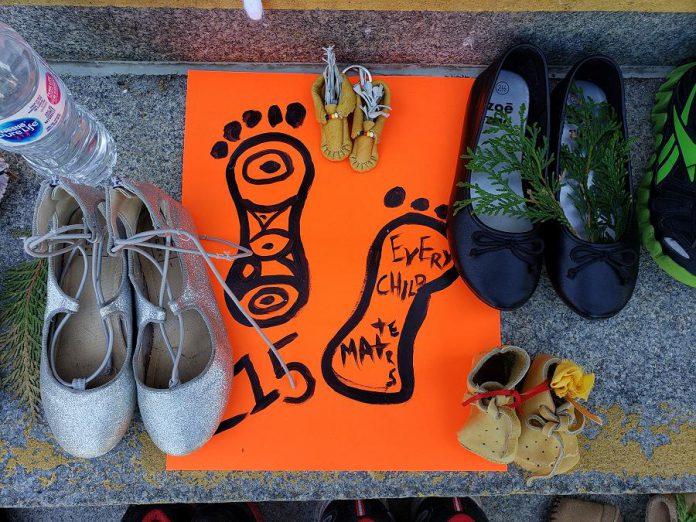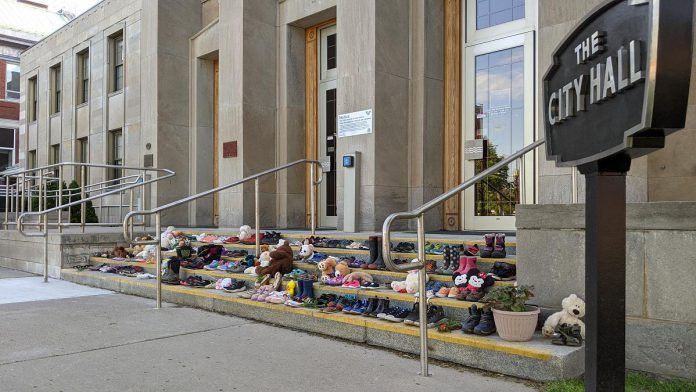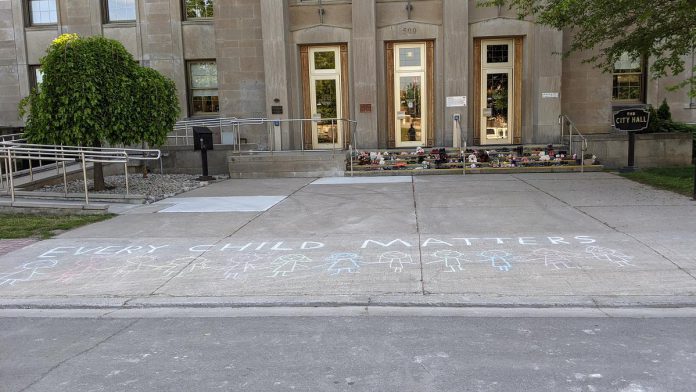 "These are our babies and there's many many more, and we need to find them all so we can send them home," Brown said, choking back tears, when asked why she was coming to the memorial.
"This country came together over 16 white boys, including myself," she added, referring to the deaths in the Humboldt Broncos bus crash in Saskatchewan in 2018. "But it doesn't seem like too many people care about 215 (Indigenous children) … that they're nothing."
McCue brought her drum, which is labelled with a sticker "Justice for Cileana". McCue is a relative of 22-year-old Cileana Taylor, who was taken off life support in February 2021 nearly six months after being allegedly beaten by her then-boyfriend, Jordan Morin.
Advertisement - story continues below
McCue said people have been gathering at the memorial at 2:15 p.m. in the afternoon.
McCue and Brown, both wearing orange "Every Child Matters" shirts, drummed and sang in front of the memorial.
VIDEO: Janet McCue and Amanda Brown at Peterborough City Hall – June 1, 2021