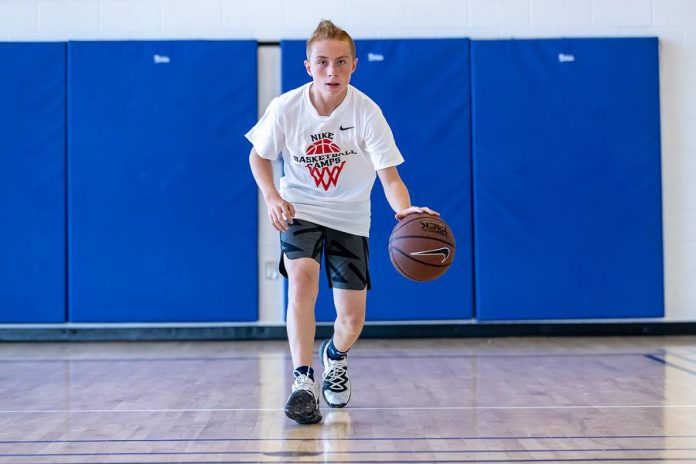 Time 2 Hoop Basketball Academy is bringing the first-ever Nike basketball camp for kids and teens to Peterborough this summer.
The Nike basketball camp will be the first one held at Playground East Peterborough, located in the former SPIplex sports dome at 7939 Highway 7 near Fowlers Corners. The basketball-only facility opened in December 2020 after renovations and has three NBA-sized hardwood courts, including a practice court and state-of-the-art shooting machines.
The Nike basketball camp is made possible by a partnership between Sports Camps Canada and Peterborough's Time 2 Hoop Basketball Academy, which was founded by Joshua Williams with a vision of growing the sport by providing young athletes with the athletic fundamentals, basketball-specific skills, and life skills to enhance individual and team performance.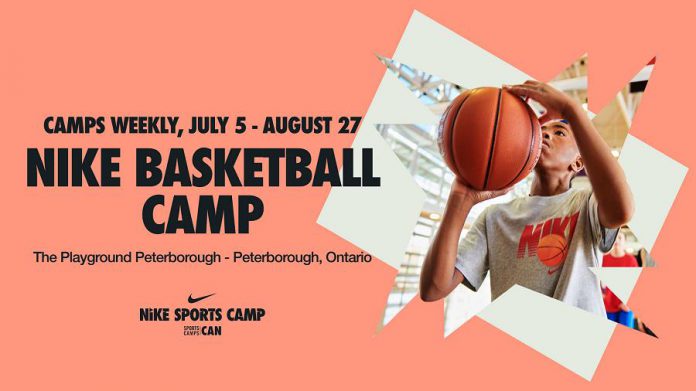 "We're the only Nike basketball camp in the area," explains Williams, a certified basketball coach who's a former college player and varsity men's and extramural women's basketball coach at Fleming College. "It's a great way to do basketball."
The camps are designed to improve basketball-specific athleticism and IQ, emphasizing fundamental development, shooting technique, offence and defence work, and team play.
"We're going to have guest coaches, former pro players, and college players who will help participants get to know the game better and also get a look at different people's experiences," Williams says.
This summer's coaches include:
Jose Garcia-Perez – Former member of the Toronto Raptors organization from 2015 to 2020.
Jesse Young – Peterborough native, former professional basketball player, and former Team Canada captain.
Emma McCamus – Cavan native and graduate of Central Connecticut State University, where she earned a scholarship and played D1 basketball.
Charles Kissi – Head coach and general manager of the Guelph Nighthawks of the Canadian Elite Basketball League (CEBL).
Wumi Agunbiade – Assistant coach of the Queen's Gaels women's basketball team and founder of Hoopers Loop.
Jeremie Kayeye – Lead assistant coach to the Ryerson Rams men's basketball team.
Raymond D'Almeida – Certified athletic therapist, and registered kinesiologist who provides services for many sports, and owner of Rayzor Therapy & Fitness,
Special guest speakers, including former pros, college players, and more, are lined up to visit the camps over the summer. Speaker's names and bios will be announced on Time 2 Hoop's Facebook, Instagram, and Twitter.
Williams points out the guest speakers are a fantastic feature of the Nike basketball camps, since the opportunity to meet and hear from those working in the industry is often hard to come by.
"Especially being in Peterborough area, you don't get a chance to get to see people outside of the community who have made an impact in different sports," Williams explains. "By bringing in different people who have made an impact in the sport of basketball, we get to see their perspectives and how they've gone along their path towards basketball."
The first Nike basketball camp begins on Monday, July 5th, with camps running weekly for different ages and genders until Friday, August 27th.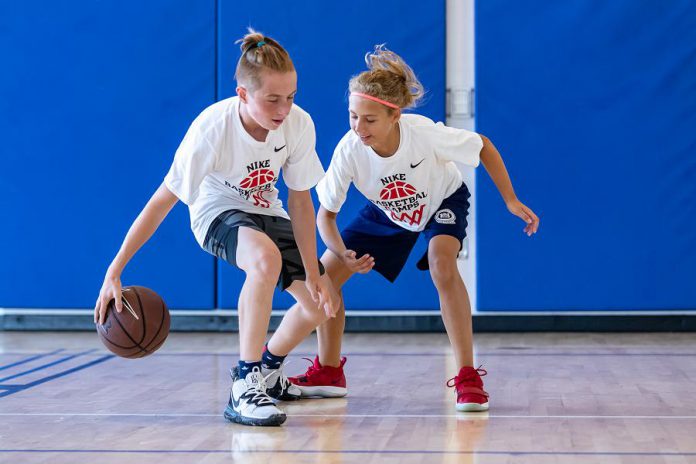 Youth series camps, for ages five to 12, run from July 5th to 9th and July 19th to 23rd. A boys showcase camp, for ages 13 to 18, runs from July 26th to 30th, followed by a girls showcase camp for ages five to 18 from August 9th to 13h. The camps wrap up with a boys showcase camp for ages five to 18 from August 23rd to 27th.
The youth series is for kids who want to improve their basketball skills in a fun but competitive learning environment. This series is aimed to help children learn the fundamentals of the game of basketball.
The summer showcase series (boys and girls camps) is a program that focuses participants on their basketball-specific skills, learning about higher performance, and looking to advance their skillsets for the future.
Participants in the boys and girls camps will compete in physical testing, individual skills, one-on-one situations, and team system scenarios. Each week is dedicated to a boys camp or a girls camp to help focus on the individual development of each athlete.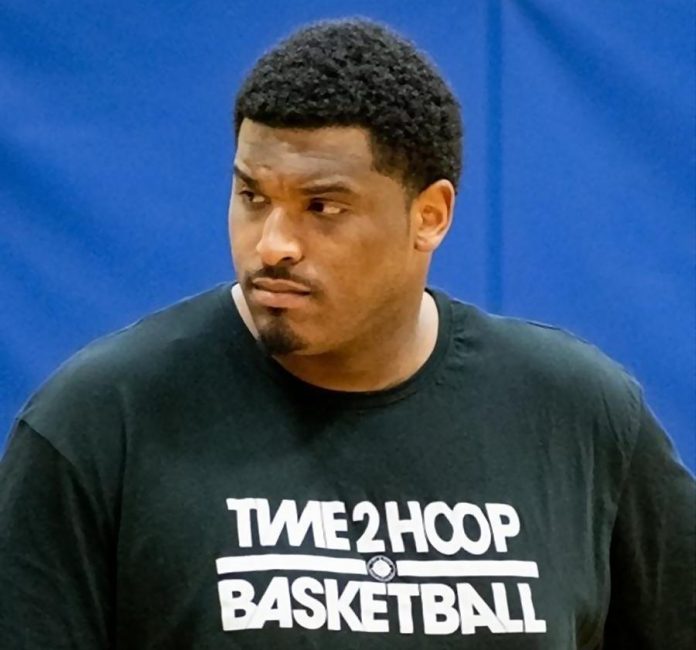 To learn more about each Nike basketball camp, and to register your child, visit the Sports Camps Canada website at sportscampscanada.com/camps/nike-basketball-camp-the-playground-peterborough.
According to Williams, a typical day at the camp will reflect whatever pandemic-related public health measures are required when the camp is running. However, campers' days are sure to include working on their fundamentals of basketball, playing some modified games, working on their strength and conditioning, and listening to guest speakers.
In addition to having developed their basketball skills, kids will leave the camps with a sense of accomplishment — and new friends, teammates, and memories.
Each camp runs Monday to Friday from 9 a.m. to 4 p.m. and costs $335 per week (taxes included). You can register your child for acamps at sportscampscanada.com/camps/nike-basketball-camp-the-playground-peterborough.
To learn more about Time 2 Hoop Basketball Academy and their other training programs, visit time2hoop.ca.
This story was created in partnership with Time 2 Hoop Basketball Academy.