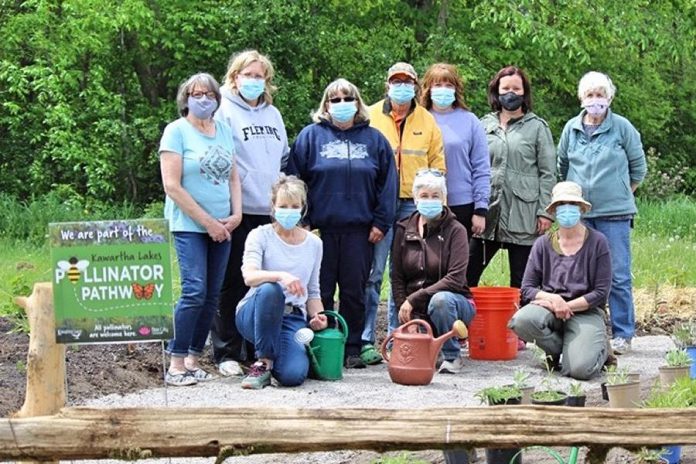 A community project to create a pollinator garden in a park in Reaboro — located between Omemee and Lindsay in the City of Kawartha Lakes — is nurturing the ecosystem and friendships alike.
Community volunteers have enjoyed coming together socially to do something incredibly positive: create a garden of native plants that attract and create a habitat for bees, butterflies, moths, and other beneficial pollinators.
It all started when project head Marnie Callaghan, who loves nature, read Nature's Best Hope – A New Approach to Conservation That Starts in Your Yard by entomologist Douglas Tallamay.
Advertisement - content continues below
"He says the natural parks and all these areas we've set apart simply aren't big enough," Callaghan explains. "Our pollinators and our birds are crashing in numbers."
After reading Tallamay's book, Callaghan felt a call to action. She wondered about her surroundings and considered what she could do to better create a habitat for pollinators.
"His book is very hopeful in that if all private landowners plant native plants, they will come back," Callaghan says. "I've started planting a lot of native plants even in my garden."
But Callaghan wanted to do more outside of her garden. She brought her attention to a section of Reaboro Park that was not being used. After some inquiry, the City of Kawartha Lakes permitted a section of the park to be used for the garden.
The project was made possible by a grant from the federal government's New Horizons for Seniors Program, which supports projects led by seniors that promote volunteerism and benefit communities, with seniors being involved in the garden project every step of the way.
Callaghan says that once she had the project approved and funded, it was down to planning, but she wasn't sure how to make her idea come to life.
Advertisement - content continues below
Enter Elayne Windsor, a friend of Callaghan with the organizational skills the project needed. The former teacher arrived at Callaghan's house, equipped with her "massive teacher chart paper and markers," as she tells kawarthaNOW, ready to break the project down into tasks and begin delegating.
"I think with any project you're trying to get off the ground, you need different people and their different skills," Windsor explains.
The two women spread the word, finding friends and neighbours interested in helping with the project. The first crew of volunteers got together to lay all the groundwork for the garden. That included taking out all the existing grass, bringing in topsoil, making a path, and installing a fence. Another volunteer crew got together later to do the planting.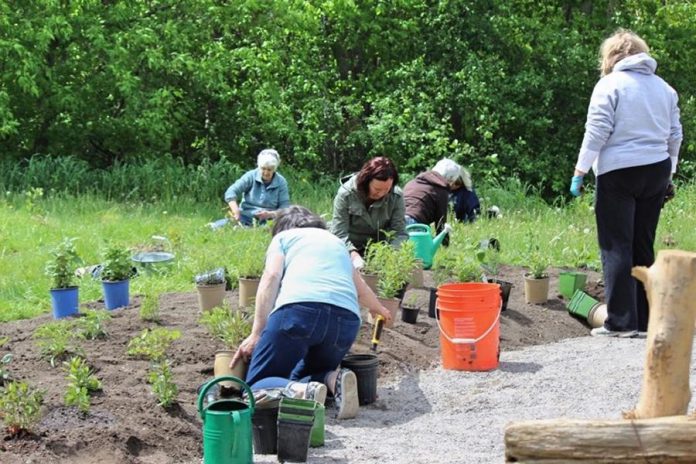 "That was just lovely because we had all been so isolated because of COVID," Callaghan recalls. "It was just such a nice day. We took down our lunches and had our lunch down in the park."
According to Callaghan, every volunteer at the park that day met someone they did not know, so the project had the added benefit of expanding their circle of neighbours.
"My original thought was to create a pollinator garden, but it's ended up being a great community-building project," Callaghan remarks.
Advertisement - content continues below
"During COVID, I realized the value of having community projects," Windsor adds. "To bring people together and have a common goal — that appealed to me."
The garden, which is mainly finished with the plants and fence installed, is also an educational opportunity. Some who visit the garden are deciding to plant native plants in their home gardens too.
"I'm a gardener, and it's inspiring me to look and research the plants that I do put into my garden, really making sure that I don't have invasive species," Windsor says.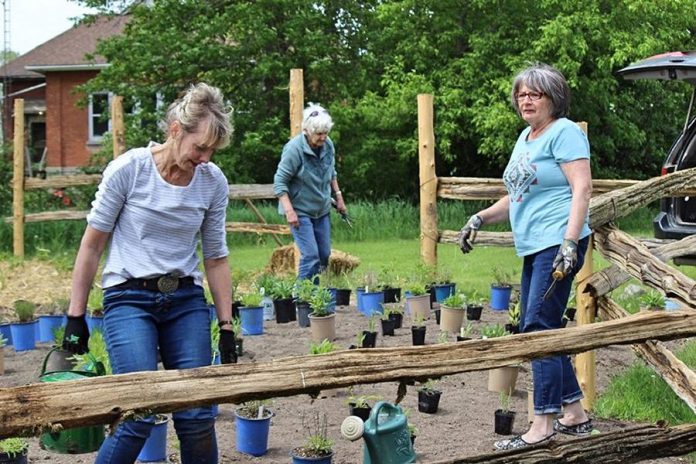 There have already been two bee hotel workshops run at the garden, as well.
As for long-term plans, Callaghan says they plan to further the educational experience of the garden by placing identifications in front of each plant. The signs will include the name of the plant and the butterfly or moth for which it is a host.
Although it won't happen this summer, Callaghan adds that they look forward to adding trees on the north side of the garden, colourful birdhouses, and two benches.
Advertisement - content continues below
A sign donated by RK Designs of Reaboro is soon to be installed at the garden as well.
The garden is part of the Kawartha Lakes Pollinator Pathway, one of the efforts by the City of Kawartha Lakes to support healthy pollinator populations by creating and preserving pollinator habitat. The municipality has been officially recognized as a "Bee City" by Bee City Canada, a charitable organization that encourages action to protect pollinators.
The garden will need to be maintained throughout the summer, so volunteers have set up a schedule where, in pairs, they are responsible for a couple of weekends to water and weed.
Those interested in getting involved with the Reaboro Park pollinator garden can email Marnie Callaghan at callaghandrafting@outlook.com.