Many restaurant owners have been pushed to make creative pivots to sustain their businesses through the COVID-19 pandemic. This is the case for Amanda and Greg da Silva, owners of The El gastropub in Cobourg, who, along with their manager Maddy Thompson, have gone outside the box to attract customers during various pandemic lockdowns and restrictions.
Amanda, Maddy, and Greg let their personalities shine into the business by posting fun and hilarious videos, reels, and pictures on The El's Instagram account. The posts are entertaining and a great representation of the atmosphere at The El — a positive space where working looks like a blast, so dining must be too.
Maddy and Amanda star in a series of funny Instagram reels that feature every kind of local restaurant-themed fun shenanigans you could imagine.
Advertisement - story continues below
Amanda, Maddy, and Greg began their social media posts as a marketing tool during the second provincial lockdown when restaurants were limited to takeout only. Maddy, who had just started at the restaurant at the time, proposed they film themselves goofing around as a fun project to keep busy.
"We were doing takeout during the lockdowns and, amongst the three of us, sitting there and doing nothing," Maddy recalls. "We tend to be silly and goofy all the time. We had the idea, 'Why don't we film this? Why don't we make this our brand?'"
Greg says his favourite video is where Maddy balances trays on both hands, her leg, and then her head — complete with dramatic, suspenseful music.
"We were just standing chatting one day and I had a tray," Maddy explains. "I put the tray on my head with a cup on it. Then slowly, I was like, how many do you think I could do?"
In Maddy's favourite reel, she mimics how children behave in restaurants.
"Working in the industry this long, it is just so true the way children run around and are goofy in restaurants," says Maddy. "I think that one was a lot of fun."
Advertisement - story continues below
Amanda's favourite is an '80s music video where she and Maddy dance to Whitney Houston's "I Wanna Dance With Somebody", decked out in '80s outfits.
Greg, Amanda, and Maddy all note how much fun they had filming a reel the day before patios were permitted to reopen under step one of Ontario's reopening plan. In this video, they went around to other local restaurants and are videoed as their respective owners kick them off their patios.
"That was a lot of fun to film because we got to see all our friends and make a day out of it," Maddy says.
Amanda, Maddy, and Greg put no shortage of effort into the Instagram reels.
"Our hardest one to do was one where we cut to Doug Ford interviews," Maddy notes. "It took so much research looking into all of his interviews and finding the perfect snippet that we could use to show the amount of confusion the industry has felt going through all of these lockdowns. That one took us at least a few hours."
The El's patrons are enjoying their Instagram content as much as Amanda, Maddy, and Greg enjoy making it. Maddy says some people came in for takeout during the lockdowns after they followed The El on Instagram and found the videos so funny they decided to try the food.
Advertisement - story continues below
"There's been a few times where we're mid doing something funny — like standing on a table or laying on the bar — and a customer walks in," Maddy laughs. "They just stare at us and say, 'Is this for one of those videos you guys do?'"
The El's social media has been the perfect way to stay connected and relevant to their customers during the lockdowns. Nevertheless, they plan to continue making fun content even now that they're open for patio dining and are preparing to reopen indoor dining under step three of Ontario's reopening plan, expected later in July.
"We're pretty committed to it at this point," Maddy says. "It's something that we're definitely going to continue. This really has become a face for The El."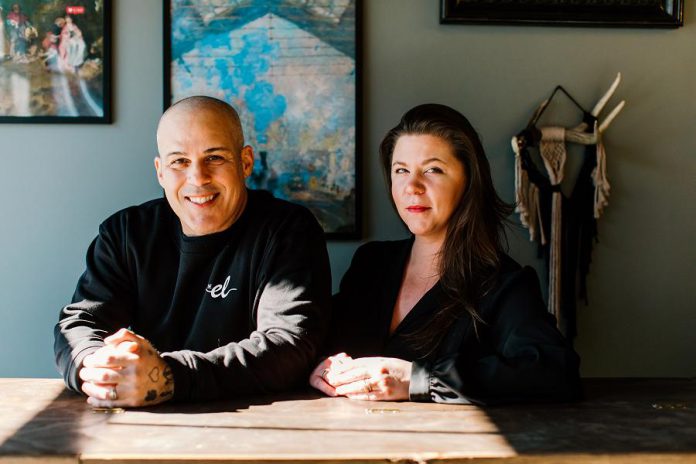 Amanda and Greg opened The El after relocating to Cobourg from Toronto in search of a small-town life. They purchased the El Camino restaurant and have put a lot of work into making it their own — including a renovation completed right before the pandemic hit in March 2020.
"Maybe not ideal timing, but it gave us some extra time to perfect everything before anyone got to see it," says Amanda.
"Coming from Toronto and then coming to what we consider as a small town, and not knowing much about it, the community was welcoming," she adds. "We found that people are dedicated to supporting small businesses, which is awesome, especially through everything recently."
Advertisement - story continues below
The El is a gastropub that serves comfort food favourite with a twist. Amanda and Greg's travels inspire the restaurant's menu.
"We travel quite extensively," Amanda explains. "It's one of our passions. Of course, while you travel, it's majorly about the food and the culture."
"We make sure there's something for everyone, while introducing some new tastes to things people are already comfortable with."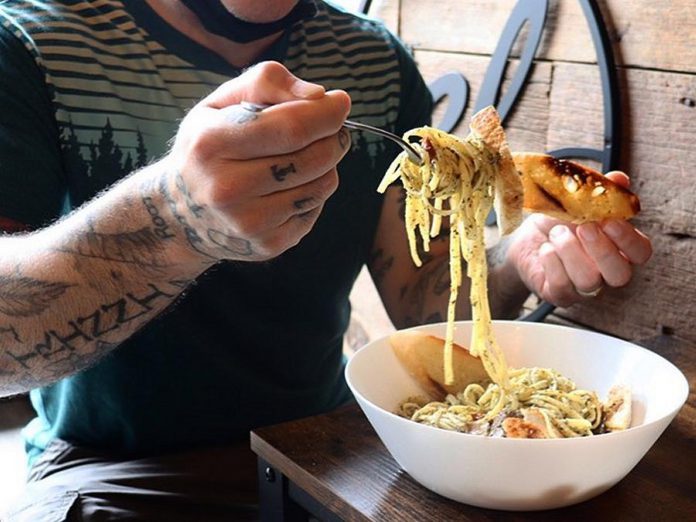 Before the pandemic, The El did not do much takeout. They were an experience-based restaurant focused on service, music, and an overall fun vibe. During the pandemic, Amanda and Greg had to pivot to doing takeout.
Thankfully, they've had great success with takeout — perhaps partially due to their social media following.
"It's blown up in a way that we didn't expect because we were not known as a takeout place," Amanda says.
Takeout is still a popular offering at The El, even though they are open for patio dining.
"It's been quite overwhelming, in a good way, how much the response has been to get takeout still," Amanda remarks. "We're not sure if it's due to the limited capacity, or if people are just in a whole different mindset now where they're just used to being at home and getting takeout. Either way, it's good, and we're happy to have both options for people."
In step two of Ontario's reopening plan, The El is hosting customers for in-person dining on their two outdoor patios. Like many other restaurants, The El's patios have been bustling ever since reopening last month.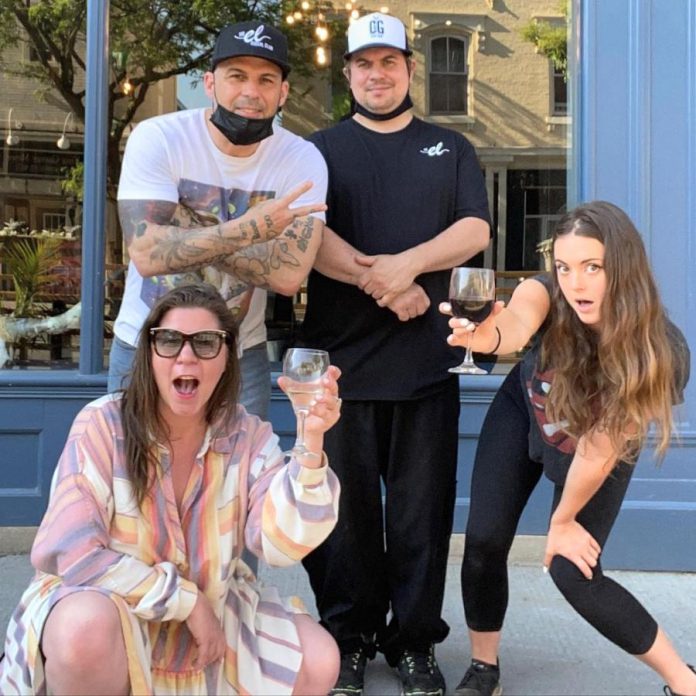 Currently, The El is not taking reservations due to limited capacity. However, they recommend calling 15 to 30 minutes before arrival to secure a table.
Greg, Amanda, and Maddy are all looking forward to step three when they can finally host their patrons inside The El.
"It will allow for much better occupancy which, in turn, increases revenue," says Amanda.
In the meantime, they are excited to be open for patio dining, offering a safe and comfortable experience for every customer.
"People know when they come here, they're going to get a clean, safe experience while still having fun," Amanda says.
"Our community has been awesome," she adds. "I think that's what every small business needs from their community right now."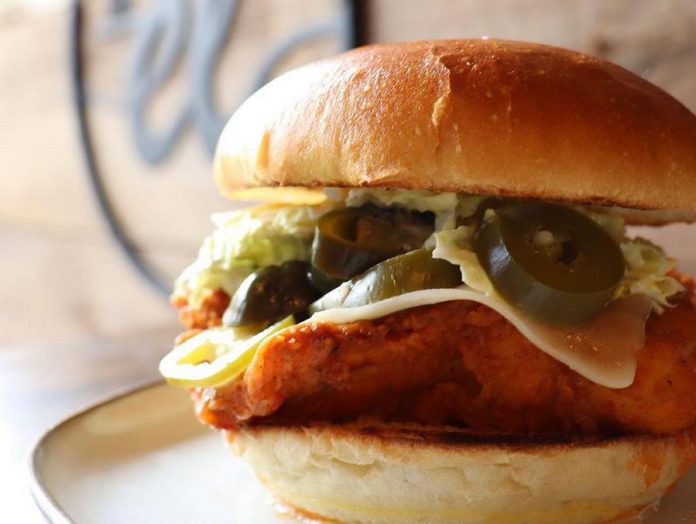 To enjoy The El's fun and silly photos and videos, you can follow them on Instagram @the.el.cobourg, where they also host giveaways.
Visit The El's website at theelcobourg.com to learn more about the gastropub and view their menu. You can call the restaurant at 289-252-2282 to secure a table, ask a question, or place an order for takeout.
The El is located at 74 King Street West in Cobourg. During the week, they are open from 11:30 a.m. to 8 p.m. on Mondays, Wednesdays, and Thursdays, 11 a.m. to 8 p.m. on Tuesdays, and 11:30 to 10 p.m. on Fridays. Their weekend hours are 12 p.m. to 10 p.m. on Saturdays and 12 p.m. to 8 p.m. on Sundays.