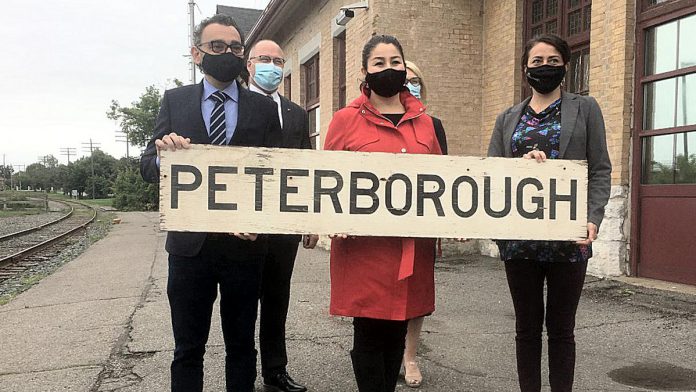 Two worlds collided Thursday morning (July 8) in Peterborough as the future of passenger rail service in southern Ontario was unveiled at the site of one of the Ontario's most historic Canadian Pacific rail stations.
Federal Transport Minister Omar Alghabra, joined by Peterborough-Kawartha MP Maryam Monsef and Peterborough Mayor Diane Therrien, announced Ottawa's commitment to develop intercity high frequency rail (HFR) service in the Toronto to Quebec City corridor.
With completion of the project forecasted for 2030, and with $500 million already set aside in the federal budget for the early stages of the procurement process, the HFR line will feature stops at a number of communities along the corridor, Peterborough among them.
Advertisement - story continues below
As a project that has been considered, reviewed, reconsidered, lobbied for and outright promised for years, there's now a light at the end of the train tunnel.
Being done in conjunction with VIA Rail — the passenger rail service's president and CEO Cynthia Garneau was also on hand — the project represents the largest transportation infrastructure initiative undertaken in Canada in decades.
The new dedicated rail line will result in shorter travel times and faster trains that will reduce average trip times significantly. For example, as much as 90 minutes will be shaved off the average Toronto-to-Ottawa trip.
The dedicated passenger rail track would allow for train speeds in the 177 to 200 kilometres per hour range.
Other benefits include more reliable on-time performance (up to 95 per cent from the current average of 67 per cent), more direct routes with improved connectivity between communities as well as to other modes of transportation, and new rail service for a number of communities including Peterborough.
The procurement process for the project begins this fall. That will include engaging Indigenous groups and communities for feedback, working with the private sector to determine capacity as well to gather opinions on the best possible delivery model, and starting a dialogue with partner rail companies to negotiate for dedicated routes both in and out of communities situated along the corridor.
Advertisement - story continues below
"A phased approach will help ensure the success of this project," said Minister Alghabra.
"A significant amount of work has been done since 2016. We've been working closely with VIA Rail and the Canada Infrastructure Bank to make progress in the design and planning stages. Our government plans to select a delivery model prior to the request for proposals that will launch this fall. We want more reliable and cleaner travel options for Canadians and we want it to be done right."
Terming the announcement "a historic moment for the people of Peterborough, for the people of Ontario and for the people of Canada," Alghabra acknowledged the restoration of passenger rail service to Peterborough "has been talked about for years."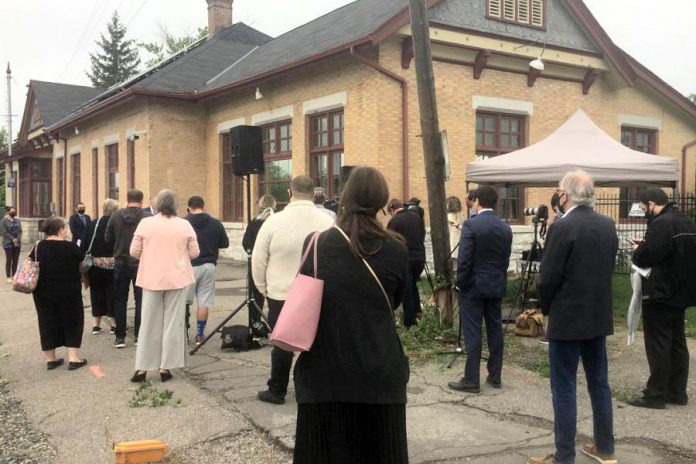 In her remarks, MP Monsef echoed that, crediting "leaders in Peterborough-Kawartha who believed this was the right thing to do for our community — who brought others along and did the due diligence. This moment, this celebration, is for you."
"In post-pandemic Canada, we are all aware of how vital our connections are," Monsef added. "Whether it's our internet connections, whether it's our connections by water, whether it's our connections by air, whether it's our connections through land transportation opportunities, these connections are vital."
Mayor Therrien, meanwhile, shared that her mom told her stories about taking the train to Peterborough when she was a kid.
Advertisement - story continues below
"This project has been talked about and studied … to know that things are moving forward is exciting," Therrien said. "I know we still have decisions to make, like where the new station is going to go — this spot (the historic CPR station that houses the Peterborough Chamber of Commerce) looks pretty great to me — but that's to be decided."
Afterwards, Therrien talked about the impact the new passenger rail service will have on the city.
"There are a lot of people that live in Peterborough that work in the GTA," she noted. "It will help alleviate traffic on the 115. There are a lot of people working remotely that might want to live here but still want easy access to not just Toronto but Ottawa and Montreal."
"We know we're trying to move people out of their cars as much as possible, so any form of public transportation is a good thing."
As for the location of a new train station, Therrien said the downtown is her preference.
"Historically, there was a reason this stop was downtown. That would really be a boon to our economy."
An interested observer of the announcement, who was acknowledged for his behind-the-scenes work lobbying for passenger rail service to the region, was Havelock-Belmont-Methuen Mayor Jim Martin.
"We're hoping we're going to be a part of it … we have almost 100 acres right in the middle of town (Havelock) that's all rail yard," Mayor Martin noted.
"Whether it's cleaning the trains or servicing them, and also perhaps a (train) stop, Havelock is a railway town. A lot of things have changed but it's kind of coming back. Maryam (MP Monsef) has kept things rolling, as did (former Peterborough-Kawartha MP) Dean Del Mastro in the past. It's my hope that we remain in the conversation."
Advertisement - story continues below
Hosting the announcement was Peterborough Chamber of Commerce president and CEO Stu Harrison, who has also been a key player in the lobbying process for a return of passenger rail service to the region. He noted there's another local benefit to the service.
"There's a significant amount of freight business that comes through this area," Harrison pointed out. "But it's a 10-kilometre-per-hour speed limit all the way into Toronto — a 16-hour trip."
With passenger trains using the HFR line during the day, freight trains could run on the line at night.
"That freight would now be allowed to run at night at dramatically faster speeds," he explained. "That's going to be transformative. It will literally save freight service in this area and save us putting a lot of trucks on the road if we lost the line."